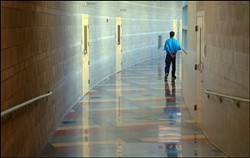 Last month,
Contra Costa County Juvenile Hall
agreed to stop holding youth in solitary confinement as part of a settlement that activist groups said was an unprecedented win in the fight against the use of isolation in prisons and jails. Now, California is one step closer to implementing a similar reform statewide — with the state Senate's passage yesterday of legislation that could go a long way in restricting the use of solitary confinement in juvenile correctional facilities.
Senate Bill 124
, from Senator Mark Leno (D-San Francisco) and co-sponsored by the Oakland-based Ella Baker Center for Human Rights, would prohibit the use of solitary confinement for juveniles except when an individual "poses an immediate and substantial risk of harm to the security of the facility" or poses a substantial risk of harm to himself or herself. Even then, correctional facilities would not be allowed to confine those individuals to solitary units for more than four hours and should only keep them there for the minimum time required to "address the risk," according to the bill. The proposal would further ban the use of solitary confinement for an individual "who is gravely disabled" or who poses a risk due to a mental disorder. 
[jump]
See Also:
Solitary Confinement Comes to Life On Stage
Unfair Punishment: Sentenced to Poverty
The bill comes as criminal justice reform advocates in the Bay Area and across the country have increasingly argued that the use of solitary confinement is a cruel and inhumane punishment — especially for teens. In Contra Costa County, advocacy groups filed a
class-action lawsuit
in 2013 alleging that the county routinely locked young people with disabilities in small cells for up to 23 hours a day. Those cells barely had enough space for a bed, and while youth were locked there, the facility denied them access to education, according to the suit. Though the county has continued to publicly deny the accusations, in a
settlement agreement
, officials said they would not place youth in confinement for more than four hours — and would only do so in cases when an individual's behavior poses an immediate safety threat. The county has also agreed to have experts review the department's practices and implement changes to improve conditions for youth with disabilities. 
Advocates
said
they hoped the Contra Costa County agreement could serve as a model for other juvenile facilities, encouraging local probation departments to effectively end the use of solitary confinement for minors. SB 124 — which will now be debated in the state Assembly this summer — would apply to both state and county juvenile correctional facilities. The Alameda County Board of Supervisors and the Los Angeles County Board of Supervisors have endorsed the bill. 
While California does not collect uniform data on the use of solitary confinement for minors, public records have suggested that juvenile facilities may frequently rely on this punishment. Leno's
office
 noted that in 2011, court documents revealed that there were 249 incidents of solitary confinement during a fourteen-week period at only five juvenile facilities in the state. At one of those facilities, the youth were only allowed out of solitary for an average of forty minutes per day, according to the records. 
Supporters of the bill have also cited a 2009 national survey that linked solitary confinement to suicide rates. In that study, roughly half of the minors in the juvenile justice system who committed suicide were isolated and alone when they died, according to the survey data, and more than 10 percent of young people in detention facilities who committed suicide had previously been placed in solitary confinement. 
"Solitary confinement is an extraordinarily harmful disciplinary measure that has no rehabilitative purpose whatsoever," Leno said in a statement after the passage of the bill yesterday, adding, "It is inhumane to lock up young people in this way and deprive them of human contact, education, exercise and fresh air. This type of isolation is widely condemned and only exacerbates the problems troubled youth face. We must provide them with treatment, not prolonged isolation, if we want them to become future productive members of our communities." And Jennifer Kim, Ella Baker Center's director of programs, added in a statement: "The Senate's passage of SB 124 brings us one step closer to ending the solitary confinement of youth, a damaging practice that has been shown to cause irreparable harm. In order to heal, youth need to receive proper treatment and be connected to their families and communities."