As focused as the East Bay's food-obsessed are on the quality of their meat, you don't hear too much talk about the issue of freshness — which is to say, your typical Whole Foods or farmers' market customer is more likely to ask about a chicken's lineage or its diet than about exactly when the bird was killed.

So I was intrigued when I read a Chowhound discussion about Saba Live Poultry (845 Kennedy St.), which is located in a sparse warehouse district in East Oakland. Here, in a Halal-certified facility that's relatively clean and well maintained (given that it's lined with cages filled with live animals), you can buy live chickens ($8-$14), geese ($35), guinea hens ($20), pigeons ($10), and quail ($3). Fresh shipments come in a few times a week, and sometimes there are also rabbits ($15-$20) and lambs (which are butchered first and then sold by weight).

[jump]
national chain
, with many of the other franchises located on the East Coast. And while the Halal certification is a big selling point, Anl said his customers aren't exclusively, or even primarily, Muslim. Indeed, the facility seems to be especially popular among Asians, perhaps because (to my knowledge) there isn't a comparable service offered in Chinatown or any of Oakland's other Asian-immigrant enclaves. As Anl put it, "Chinese people, they like the fresh chicken."
A note to readers who only eat impeccably sourced, local, pasture-raised fowl: To you, I cannot give Saba an unqualified recommendation. When I asked Anl where the animals came from, he said the company had farms all over — many of them, but not all, in the Los Angeles area. Beyond that, he didn't have much additional information.
As for freshness, though, I can vouch for that. Once you've picked the chicken (or whatever animal) you want, one of the workers pulls it out and brings it to the back to be slaughtered according to
traditional Halal guidelines
, which are intended to minimize the animal's suffering. Ten minutes later, they'll hand you a plastic bag with your chicken inside — its blood drained and feathers plucked, the feet and giblets detached and stuffed back inside the carcass, the head still attached.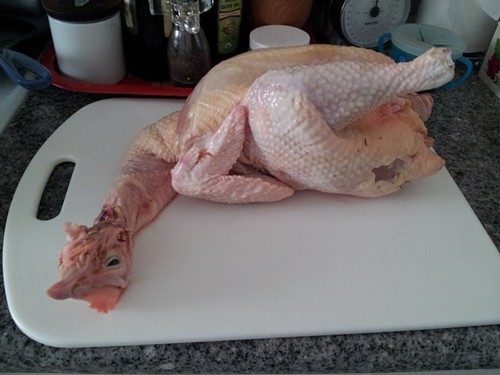 This four-pound chicken was $8.
Look, if you're squeamish about seeing your dinner when it's alive, and if you don't want to take personal responsibility for deciding which chicken lives (for a while longer) and which one dies, this isn't the place for you.
That said, chicken doesn't get much fresher than a bird that's slaughtered on-site while you wait. Following the advice of an amateur homesteader friend, I let mine rest in the fridge for a day (to let the rigor mortis wear off, lest I end up with a tough chicken) before roasting it. The final product was tasty enough. The meat had the dense, slightly chewy texture I associate with those lean, free-range birds that Chinese restaurants like to serve simply poached.
Was it noticeably better than a reasonably high-quality chicken I might buy at, say, Berkeley Bowl? I wouldn't say so. But folks in Chinatown might disagree.