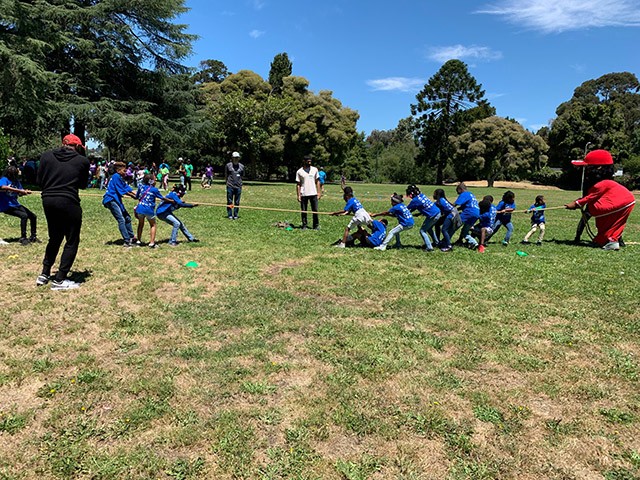 When the second year of the Oakland Parks & Recreation Town Camp Health & Wellness Week kicked off this July, it had a new and enthusiastic partner. As part of its continuing #80ForOakland initiative, Blue Shield became a major sponsor of both Health & Wellness Week and its concluding event at Arroyo Viejo Park in East Oakland on July12, the Camp Olympics.
Don Campbell, Blue Shield's vice president, corporate communications, credits Barbara Leslie, president of Oakland's Chamber of Commerce, for making the connection between his company, which will officially move into its new downtown Oakland corporate headquarters this fall, and the Town Camp program. "We were able to underwrite scholarships that covered the cost for kids to attend Town Camp, and we paid for the lunches at the Camp Olympics," Campbell said. Twenty Blue Shield employees also volunteered during the Camp Olympics, helping with everything from three-legged races, tug-of-war, balloon tosses, dance contests, and more on a gorgeous sunny day in the park. "It was a tremendous atmosphere," said Campbell.
The Health & Wellness theme was a natural fit for Blue Shield. The company has statistics revealing that 43 percent of Oakland's fifth grade students are considered overweight or obese, and multiple studies have shown that this has potentially major negative health consequences.
Nicholas Williams, the city's director of the Department of Parks, Recreation and Youth Development, is well aware of these statistics, and even more conscious of "the lack of parity" in recreation centers across Oakland existing when he came aboard in 2016. "We wanted to create an equitable response to the services Oakland kids get during the summer," he said, "so we created a citywide camp system."
Last year, the camps attracted between 400 to 500 kids. This year, Williams said, attendance nearly doubled, with the program serving between 900 and 1,000 kids from neighborhoods across Oakland. Each week of the camp is themed, and the department "couldn't do this without our program partners," he said. With Blue Shield as a partner for Health & Wellness week, the department was able to offer scholarships to kids whose parents could not afford the $180-per-week camp fee. "No kids were turned away," Williams said.
Health & Wellness Week emphasizes both healthy eating choices and increased physical activity. Williams acknowledged that many kids initially act as though they don't want to leave their phones and video games. "But at camp, five or 10 minutes after they get outside, they are running and playing tag," he said. This can be "transformational," he said, and praised Blue Shield as "an organization that believes in us."
Blue Shield is not just giving, but receiving, as part of this partnership, Campbell said. "All of our #80ForOakland commitments are taking us to different parts of the community and giving us a better understanding of how and where we can make a difference.." The Parks & Rec programs align with Blue Shield's Wellvolution program goals of "giving people the tools and support they need to live a healthy life. You do not need to be a Blue Shield cardmember to participate."
Another benefit for Blue Shield, Campbell noted, is that Oakland residents are getting to know the company directly through its employees, and not just as a symbol or a brand. "What we've found through #80ForOakland is that employees who didn't know much about each other are connecting, and wanting to volunteer and participate more," he said.
Williams reported similar responses. "The Blue Shield employees told me, 'I came to give, but I'm receiving something as well,'" he said. He commended Blue Shield for "not just sending a check, but for being there, showing the kids that they are important."
Blue Shield already has plans to sponsor again next year, said Campbell. With the 2020 Summer Olympics coming up, camp participants will have a better idea of some of the events, including the javelin toss — and at least one Winter Olympics specialty, curling. "When the teams this year had a chance to play each other in curling, they were blown away," said Williams, chuckling.
By next year, Blue Shield will be officially a neighbor, with its move-in scheduled to be complete by the end of October, Campbell said. The company is delighted with the success of #80ForOakland. The "80" is in tribute to the company's 80th anniversary, and more than 70 outreach events have already been posted on the internal webpage documenting the program.
"Because of it, we have relationships we didn't have before," Campbell said, "and we have a lot of eager people ready to be part of the Oakland community."