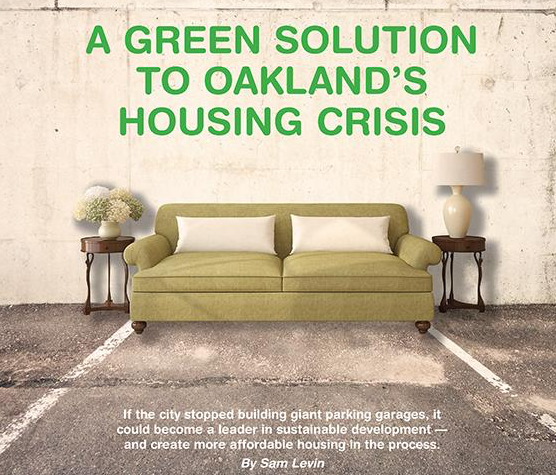 In Oakland and cities across the Bay Area, outdated municipal policies require developers to spend a significant amount of money constructing large parking garages in new apartment buildings — a mandate that ultimately makes it harder for projects to include affordable housing. The problem — outlined in our recent cover story, "
A Green Solution to Oakland's Housing Crisis
" — is that decades-old, car-oriented zoning laws require developers to waste money and land on unnecessarily large car garages, which can lead them to pass the costs along to tenants and build less affordable housing.
But
Assembly Bill 744
 — which passed the state Senate this week and is now at the desk of Governor Jerry Brown — could help address this problem by allowing affordable housing developers to bypass certain parking requirements. Supporters hope the legislation could help cities increase their supply of housing for middle- and low-income renters while also promoting sustainable modes of transportation. Advocates say reduced parking in projects located near public transit could support greener lifestyles by encouraging residents to live without cars — and making their housing more affordable. 
[jump] Current parking requirements vary across cities and can change from one neighborhood to the next. For decades, Oakland has had a fairly standard policy of requiring one parking space per unit in most of its new developments — a ratio that advocates say no longer makes sense in the busy downtown corridor near BART (where apartment buildings can easily attract car-free tenants). AB 744 — introduced by Ed Chau, D–Monterey Park — would prohibit cities from requiring projects to build more than 0.5 spaces per unit if the developments are offering 100 percent affordable rental units and are located within one-half mile of a major transit stop. In other words, if a developer wanted to do an affordable housing project near BART in Oakland, he or she could build a garage half the size of what is typically required in the city, saving a substantial amount of money and space. In many cases, it would not be financially feasible to build an exclusively affordable housing project if a developer also has to build a conventional, large-size garage. 
(Under current Oakland rules, developers can build less parking than the one-space per unit requirement, but they have to request a special exemption through a public process — and few projects have historically taken advantage of this on a large scale). 
AB 744 also would allow certain mixed-income projects near transit to bypass parking requirements. Under the legislation, projects within one-half mile of a major transit stop and with
some
affordable housing could go as low as 0.5 parking spaces per
bedroom
(meaning a building with primarily two-bedroom units would still have roughly one parking space per unit). These projects, however, would only be eligible to reduce their parking to that level if they have at least 20 percent units for low-income people (or at least 11 percent units for residents categorized as "very low-income"). You can read the
full text of the bill here
 and the latest
fact sheet summarizing the bill here
.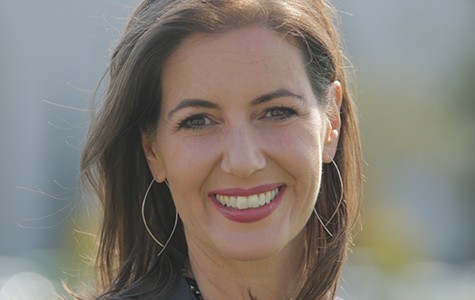 Complex ratios and parking formulas aside, the crux of the bill is that when developers want to build less parking and more affordable housing in projects near transit, cities should not stop them. That's why Oakland Mayor Libby Schaaf expressed her support for the bill back in June. In a letter endorsing the bill, she wrote: 
Providing sufficient affordable housing is increasingly difficult, and local governments and other agencies typically impose minimum parking requirements that greatly increase development costs. When minimum parking requirements do not reflect the actual needs of the tenants — which is especially true near transit, and among low vehicle-ownership populations — this puts a major unnecessary burden on the developer, raises the cost of housing, reduces the potential number of housing units on the parcel, and permanently alters our cities in a way that encourages driving and increases climate impacts. …

Finding ways to incentivize and help developers create affordable housing is essential to solving our [affordable housing] crisis. AB 744 does this by allowing developers to negotiate the appropriate parking ratio rather than rely upon a set standard that does not meet the needs of the tenants living there.
Under the current system, Schaaf further noted in her letter, "one-size-fits-all" parking standards essentially force low-income residents who do not own cars to bear the burden of parking costs for everyone else. She referenced a
letter
from a labor union in Minnesota that supported a similar local measure there by arguing that low-income transit riders who can't afford cars are paying increased housing costs to make their buildings more convenient for car owners. You can read
Schaaf's full letter here
. 
Despite Schaaf's support of the bill and ongoing efforts by the City of Oakland to reform its own parking policies, the city is still receiving and approving residential development proposals near BART with huge amounts of car parking. Transportation advocates have recently criticized two proposed projects right next to the 19th Street BART station — one on
Broadway and 19th Street
 and another on
San Pablo Avenue and 18th Street
. Critics say they both include an excessive amount of parking for a transit-accessible district such as Uptown. 
For more on parking requirements and affordable housing, check out "A Green Solution to Oakland's Housing Crisis," "Building Downtown Oakland for Cars," and "How Bay Area Apartment Buildings Waste Money, Space on Car Parking."