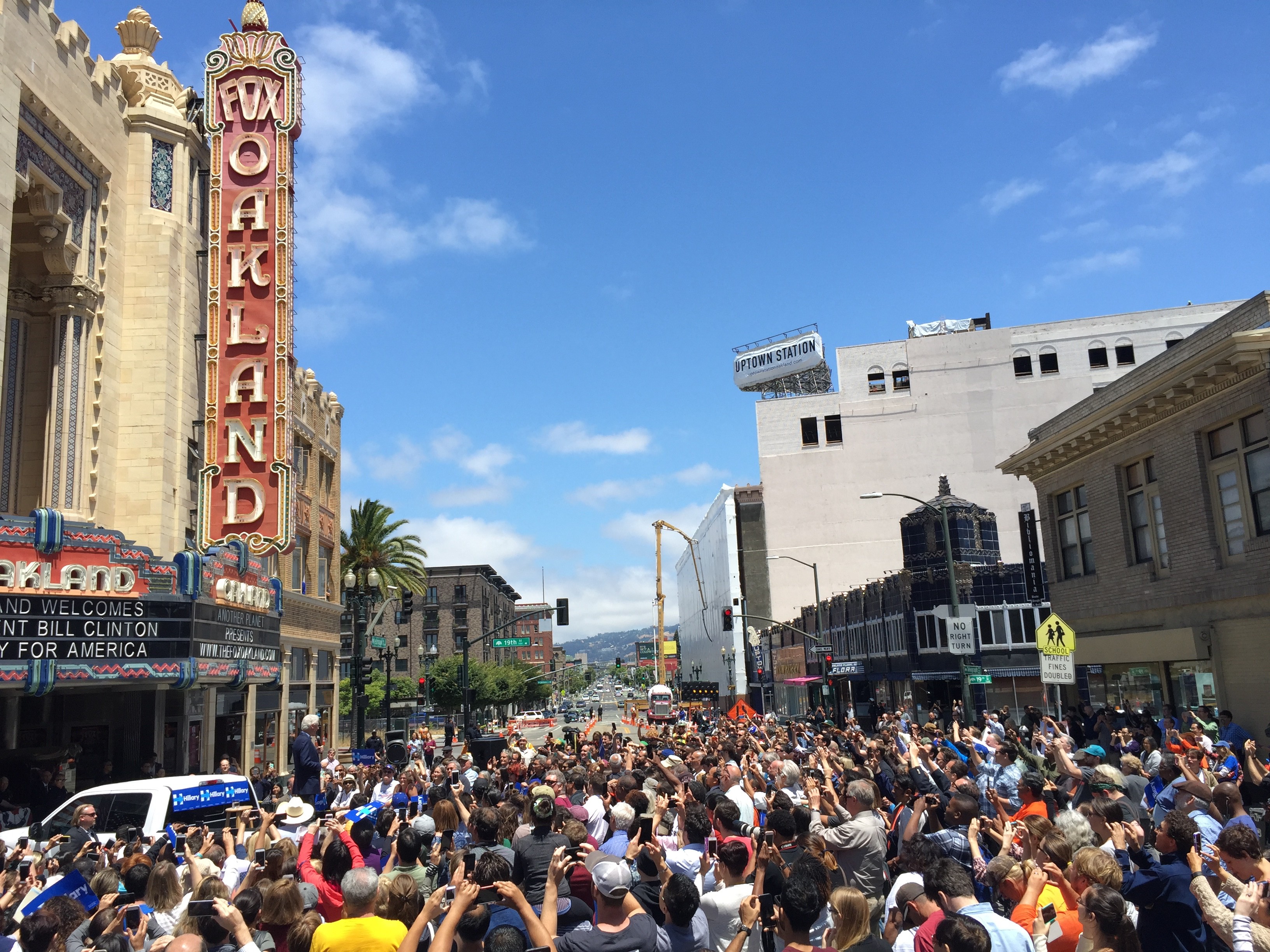 Monday during lunch was T-shirt weather. And, conveniently, in the middle of Telegraph Avenue there was a man hawking some with the words "Fuck Trump" emblazoned on the front.
That's right: It was a Hillary Clinton rally, starring her silver-fox husband, Bill Clinton, in front of the Fox Theater just a few clicks past noon. Some five hundred supporters circled a white pickup truck with Mayor Libby Schaaf perched in the bed. She hyped the crowd and stayed mostly positive, only gently dabbling in the art of Donald Trump dissing — he's "disconnected from reality" — before helping president No. 42 into the Ford (or was it a Chevy?).
His wife's campaign jingle, that incongruously soppy "Fight Song" anthem, blasted as everyone snapped an obligatory photo.
Unlike some of his more unleashed appearances during the 2008 presidential campaign, Bill was a dutiful messenger on Monday. He reminisced about the Fox Theater back when he was visiting (un-buddy) Mayor Jerry Brown. And he avoided, at first, even speaking Trump's name, opting instead to take down the entire GOP ethos ("our party might be the only one that believes in science").
Bill didn't mention Sen. Bernie Sanders once during his approximately thirty-minute stump. Yet the Bern loomed large, as the president could have filled a chalkboard with what he had to say about higher education. "College debt is the only loan in America you can't refinance," he explained. (I cringed at the thought of Wall Street pulling the wool over recent grads with various re-fi schemes.) But some of Hillary's policy, which Bill sugarcoated with his elevator-pitch charm, appealed, such as public service to pay off your student-loan debt. "You can move out of your parents' house," Bill joked.
He became serious, however, later when finally addressing Trump by name. He blasted his former elbow-rubbing chum for "politics of division and wall-building." And for his mantra Make America Great Again.
"That's a code word, folks," Bill warned. "I grew up in a part of the country where people talk like that."
But he promised that his wife, presumably the nominee (short of an indictment), would not run her campaign on Trump's verbal miscues. (That's why there are super PACs.)
The take home? Say what you want about draconian Clinton-era policies (and don't get me started), but the dude still can win over a crowd. He held court in the bed of that maybe-Ford/maybe-Chevy for minute, shining in his Navy suit, his Southern twang more gravely than yesteryear, but still charming.
As Bill stepped down from the truck bed and posed for selfies, it was clear that Trump, let alone any Republican nominee, will find it difficult to overcome the Bill-Hillary-Obama stump trifecta. That's a big three more terrifying than Curry, Thompson, and Green.
A wild card for a Hillary cake-walk, however, is those pesky young voters. Consider: A teenager in a maroon dress wiggled to the front of the crowd during Bill's speech and raised a "Feel the Bern" sign above her head. She stood there for a few minutes, then retreated to her friends with a mischievous grin. Don't forget: In 2008, 66 percent of under-30-year-olds chose Obama. And these younger voters don't bump "Fight Song" on their playlists.
My point: Hillary and Co. will torch Trump — so long as the millennial voters don't Bern out.