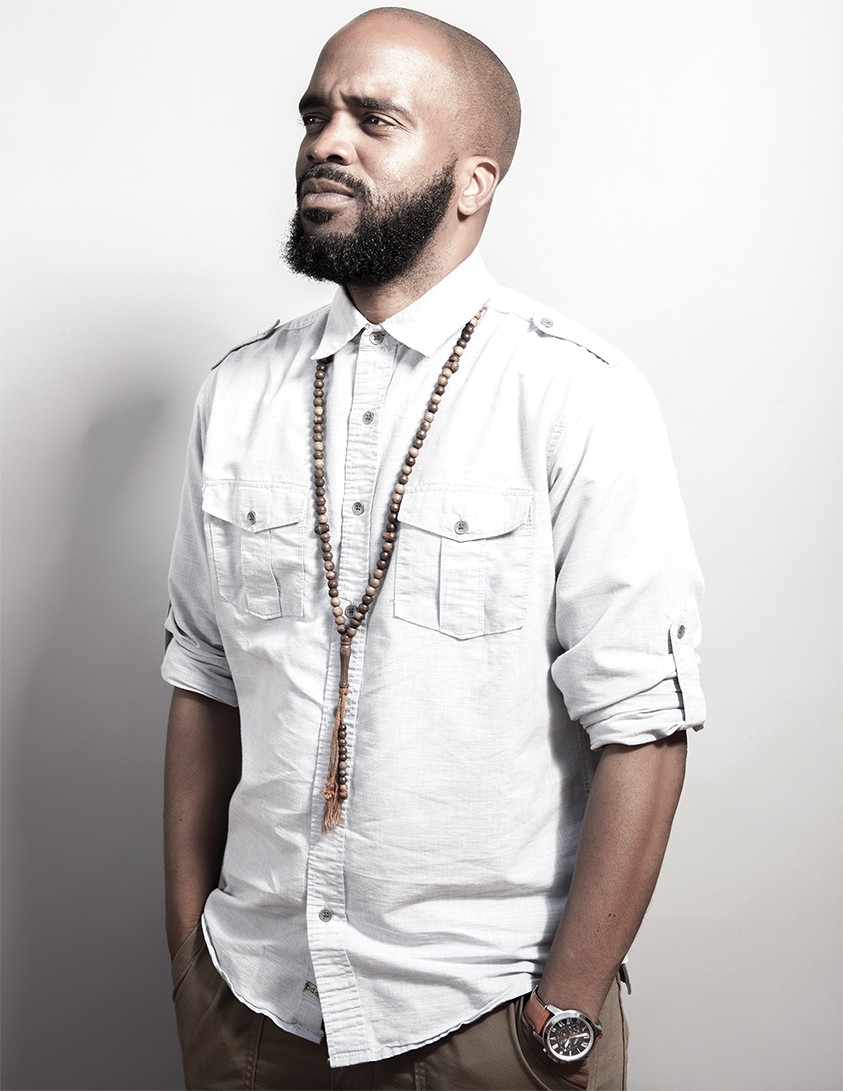 Some boys dream of becoming a fireman. Or a doctor, a lawyer, or even the president. Pendarvis Harshaw only wanted to become one thing: an old Black man.
As a young Black man, he was off to a good start, but growing up that way in Oakland doesn't always guarantee you'll live long enough to be old, from higher rates of preventable diseases to violence to incarceration.
Growing up, whether in Oakland or somewhere else, isn't always the smoothest of ventures. There are stumbles and whatnot, but most adults — namely those who have earned the moniker "OG"— have survived the necessary trials and tribulations that begets certain knowledge not taught in a classroom.
Raised primarily by his mother — "a Catholic school girl who smoked cigarettes and cut class" — Harshaw found that critical fatherly voice at odd points in his life. Or at least those are what he shared in his memoir,
OG Told Me
, which documents Harshaw's venture to take literal notes from Oakland's OGs (original gangstas, old guard, or old guys, depending on how they want to be called).
[pullquote-1] One such nugget of wisdom came from his friend's mom's "boyfriend," who gladly purchased crack cocaine the boys found in the back of an AC Transit bus. "We're all addicts — just cut from different cloths, so we come in different fashions," he told them.
Harshaw was fourteen at the time, and among the careers he'd have over the years, standing on a street corner with bagged up rocks under his tongue would be the shortest. Among those jobs were teaching and cleaning at an SRO at 13th and Webster streets.
"Teaching and janitor work are the most fulfilling jobs I've had," he told the
Express
. "I literally clean up shit and immediately see the results."
The jobs Harshaw kept the longest were journalist and educator. Once he completed a workshop at Youth Radio at age sixteen, he started teaching immediately, including leading a young Black male leadership group.
After returning from Howard University in Washington, D.C., Harshaw was teaching at Oakland Technical High School when he saw the majority of his students were using the blogging platform Tumblr. That's where he got the idea to start the photo blog OGToldMe.com, which centers on a simple question: "If you had the chance to talk to young people, and give them some wisdom, based on your life experiences, what would you tell them?"
That got him a lot of different answers. "Learn how to meditate. Make it a discipline." "Live long enough to play dominoes." "Don't go to jail."
All those years of writing down the advice of OGs have become part of Harshaw's personality. He has a sense of humble coolness about him. He has, as he's been told, an old soul. He further aged his soul by cutting his journalistic teeth by graduating from UC Berkeley's graduate journalism program. (Full disclosure: the author of this article is currently a student in that program.)
Earlier this year, Harshaw self-published some of his own experiences as an 87-page memoir
OG Told Me
. They're stories from a kid from Oakland's Dubbs — not really, but he has friends there — navigating through that point in a young Black man's life where he's just as likely to die by a bullet as he is to father a baby.
It's the reflections on not only what did happen, but also what could have happened, where Harshaw shines, culminating each short story into a meaningful lesson that sticks with the reader. It could easily be among required reading for teenage boys growing up in Oakland, as a way for the old to safeguard the young from making the same, preventable, and someone irrevocable mistakes.
"I wrote it for sixteen-year-old me. It came from being a kid," Harshaw said. "The lab rat put on the lab coat."
In
OG Told Me
, it's clear where Harshaw has been in terms of his development of achieving his dream of becoming an OG. But there's one question that's lingering in his brain: can the city that raised him hold onto him for much longer?
After years of putting in what he calls "sweat equity" into Oakland, his latest media job dried up. While there were rumors floating around that Harshaw would soon be leaving for better prospects in D.C., he says the decision hasn't been made yet. And there's a lot to consider.
At thirty, he's the father to a nearly ten-month-old daughter. While he's been mentoring kids in Oakland since he was a teen, it's now a much more personal endeavor. While he's currently looking for a job, he also has one he can't quit.
In the years spent seeking advice from Oakland's OGs, Harshaw learned saying what to do is one thing. Actions, as the saying goes, speak louder than words. "It just wasn't what they were saying, but seeing their consistent actions over the years," he said.
That, he says, has been vitally important for his first 30 years of his life and will continue on into his next 30 years.
So, if Harshaw had the chance give some young people some advice based on his life experiences, what would he tell them?
"It all depends on the day of the week," he said with a light chuckle.
Learn more at OGToldMe.com.