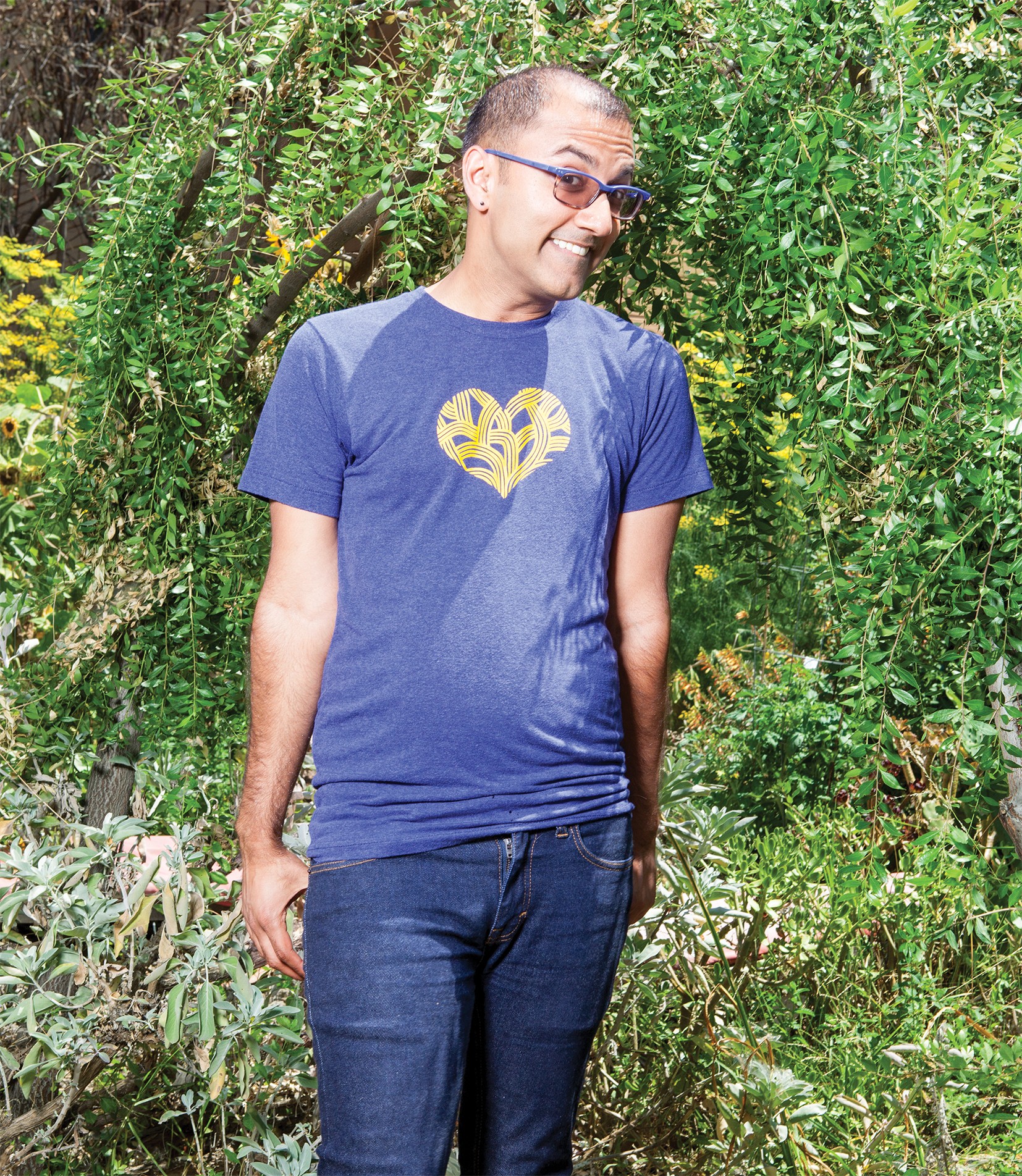 Community organizer turned performance-activist Devi K traded in their megaphone for a microphone about seven years ago and hasn't looked back since.
After realizing that they could help fight transphobia by delivering messages that challenged audiences onstage, K helped start the artist-activist group Peacock Rebellion in 2012, working to elevate the voices of queer and trans people of color (QTPOC) by putting on performances and festivals aimed at using stand-up comedy to practice social justice.
"I think there is something really powerful about comedy that can really reach people and make fun of absurd status quos and norms and subvert them," they said. "Storytelling has the power to dramatically change a person's political views."
Peacock Rebellion was created, K explained, in order to help fill the need for social justice work that transcends the individual and focuses on the collective power of communities. Their first cabaret show, called "Agen(c)y: Nonprofit Dreams + Disasters" was based on K's early experiences in non-profit grassroots organizing, and featured a satirical depiction of chaotic check-in areas, along with shoddy PowerPoints.
While starting out in advocacy work, as a regional organizer planning marches and protests in Washington, D.C., K has always been a storyteller at heart. For K, telling stories is a form of survival. A self-described "scrawny, queer Hindu" who grew up in Pennsylvania — where racism and homophobia was especially prevalent — K learned to crack jokes as a means of escapism at an early age. K routinely performed skits at their Hindu temple and wrote raunchy songs at the Catholic school they attended.
After getting involved with now-defunct QTPOC performance group Mangoes With Chili, K felt empowered to use a love of comedy to help leverage and increase visibility of QTPOC in the East Bay and other parts of the country. In 2014, K and performer Micia Mosely launched Brouhaha, the comedy-based storytelling workshop series that gives trans women of color a space to tell their stories without fear of being marginalized. In 2015, along with Lexi Adsit and Luna Merbruja, K put on the first all trans women of color storytelling show in history at the Oakland Asian Cultural Center, where 600 people showed up — on a Tuesday.
K stressed that these performances also help encourage social justice work that defies the sometimes-pretentious rhetoric of larger social justice movements, which can often revolve only around highly recognized figures. They added that messages of these movements nowadays often make audiences feel like they're being talked down to. And that's not OK with K.
'To me, it's a nice challenge to be like, these movements are not built by celebrities, they are built by everyday people on the ground trying to survive," K said.
[pullquote-1]
K emphasized that QTPOC are often tokenized, not helped. "When I think about queer and trans people of color, it's not that we're dying, it's that we're being killed," K explained. "It's not that we're visible, it's that we're hyper-visible. So, for us to be able to actually claim the power of our stories — if we're not going [to] tell our stories, those stories are either going to be erased or rewritten so we're the enemy."
Hailing from a generation of healers and storytellers, K is someone who happens to be filled with tales about love, loss, and more importantly — consent. One of the first comedy pieces K performed for a show called "Whipped: QTPOC Recipes for Love, Sex and Disaster," included a love letter describing a lackluster hookup with a priest, featuring a tied-in consent workshop to describe how they like their ear licked.
Last year, K also put on STAY, a resilience festival with the underlying theme of returning home and combating gentrification. And while K acknowledges that comedy is one method of healing, they have also organized other types of events that QTPOC can engage with to process trauma. After the PULSE shooting and election of Donald Trump, K held rapid-response safety and healing clinics at the Peacock Rebellion office in Oakland's Lower San Antonio to provide QTPOC with healing services.
But reclaiming these public spaces is not just a task for one person, K emphasized. It involves revamping the system altogether, and with each other.
"I don't wanna just push the door open a little bit more. I wanna unhinge the doors and cut new frames so we can all go in together," K said. "Folks who are so shut out of opportunities have to actually claim our space unapologetically, and we can do it with a smile, with some snark and sass. We actually have to completely dismantle the status quo and dramatically rewrite our futures."
Learn more at PeacockRebellion.org