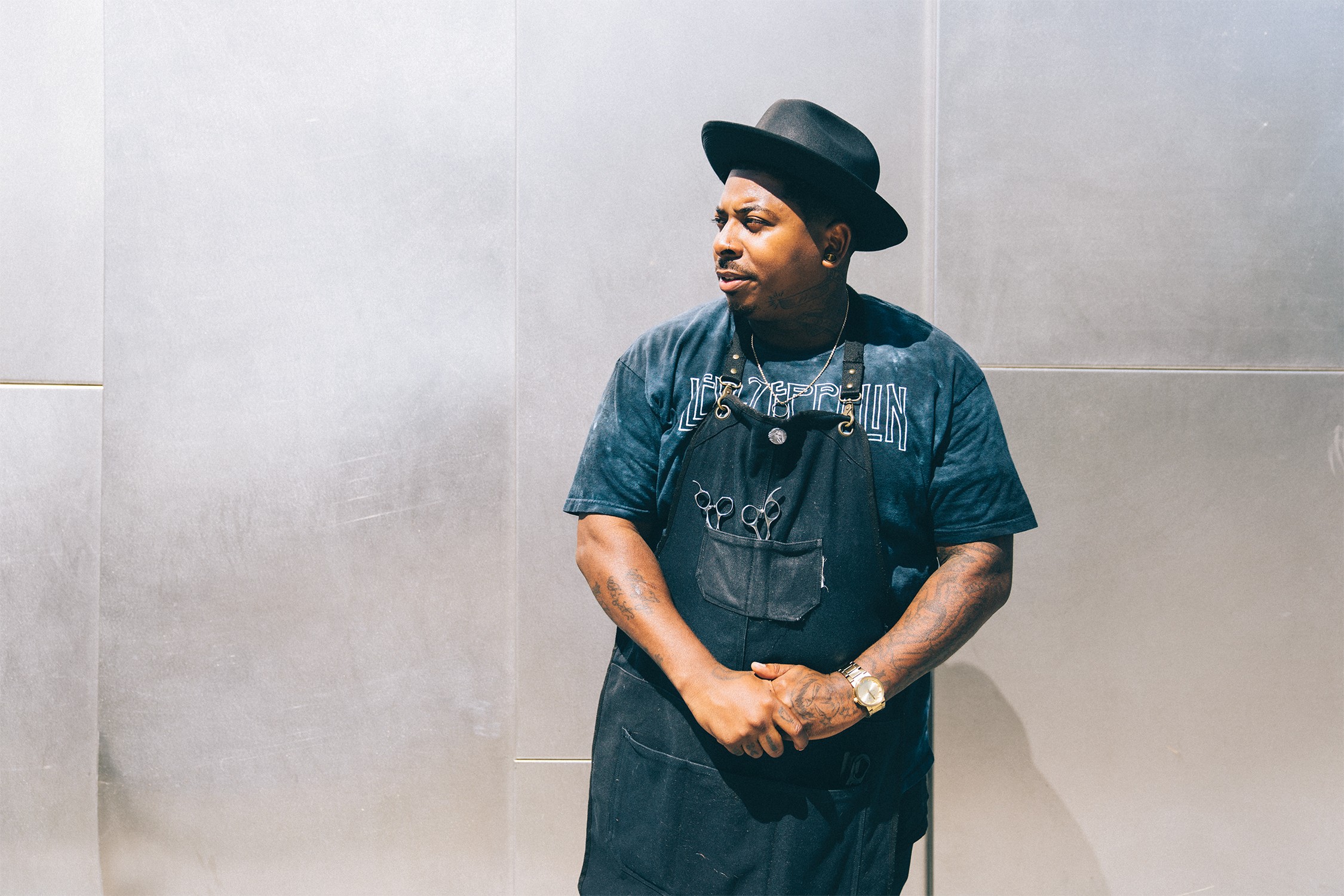 My recent interview with talented East Bay barber Shevelle "Shevy" Mitchell wasn't the first I've conducted with someone holding a sharp object to my head. In this case, thankfully, Mitchell clasped a pair of innocuous but pointy scissors. And while I'm making confessions, this wasn't even my only time getting "faded" with an interviewee — granted, this occasion was a buzzfade haircut, not a bong rip.
That's because Mitchell, 28, is one of the premier barbers in the bay.
He goes by the nickname "Shevy The Barberian" on Instagram, and has been buzzing heads since he was a teen. "I got into it because of my mom," he told the Express. She'd bought Mitchell and his brother a set of clippers. "I was probably twelve or thirteen. And we just started cutting each other's hair. And I started getting good at it."
Over time, these trim sessions expanded, and soon he was cutting family members' heads. "Eventually, I started charging my homies five bucks, this was like high school, a way to get a little bit of money without resorting to being a street pharmacist," he said.
The East Bay native's first official gig was in San Francisco, at Bayview Barber College. Mitchell already knew how to cut hair and didn't need the basic schooling, so the owner let him work with clients in the shop.
[pullquote-1]Currently, he's settled in at Levels Barber & Shop, a stones throw from the UC Berkeley campus on Addison Street. On a recent Thursday, nearly ever chair was full at Levels, the hum of clippers overtaking the room. Mitchell says the crew there is inspiring, and always doing top-notch work.
He attributes the newfound popularity of barber cuts to social media. "People are putting out dope hair cuts, and Instagram has a lot to do with it," he explained. He thinks the most encouraging trend in barbering is folks doing classic fades, but a shortcoming is that so many barbers are reluctant to improve their scissor-work. "There's a lot of barbers out there doing clipper work only. But me, I want to be a versatile barber, to not put limitations on myself, and to cater to all demographics."
If he could cut anyone's hair, who would it be and why?
Mitchell's colleague interjects: "Colin Kaepernick," he said, which elicited laughs.
But Shevy the Barberian responded with the best answer of all time: "Mark Davis."
Follow Mitchell on Instagram: @ShevyTheBarberian. Levels Barber & Shop, 2110 Addison St, Berkeley, LevelsBerkeley.com.