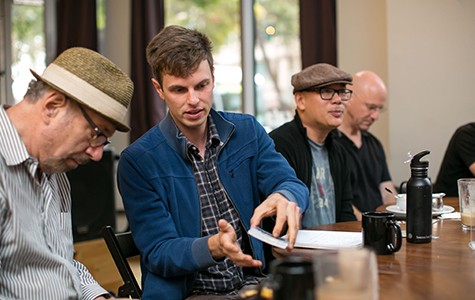 A few months back, we profiled
Balanced Breakfast
, a weekly meet-up that supports those navigating the perilous waters of the music industry. As  founder Stefan Aronsen described one of the principal benefits of the group in the article, "Musicians are hungry for camaraderie and a support system, people that understand the struggle and are here to weather the industry with them." 
BB continues to foster community support with a holiday benefit concert in support of the Alameda County Community Food Bank on Thursday, December 11 at
The Legionnaire Saloon
in Oakland. 
See Also:
How Balanced Breakfast Is Changing the Bay Area Music Scene 
The Good-Giving Guide

[jump] The benefit show (
more details here
) will feature local artists Mr. Kind (synth-infused americana), Lords of Sealand (avant indie anti-boyband), Osage (female fronted Americana), and DJ Chemistry, all of whom are active members of the Balanced Breakfast community.
In addition to hearing some sweet local sounds, the event will be preceded by an industry mixer, and will include cookies and holiday goodies. Doors open at 8:30 p.m. (show starts at 9 p.m.), and costs a scant $7 ($5 if you bring two cans of food). 
Combat the assaultive Chipmunks Christmas music playing at every retail store, support great local bands, and a great local charity in the process. It's win-win-win. 
Some samples of the bands playing below. Give 'em a listen:
Mr. Kind

[embed-1]
Lords of Sealand
(includes some sweet dance moves)
[embed-2]
Osage


[embed-3]