A rumbling emanated from the Gray Area Grand Theater's immersive speaker system last Friday at the San Francisco Tape Music Festival. The low frequency seemed to change the air pressure in the room as the audience listened, transfixed, in near total darkness.
This was the intro to Maggi Payne's Black Ice, a new work that the veteran electronic musician created solely using a Moog synthesizer — though the abstract, atmospheric composition's sound more closely resembles a rainstorm at sea than a familiar musical instrument.
The piece wells up like a cyclone enveloping the audience, positioning it at the eye of the storm before blowing past. After coming to a lull, its silence gives way to ticking — somewhere between crickets and pouring rain — that orbits the audience in circles. Eventually, another bout of storm cloud-like rumbling wells up; Payne juxtaposes it with hissing sounds that recall sputtering electric wires.
Effervescence edited excerpt ©2008 Maggi Payne from Maggi Payne on Vimeo.
"Cinema for the ears" is a phrase the Tape Music Festival organizers like to throw around a lot, and it's an especially apt way to describe Black Ice. To qualify as tape music, or fixed media, a piece must be played through a stereo system rather than performed live. What excites Payne about this format, she explained in a recent interview, is the opportunity to activate listeners' imagination using the timbre of each sound rather than melody, rhythm, or the visual reference of a stage show.
"When you're listening to sound abstractly, you've got all this room to move and create your own total world in response to those sounds," said Payne, likening the experience to reading a novel.
The composer, who is in her seventies, is part of the San Francisco Tape Music Collective, which puts on the event. She's also the co-director of the Mills College Center for Contemporary Music and the former head of its music department. An early adopter of the Moog and Buchla synthesizers as well as audio editing software, she has long been a central figure in the East Bay's experimental electronic music community, having entered the scene in the early 1970s, just as synthesizers began to proliferate in popular music production.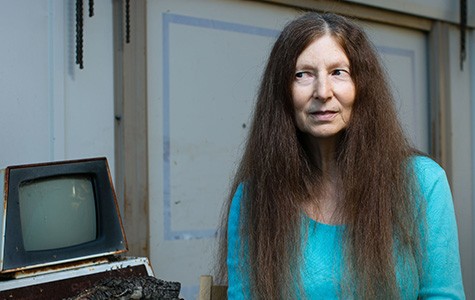 However, Payne is only peripherally interested in pop as far as it concerns her other occupation as a freelance sound engineer and advanced recording professor at Mills. In fact, she has a background as a classically trained flutist and has been playing the instrument since she was a child.
Payne first became interested in experimenting with recording technologies when her father gave her a tape recorder at the age of ten to help her with her flute playing. She recalled becoming fascinated with the accidental clicks and "breathy sounds" that emerged in her recordings, which sparked her lifelong interest in abstract compositions. In 1972, she enrolled in the newly established electronic music and recording media MFA program at Mills and has remained at the institution ever since.
Throughout Payne's body of work, she juxtaposes organic and mechanical sounds, creating a clever interplay between the two in order to comment on humankind's relationship to nature. While Black Ice is a purely synthesizer-based piece, field recordings are a hallmark of Payne's style. She is an avid environmentalist and much of her source material comes from her weekly canoe trips around Northern California. She often records sounds that would ordinarily be considered intrusive in the context of the outdoors, such as motors revving or planes flying overhead, and processes the audio until it begins to evoke natural phenomena like billowing gusts of wind.
Through the Looking Glass excerpt ©2015 Maggi Payne from Maggi Payne on Vimeo.
"They get transformed and transfixed," she said. "It's a commentary about the human intrusion into nature and our not understanding that we're part of nature and we need to take care of it."
Similarly, Black Ice uses synthetic sounds to mimic naturally occurring ones, transporting listeners into a collage of undulating tones that evoke a sublime meteorological phenomenon. Each tone that Payne incorporates into the piece calls to mind a distinct texture or temperature; the music feels almost three-dimensional.
"I think about physicality of sound itself: Where it's coming from, where it's going, how it's getting there, and how it changes along the way," Payne explained. "It comes [from the speakers] at you, to you, through you, beyond you, up, down, and around. It's got a physicality, it's got a trajectory as if it were a living, breathing, live entity — that's the ideal."