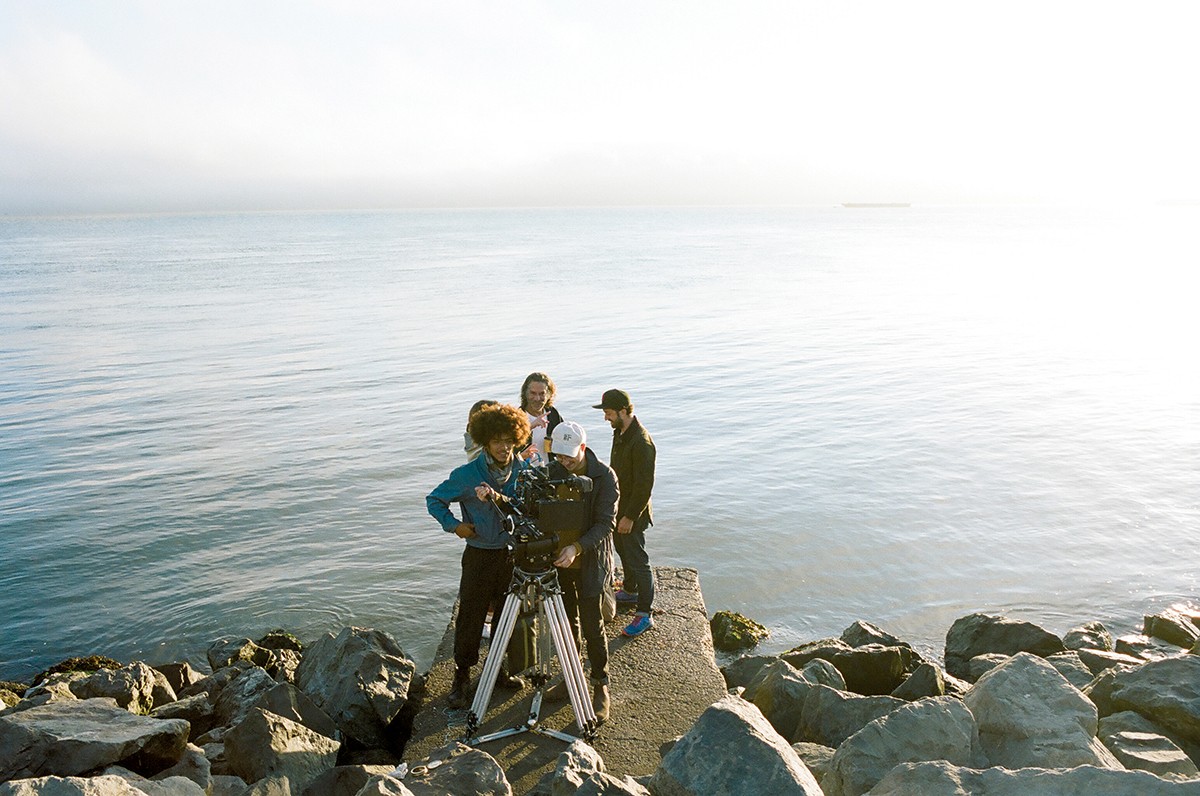 Local filmmaker Joe Talbot laughed as he explained how he's
very
aware that his new project, inspired by the true story of a bank thief in Ohio, is a risky one. The short film — which premiered at this year's Sundance Film Festival and will screen this weekend as part of the San Francisco International Film Festival — tells the story of a white working-class outsider who dons Black face, in the form of a latex mask, and robs a bank. The twisted fairytale is narrated by an old man, telling the story to his Black grandson, and its themes explore race, class, appropriation, and police violence.
American Paradise
is the first movie from Talbot, 26, though he arrived on the local film scene in 2015, with the release of a concept trailer called
The Last Black Man in San Francisco
. That movie, which he wrote with his childhood friend Jimmie Fails, tells the mostly true story of Fails, a Black 20-something struggling to buy back the house his grandfather once owned.
Talbot considers
American Paradise
the "gothic stepsister to
Last Black Man
"; it began as a scene in that feature, but it quickly became clear that the topic was plenty rich to sustain a longer format.
American Paradise
succeeds because its protagonist, Al (Sky Elobar), never devolves into a straw man. Elobar imbues Al, a loner toll collector, with vacant eyes and a deep sadness — his crime is one of desperation and aspiration, spurred on by borrowed advice from
The Jeffersons
to "shift your angle and let them start looking up to you."
The short film was destined to be divisive. But complicating the subject further is the fact that the man behind the camera is a white, middle-class San Franciscan.
Or, how producer and Talbot colleague Khaliah Neal put it: "Let's call a spade a spade. Joe being a white director, it's something that we discussed at great lengths to make sure we could get it right."
Talbot manages the difficult dance of creating a character, Al, who is at once sympathetic yet ultimately unforgivable. We understand his despair and watch him earnestly recognize his limited understanding of Black culture. But we also see him put on that mask, and we see an innocent Black man pay the price. Al is both cringe-worthy and villainous.
The Longshot Features team shot the film before Donald Trump was elected. But once he won, it evolved into something much darker. "Here we think we're telling a story that sits on the fringe," Neal said. "But maybe this is a majority story."
Talbot stressed that, though the film can be read as a Trump-voter parable, it was conceived and written long before his candidacy. That said, trying on Black culture, while opting out of fighting for Black humanity, is sadly a national, even universal, story. "It still exists in San Francisco," Talbot said. "And though this might feel more relevant with Trump, this is not a new thing. Certainly, Black face is not a new thing."
Now, on the heels of
American Paradise
's successful festival run, the filming of
The Last Black Man in San Francisco
is scheduled to start this summer. The true story of race, gentrification, dispossession, and economic stagnation will be a tricky one to tell. But Talbot and Longshot Features have proven that they can craft difficult stories with humor, sadness, shock — and more than anything else, humanity.  
Saturday, April 8, and Wednesday, April 19, at Roxie Theatre, 3117 16th St, San Francisco, SFFilm.org.