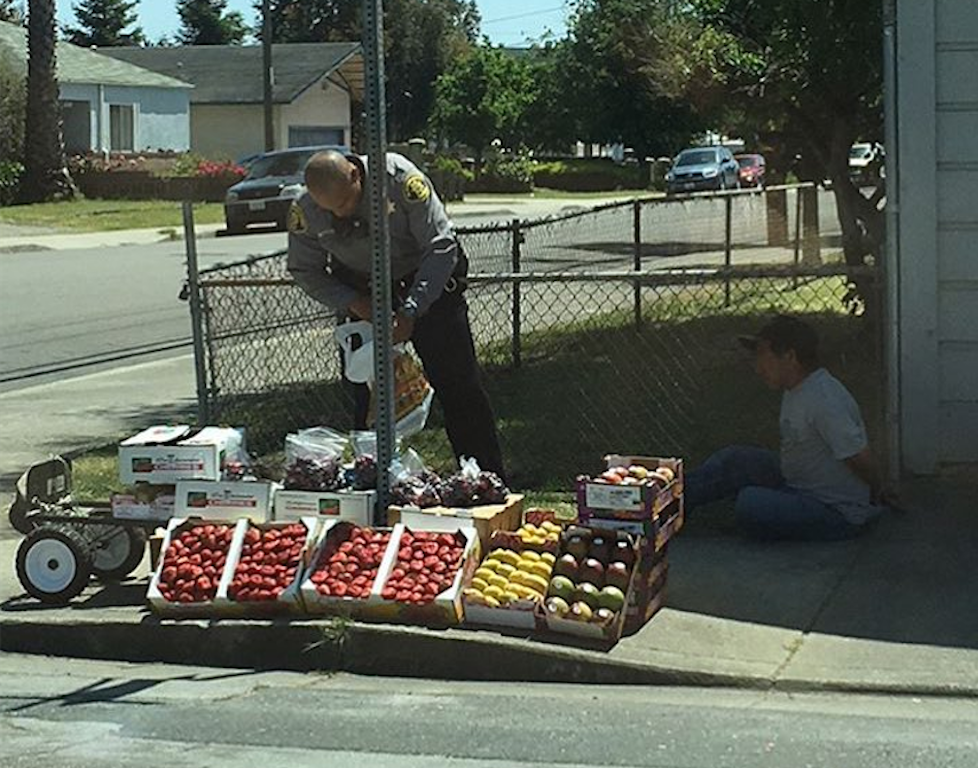 Should the cops bust the guy peddling strawberries and mangos on the street corner?
A recently-taken photo of an Alameda County Sheriff's deputy arresting a produce vendor on a street corner in San Lorenzo has sparked an intense debate on social media.
Critics claim the photo shows selective enforcement of the law; demonstrates a waste of scarce police resources on a victimless crime; and represents the types of interactions that undermine police-community relations, especially with immigrant and Latino communities.
The sheriff's office responded to these criticism in
a lengthy Facebook post
last night: "Some people have used this photo as an opportunity to criticize law enforcement and drive a wedge between us and our immigrant, minority and low income communities," the post states. "Sometimes photos can be deceptive," the sheriff's office continued.
"Our deputy approached this man to advise him that it was illegal for him to sell produce on the corner. When the deputy asked the man for his identification he became resistive and tried to flee. Our intention here was not to arrest him or get in a confrontation with him. We learned, the man is on federal probation and is expected to follow all laws. This is likely the reason he tried to flee."
But this explanation is creating even more controversy.
The sheriff's Facebook post has gone viral, drawing over 900 comments and counting.
Many of those responding object to the sheriff's office using its resources to enforce street food vending laws.
Others are asking why they've never seen a sheriff's deputy crack down on the children's lemonade stands that are popular in the suburbs of Livermore and Dublin.
Still others say it's an example of racial profiling. And if the man is undocumented, he could now be a target of deportation, solely for selling fruit.
"It's a victimless crime. So much for the land of the free. Can't even sell the fruits of your labor," one person replied to the Facebook post.
The sheriff responded that fruit vendors are committing a quality of life crime, and that there isn't a similar problem with lemonade stands.
According to the Sheriff, unlicensed street fruit vendors take away sales from local businesses and can cause outbreaks of food-borne illnesses.
Under the law, a street food vendor has to obtain a permit from the county health office, as well as a business license.
But hundreds of comments responding to the sheriff's Facebook post object to any policing directed against street fruit vendors.
"You keep digging yourself deeper," one person wrote in response to the sheriff's explanations.
"The guy is trying to live…nobody is being harmed by him selling his produce. Recognize your role in the perpetual poverty cycle of people," wrote another person.
"This guy is screwed for nothing, and you have done this to him."
The
Express
contacted the sheriff's office to see if the man was charged with a crime and booked in jail. We also asked about the claim that he was on probation. Check back for updates.
[embed-1]