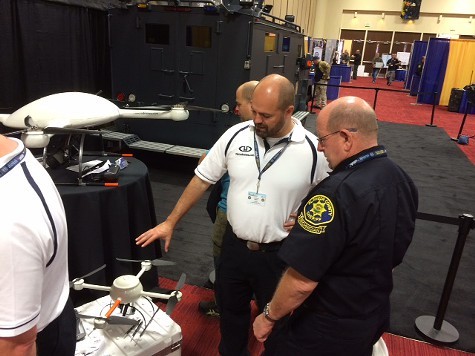 The Alameda County Board of Supervisors voted this afternoon to approve only one more year of funding for Urban Shield, a law enforcement and first responders training exercise run by Sheriff Gregory Ahern. The vote came after hours of public comment, with many calling for the event to be discontinued entirely.
"This is the last year," said Supervisor Keith Carson, who made the motion to end Urban Shield in its current form. "As it currently is, Urban Shield as we know it ends at the conclusion of this vote, after this year's program."
For years, critics have said Urban Shield "militarizes" police. Some vendors at
the event's weapons expo
have been criticized for selling "Black Rifles Matter" T-shirts that mocked the Black Lives Matter movement, while other companies that provided props for SWAT team training exercises were said
to perpetuate racist stereotypes
.
The far-right, anti-government extremist group
Oathkeepers attended last year's event
. Immigration and Customs Enforcement (ICE) agents
also participated in last year's SWAT competition
.
More recently, records obtained by anti-Urban Shield activists showed that the event has received funding from the controversial private military contractor company Blackwater (now named Academi), and weapons makers like TASER and BAE Systems, as well as companies that had multimillion-dollar contracts with the sheriff's office such as the jail health care provider Corizon.
But the Alameda County Sheriff's Office maintains that Urban Shield is an emergency preparedness event and that limiting it will only hamper police, fire, and EMS training that's necessary to respond to natural disasters and large-scale crimes like mass shootings or bombings. Over the past couple years, Ahern changed the event to respond to some criticisms. The county adopted policies about appropriate vendors and even set up
a task force
to institutionalize feedback. The task force disbanded after one year, however.
Today's vote by the board of supervisors was to accept and allocate federal grant funding for the 2018 Urban Shield exercise, but in 2019 the event will be reconstituted after input from various stakeholders.
The supervisors voted to continue accepting federal disaster training funds through the Urban Areas Security Initiative program in future years, but the training exercises that the money pays for will be re-envisioned.
Only Supervisor Scott Haggerty voted against the motion. Although he acknowledged there have been some problems with Urban Shield vendors and how the exercises are perceived, Haggerty said it should continue, but perhaps with a "sensitivity officer" who would provide advice to the sheriff.
Several public speakers said the sheriff's office promotes racism through Urban Shield.
"I don't think the sheriff is a racist," responded Carson. "It really bothered me to hear that."
Supervisor Wilma Chan said she would rather end Urban Shield as a program run by the sheriff and put out a competative request for proposals to operate an emergency preparedness training exercise, and to find other ways of using the grant money.
Supervisors Nate Miley and Richard Valle said they support Urban Shield, but that changes are needed.
"I don't like the militarization of our police departments," said Valle before the vote, "but I represent a lot of people in my district who would like to see Urban Shield continue, just not in its current form."