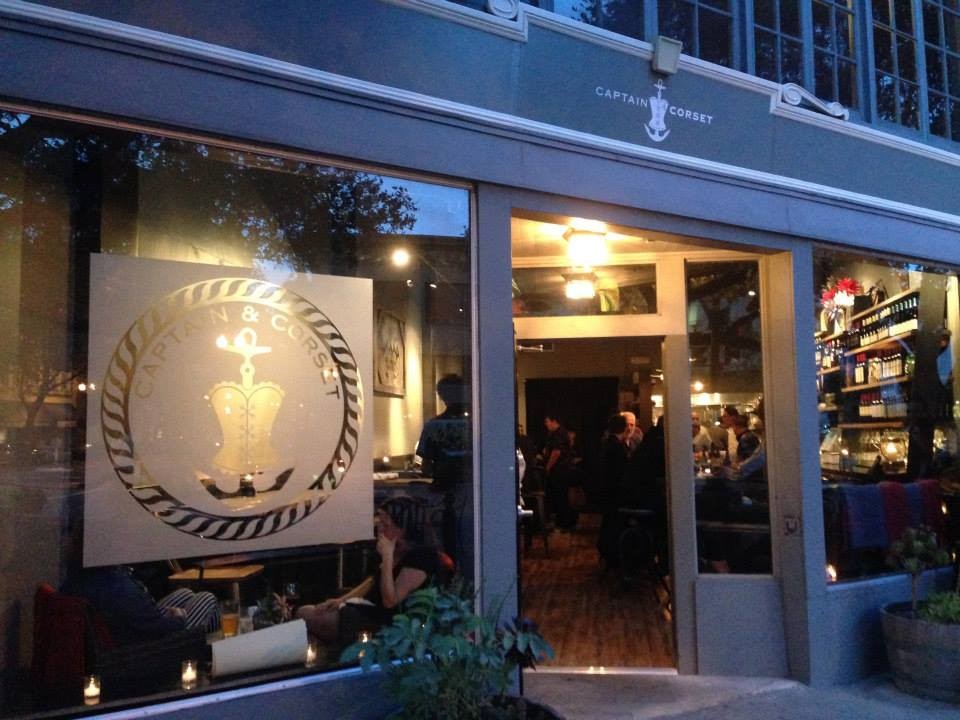 One week after
Ume's departure
, Uptown Oakland's compact restaurant row is suffering another casualty:
Captain & Corset
(2212 Broadway), the New American bistro owned by a couple of Ike's sandwich empire execs, is closing after only
four months in business
.
According to Sam Patel, one of the Ike's executives who owns the restaurant, Captain & Corset's final day of business will be this Sunday, September 21.
[jump] Patel said that he and co-owner Paul Fitzpatrick have applied for a full liquor license for the restaurant and will wait to see whether it comes through before making any final decisions about the future of the space. But closed is closed: Patel confirmed that, regardless of what happens down the road, the restaurant isn't retaining any of its current employees.
Back in May, Captain & Corset replaced a long string of short-lived wine bars in the small slip of a space sandwiched between Plum Bar (and Ume, at the time) and Ike's. Like so many new restaurants, the project seemed full of promise during its initial
media-blitz phase
, touting a veteran management team headed by consulting chef Sophina Uong (of Picán), general manager Carlos Nieto (an Oakland-based event planner), and director of operations Kiri Eschelle (of Levende and Levende East). The restaurant launched with a fun menu — chips and miso dip, braised lamb tacos, and the like — and, for a while, all seemed well.
But by July, Nieto and Uong had both cut ties with Captain & Corset. When reached by phone, both cited deep philosophical differences with Patel about how the restaurant ought to be run. Uong said there was a conflict over money, too. While she admitted that she made the mistake of never signing a formal contract, Uong said she was paid far less than she had been promised for designing the menu, training the cooks, and getting the restaurant off the ground. (When asked, Patel disputed the claim and said that he and Uong had simply disagreed on the direction the restaurant should take. "It was us parting ways with her, not the other way around," he added.) 
Meanwhile, Eschelle, who was largely responsible for the Captain & Corset concept, said she was never actually paid anything for the branding, design, and build-out of the space — instead, the owners promised her that she would eventually receive equity in the business. The silver lining, if there is one, is that if Captain & Corset is to ever be resurrected in some form, Eschelle will be the one to do it.
"I own the Captain & Corset brand and have every intention of using it again in the future," she said.
For Uong, whose
menu
is still the one listed on the Captain & Corset website, the shuttering of the restaurant is bittersweet. "I know everyone's going to say, 'Oh, it's another cursed spot,'" she said.
But Uong found the location to be charming, even with its limited kitchen space, and said she believes that a well-run restaurant could thrive in that spot. Time will tell whether the current owners, or someone else entirely, will give it another try.