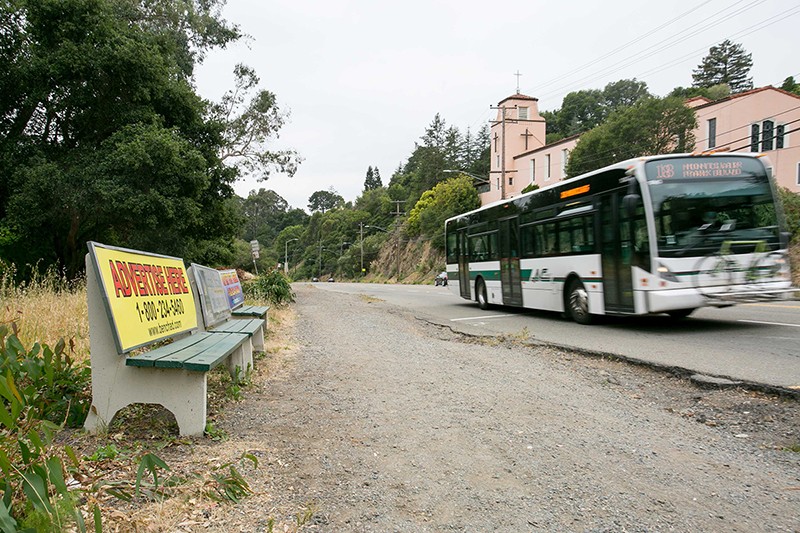 Esther Gulli was surprised last September to learn that AC Transit planned to cut the bus route her kids rely on to get to school. Gulli's children attend Montera Middle School, one of the Oakland Unified School District's more isolated campuses in the hills. Without the Route 642, a supplemental bus line that AC Transit operates especially for Montera students, dozens of kids would have a very difficult time traveling between school and home.
The cut was averted. But then, in January, a larger dispute between OUSD and AC Transit, regarding how these kinds of supplemental school bus routes are funded, blew up: Oakland Unified suddenly announced it was pulling $2.5 million in district funds that pay for the home-to-school bus services.
The school district maintains that, after 20 years of receiving state funds for home-to-school transportation, the Legislature isn't earmarking extra money for OUSD. Facing a budget shortfall already this year, the district appears to be using the money instead to pay for to classroom instruction and other essentials.
In response, AC Transit warned that it would have to cut the special bus routes that serve OUSD schools.
In a staff report for tomorrow's AC Transit board meeting, the agency says it is considering eliminating supplemental bus services to OUSD's most remote campuses: Montera Middle School, Skyline High School, and the Community Day School.
If AC Transit goes through with cutting the seventeen bus lines — which make 52 trips per day — then approximately 1,615 student riders would be affected.
The dispute boils down to money. AC Transit says the supplemental buses for all OUSD schools cost $3.3 million, and that it actually takes a loss by running them, despite OUSD's $2.5 million yearly payment. Without the $2.5 million from OUSD, AC Transit says it can't justify operating the most expensive lines serving Montera, Skyline, and Community Day schools — all of which are located in the hills above the 580 freeway.
But the standoff between OUSD and AC Transit has also revealed that private schools and other public school districts are enjoying free AC Transit supplemental bus routes without having to pay. These non-OUSD rides cost the AC Transit another $4.5 million, according to records reviewed by the
Express
.
For example, AC Transit operates several bus routes that take students to and from Head Royce School, on upper-Lincoln Avenue near the Warren Freeway. Another supplemental route serves the Bentley School in the Oakland hills above the Claremont Hotel, as well as the Hebrew Day School, which is near Skyline High. Yet another route feeds students to the private Bishop O'Dowd school near the Oakland Zoo.
Despite costing AC Transit millions of dollars, none of the these other routes are being proposed for elimination. None of the schools served by them pay AC Transit to offset the cost.
Lot of OUSD parents feel this arrangement of making only OUSD pay for supplemental buses is unfair. Naomi Levy said there's an equity issue, because OUSD students are on average lower-income and have greater needs than students who attend private schools or more affluent districts like Alameda and Fremont.
"Oakland has been paying for these lines and nobody knows this," said Levy.
AC Transit spokesman Robert Lyles declined to answer questions about why only OUSD pays for the supplemental bus services, except to say that his agency and OUSD are currently in negotiations.
"AC Transit has also committed itself to the negotiating process and maintains that effective negotiations cannot occur via the media," added Lyles, explaining why his agency won't comment.
But at
a board meeting last year
, AC Transit Director Chirs Peeples claimed that the $2.5 million OUSD pays isn't actually the school district's money. Instead, according to Peeples, the money is intended for AC Transit to run supplemental school bus services in its service area, and that it simply "flows through" OUSD from the state because of the way the Legsilature wrote the law 20 years ago.
Representatives from OUSD didn't immediately respond to questions about the dispute.
At
tomorrow's AC Transit meeting
, board members will consider whether or not to hold a public hearing on the elimination of the OUSD-dedicated routes. AC Transit maintains they don't need to hold hearings, because the routes don't serve the general public.
OUSD parents like Gulli and Levy say they'll be in attendance and will treat the board meeting as a public hearing to speak to the issue.
An online petition
started by another parent is urging AC Transit to keep the bus routes and has already garnered hundreds of signatures.
"The bigger question is about transportation as a public good," said Levy. "Getting these kids up from the flats to the hills is a public service, and we should find a way to pay for it."