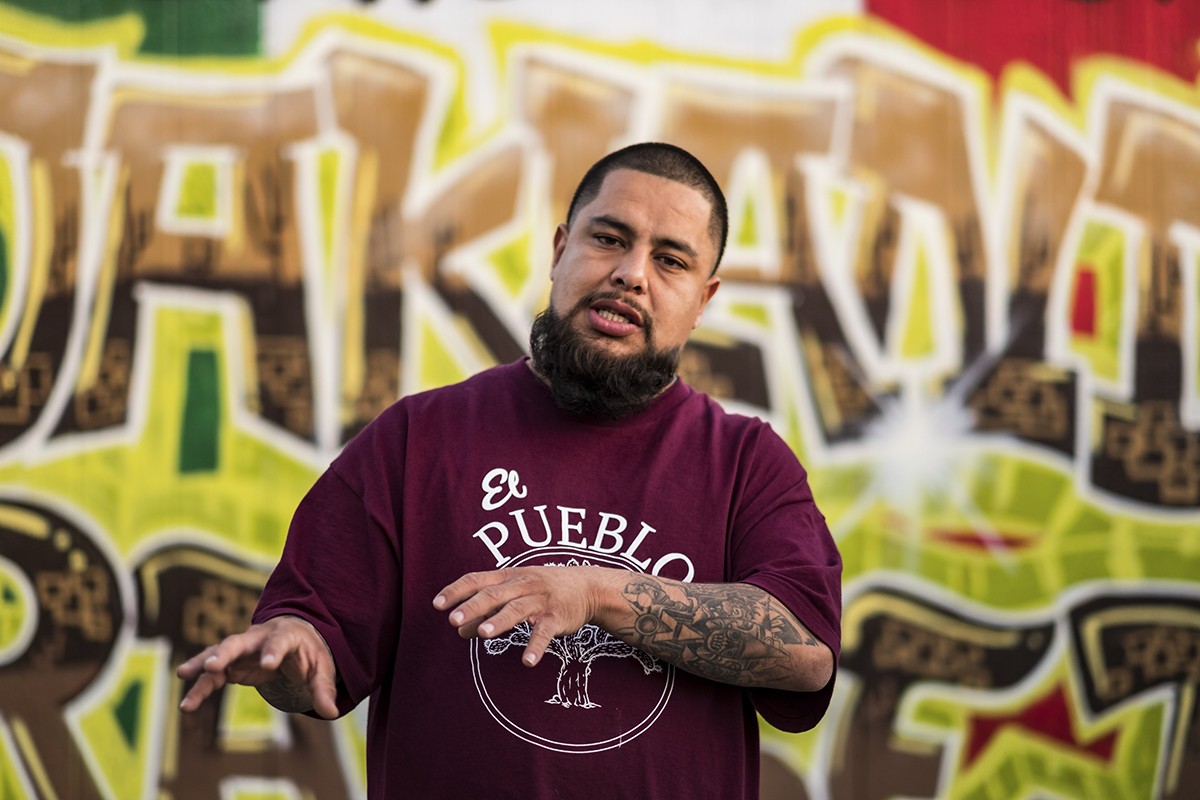 For many, Seminary Avenue in Oakland is a thoroughfare of East Oakland. Seminary can take you to the Coliseum to catch an A's or Raiders game, and it can also lead you to Highway 580 and the Oakland hills.
But to Saul Daniel Silva Montes De Oca (who goes by Daniel Silva, for short), the intersection of Seminary Avenue and San Leandro Street represents not only where he grew up but also his home and place of business. That's where you'll find him selling his custom T-shirt designs under the brand name Mexican Roots Oakland Raised.
Silva immigrated to the United States in 1991 when he was 7 years old. He and his family landed in Oakland, and like many kids who migrate to the United States, Silva had to learn a new language and immerse himself in a foreign culture. The duality of being a Mexican kid raised in Oakland shaped his vision of his future, and that is how Mexican Roots Oakland Raised was born.
Silva said it wasn't easy to grow up in Oakland in the '90s, when residents were struggling with the aftermath of the crack cocaine epidemic, the Loma Prieta earthquake, and the 1991 Oakland hills firestorm. Although trouble knocked on his door, so did opportunities to explore his creativity. "Being creative is happiness," he said during a chat at his home. "You have to believe in yourself."
Silva explored various creative outlets, from making beats and writing lyrics to painting designs on T-shirts and editing video. "As a kid, I always wanted to be part of something," he said.
In February 2014, Silva printed his first T-shirt design — the Oakland tree in the colors of the Mexican flag: red, white, and green. Underneath the tree were the claws of an eagle holding a serpent, representing the Mexican flag's emblem. Other designs followed, and his most popular one features the Oakland tree, depicted as a Mexican cactus, with the eagle and the serpent perched on top of it and a banner underneath the nopal that reads "Oakland, Ca." Silva has developed a small but devoted following through his grassroots business model as well as online store. He uses his Instagram page, @BestOneProductions, to let his followers know when a new batch of shirts is ready for purchase, and famed radio DJ Chuy Gomez are among those who've been photographed in his designs.
Silva's creative ventures are not limited to T-shirts. For him, being an entrepreneur involves much more than just one business venture.
Earlier this year, Silva released an album titled This Is Who I Am, which includes collaborations with Raka Rich of Los Rakas, rapper D-Flo, and Kore Beatz. The lyrics reflect the trials and tribulations of life growing up in Oakland. "Latin rap hasn't really been established," he said. "We need to change that."
Having experienced the struggle for financial independence, Silva knows how crucial it is to give back to the community. He spoke with pride about his involvement in helping others less fortunate. "As Latinos, we don't get involved," he lamented.

[embed-1]

So far, Silva has put together two community events under what he calls NSC (Neighbors Saving Communities.) During the first event held at Arroyo Viejo Recreation Center, he teamed up with friends to give away care packages and free food. At his second event, he gave away backpacks.
"My goal is to be able to support my parents financially so they can retire," he said. "I want to be able to turn the house into a workshop." (Silva shares the in-law unit behind his parents' home on Seminary with his girlfriend and their son.)
Silva quit his full-time job to pursue his dreams of entrepreneurship, but he still struggles financially. Besides his T-shirt business and music venture, Silva also works as a videographer, collaborating with other local artists.
Ultimately, Silva hopes his endeavors will help combat negative stereotypes.
"All I saw growing up was the cholo representation of our people," he said. "But that's not us at all. We're so much more than that."