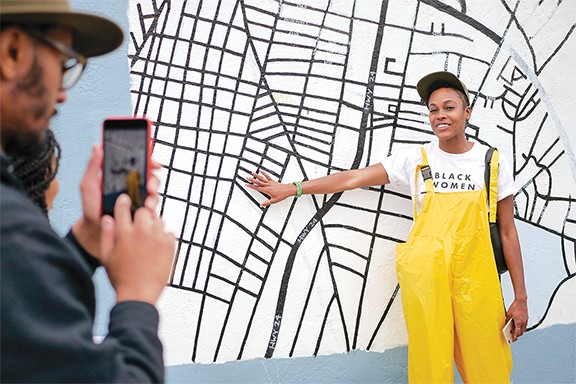 After she graduated from college, Jena Dominique embarked on a two-year journey around the world, traveling to such far-flung places as Morocco, Thailand, and Brazil. Wherever she went, she would buy postcards to send to family and friends. "Postcards have the power to perfectly summarize an experience in visual form," she wrote in an email. But the ones she bought often sat in her bag.
"When you go to buy postcards when you're traveling, none of the postcards on the stands look like what you actually experience," Dominique said. For travelers to the Bay Area, that often means only having postcards of touristy spots in San Francisco. "We need to have our own visual representation," she said of Oakland.
So when Dominique returned home to the Bay Area last year, she decided to try to create her own postcards of Oakland and disseminate them through a scavenger hunt.
Her three-hour walking tour through Oakland's Temescal district aims to show tourists and new residents the intricacies of the neighborhood while encouraging people to support local businesses. At the beginning of the tour, Dominique hands out postcards designed by her company, Street Salad, featuring photos of local landmarks and other unique elements, like the map of the town painted on the side of the now-closed Baby World. As they walk through the area, participants can learn more about the locations featured on the postcards.
The walking tour is one of the few Oakland "experiences" on Airbnb — a feature that allows locals to create their own guided tours. While there are more than 100 experiences in the Bay Area, most of them are in San Francisco. Since its launch in November 2016, there are now more than 1,800 Airbnb Experiences, with an average cost of $66 per person.
Dominique's tour costs only $20. She said she keeps the cost low to encourage people to use their dollars to purchase from small businesses.
The starting point is Bakesale Betty, the famous fried-chicken sandwich joint on the corner of 51st and Telegraph. Before guests arrive, Dominique sends them an email telling them what she'll be wearing (usually something distinctive and bright) and a link to Childish Gambino's "Telegraph Ave" (perhaps a tad cliché but, nonetheless, still slaps) to set the mood. Dominique said she chose Bakesale Betty so that she could introduce people to the journey "through the scent of this place."
Once the crew assembles, Dominique asks questions about what they're interested in — be it food, shopping, cooking, gaming, or anything else — and tailors their journey accordingly. On days when Dominique doesn't have bookings, she still walks parts of her route, checking in with business owners along the way. On a recent Saturday, she picked up postcards from Standard & Strange, a menswear store touting high-end denim and their own brand of California-made shirts, and Preserved, a slim storefront that sells an array of canning goods and tools and hosts culinary workshops. Though the postcards aren't her own design, Dominique says they add to the experience, as they can only be collected from the shops along the way.
"Doing this experience really requires me to know a lot about this space and know a lot about each of the individual owners and their story," Dominique said. "That's what gets people really excited about the spaces are the stories of how they came to be." Sometimes, she'll share her own stories of discovering a spot along the tour.
The people who book Dominique's experience aren't all travelers. Some are locals looking to find their new favorite spot or people wanting to escape San Francisco for a few hours, like Trina Ng. Originally from Australia, Ng was drawn to the postcard scavenger hunt because of its creativity and her interest in "finding out a bit more about Oakland's artistic community."
"Anyone doing it will probably learn more than they expected going into it," said Ng. "Jena has a lot of background knowledge about the street artists in Oakland."
On the exterior wall of Dandelion Post, a boutique on the corner of 43rd and Telegraph, is a mural of a woman lounging in a bathing suit. The store's owner, Jaime Levine, commissioned Lena Gustafson after putting a call out for artists on Instagram. Now, the mural lives another life as a postcard made by Dominique.
"Postcards are the things you put up on your fridge," Dominique said. "Postcards are things that are in your house — and that's putting drops in other people's bucket because now I've inspired you, maybe through this picture, that you should go to Paris as well."
The tour wraps up at Arthur Mac's Tap & Snack on the corner of 40th Street and Martin Luther King Jr. Way, where the group sits down to eat and drink and, more importantly, to write and mail a postcard or two. Stamps are included in the tour as a means to avoid excuses for writing them later, or, not at all.
In the future, Dominique hopes to expand her tour to other neighborhoods and photograph more street art and distinctly Oakland spots, as many disappear. A mural bearing the mantra "Trust Your Struggle," on the corner of 41st and Telegraph, has vanished since last fall. Marcus Bookstore, a Black-owned bookstore that's been around since 1960, is one of the few stops located on a street other than Telegraph.
Dominique says stopping there is a way to talk about West Oakland, the history of the Black Panthers, and gentrification. She's considering developing a Black-owned-business-themed experience, partly because most of the businesses in Temescal are not owned or frequented by people of color. In a way, her postcards also act as a way to preserve history, as many places are disappearing due to gentrification.
If she achieves her goal, more people will feel compelled to visit Oakland and value the same places she does. She wrote: "I get to return the favor and share the place I call home, like so many people do for me while traveling."