In the high-turnover restaurant world, there's nothing unusual about a chef deciding to strike out on his or her own to open a new place. Even so, the regime change at King Tsin, a North Berkeley institution since 1969, is notable: Sleuths on the online food forum Chowhound recently discovered that the Solano Avenue restaurant reopened this past May with a new focus on Sichuan cuisine, a management team made up of recent departees from Albany's China Village (which many consider to be the best Sichuan restaurant in the Bay Area), and — the kicker — a menu that bears more than a passing resemblance to the one at its new owners' former employer.
Did I mention that King Tsin is only located a half-mile up the road from China Village? It all seems, on the surface, like a fighting move, though when I spoke to co-owner Chi Yiu Ho, he didn't speak of any ill will toward China Village — just a desire to have his own place. (When asked if he and his partners were trying to compete with their old boss, Ho just laughed.)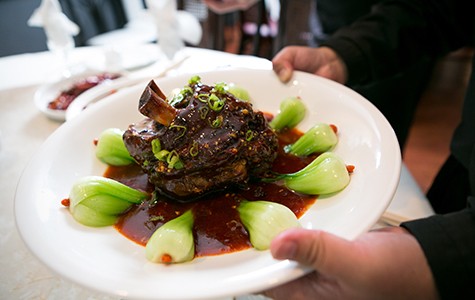 All this would be meaningless trivia, though, if the quality of the food at King Tsin weren't up to snuff. But it was — as good or better than recent meals I've had at China Village. To quote a Chinese proverb, qing chu yu lan ("the blue that's extracted from the indigo plant is even bluer than the plant itself"). In other words, the student has surpassed the master — or, if not surpassed, at least entered into the conversation about where diners can find some of the best Chinese food in the East Bay. That's especially true if you have a taste for the tongue-numbing spice and complex layers of flavor that characterize traditional Sichuan cuisine.
Prior to this new venture, Ho was a longtime waiter and manager at China Village; Jian Yang was one of the head chefs for about nine years; and Bobby Ng was the lead waiter until he left — to become the manager at King Tsin, in fact — when a fire shut down China Village for more than a year. The trio entered into a partnership with King Tsin owner Albert Lu and completely revamped the menu, which had previously featured a mix of Cantonese and Northern Chinese dishes.
For longtime China Village customers, Ho and Ng will be familiar faces, but it's Yang's skill in the kitchen that makes the restaurant a worthy destination. If you are an admirer of such China Village classics as the smoky-sweet wok-charred cabbage or the tender cumin-spiced lamb that's stir-fried with onions and bell peppers, you'll find nearly identical versions here — as tasty as ever, though perhaps listed under a slightly different English name. (For instance, China Village's signature "West-Style 1,000 Chili Pepper Fish Fillet in Chicken Broth" is available at King Tsin, but the description now omits the "West-Style" designation and the specific chili count.) Ho said the menu is probably about 70 percent the same, but added that the restaurant runs a rotating selection of specials that are mostly Yang's own creations. As for China Village's oeuvre, if there's a dish you crave that isn't listed officially on the menu (say, my personal favorite, the mapo tofu whole Dungeness crab), chances are, all you have to do is ask.

While I've yet to do a side-by-side comparison, in several cases, dishes at King Tsin seemed even better than their China Village counterparts. The cumin lamb, for instance, had much more of that smoky, caramelized quality that you only get when you combine high heat with a cook's keen hand with a wok. The aforementioned fish soup is a must-order if you haven't had it before: a tureen of long-simmered soup, made with pork and chicken bones, that came to the table covered with perhaps not literally a thousand, but a fear-inspiring number of dried red chilies floating on top. The server removed all of the chilies before ladling the soup, which was brimming with vermicelli noodles and delicate chunks of fish, into individual bowls. What you wind up with is the most intoxicating broth — with all of the fruity fragrance of the chilies but very little of their heat. Yang's version also featured a generous amount of sliced ginger and garlic, which made the soup a little more rustic, and definitely messier to eat, than the original — but also meant it was packed with even more earthy flavor.

It's a clever, theatrical little flourish, leaving those chilies in for the server to remove at the table. Similarly, the home-style braised pork shoulder elicited audible gasps when our server brought it out — a blackened, prehistoric-looking thing, as big as a small chicken, surrounded by a ring of bok choy. Our server used two spoons to take the meat clean off the bone, allowing us to see, before we'd even taken a bite, how tender it was — how jiggly and unctuous the thick layer of skin and fat. Yang cooks the pork for seven hours, and it's available with your choice of three different sauces. The five-spice-powder-infused version we ordered was only mildly spicy, but had just the right prickle of heat to balance out the richness of the fatty meat.

New-to-me dishes included a braised salmon belly special (served with juicy shiitake mushrooms and more slippery vermicelli) and at least four different preparations of frog. That seems like a lot, though Ho noted simply that frog meat is hugely popular not just in Sichuan, but all over China. The UMAMI frog — listed on the menu just like that, with all capital letters — was easily the most unusual dish I tried during my visits, though it also best exemplified the ma la flavor that is the most famous characteristic of Sichuan cuisine — the combination of chili heat and the tongue-numbing effect of Sichuan peppercorns (aka hua jiao). The frog was chopped into small segments, which made eating it more akin to gnawing on stir-fried crab than chicken. This was a saucy dish, topped with a generous scattering of green Sichuan peppercorns (more potent than the typical red variety) — every time I bit into one, it shocked my tongue with a citrusy electricity, and the residual tingling sensation and warmth infused the meat with an extra layer of flavor.

To balance out your meal, the sweet wok-charred cabbage is a good bet — when cooked just right, its refreshing brightness and crunch serves as a nice foil to fiery fare. Another intriguing vegetable option: a plate of stir-fried asparagus spears and prawns tossed with housemade Sichuan pickled chilies, whose tangy heat reminded me of Italian-American sport peppers.

One more inside tip: One of the chefs hails from the Hunan province, so you'll find buried in the 200-plus-item menu a handful of famous Hunan specialties, such as smoked pork stir-fried with leeks and steamed fish head topped with chili peppers.Whatever you order, you'll want plenty of white rice and perhaps an order of the puffy sesame flatbread — a dish I loved for the contrast of its crisp exterior and soft, scallion-laced interior, which peeled apart beautifully into layers. King Tsin's version had a slight sweetness to it that complemented the spicy food.

It's unclear what effect this talent drain has had on China Village, where chef-owner John Yao still runs the show, and which, by virtue of its years of consistent excellence, might still hold the hua jiao-encrusted crown for Sichuan cooking in the East Bay. But even apart from the food, King Tsin has its selling points — for one, a less crowded and hectic dining experience than what you'll typically find at China Village. And Ho and Ng bring a professionalism to the service — a certain pressed-shirt formality — that you won't encounter in many Chinese restaurants in this area. At the very least, with the emergence of Chengdu Style Restaurant (near the UC campus) and now King Tsin, admirers of Sichuan cuisine suddenly have options. And that's a good thing.