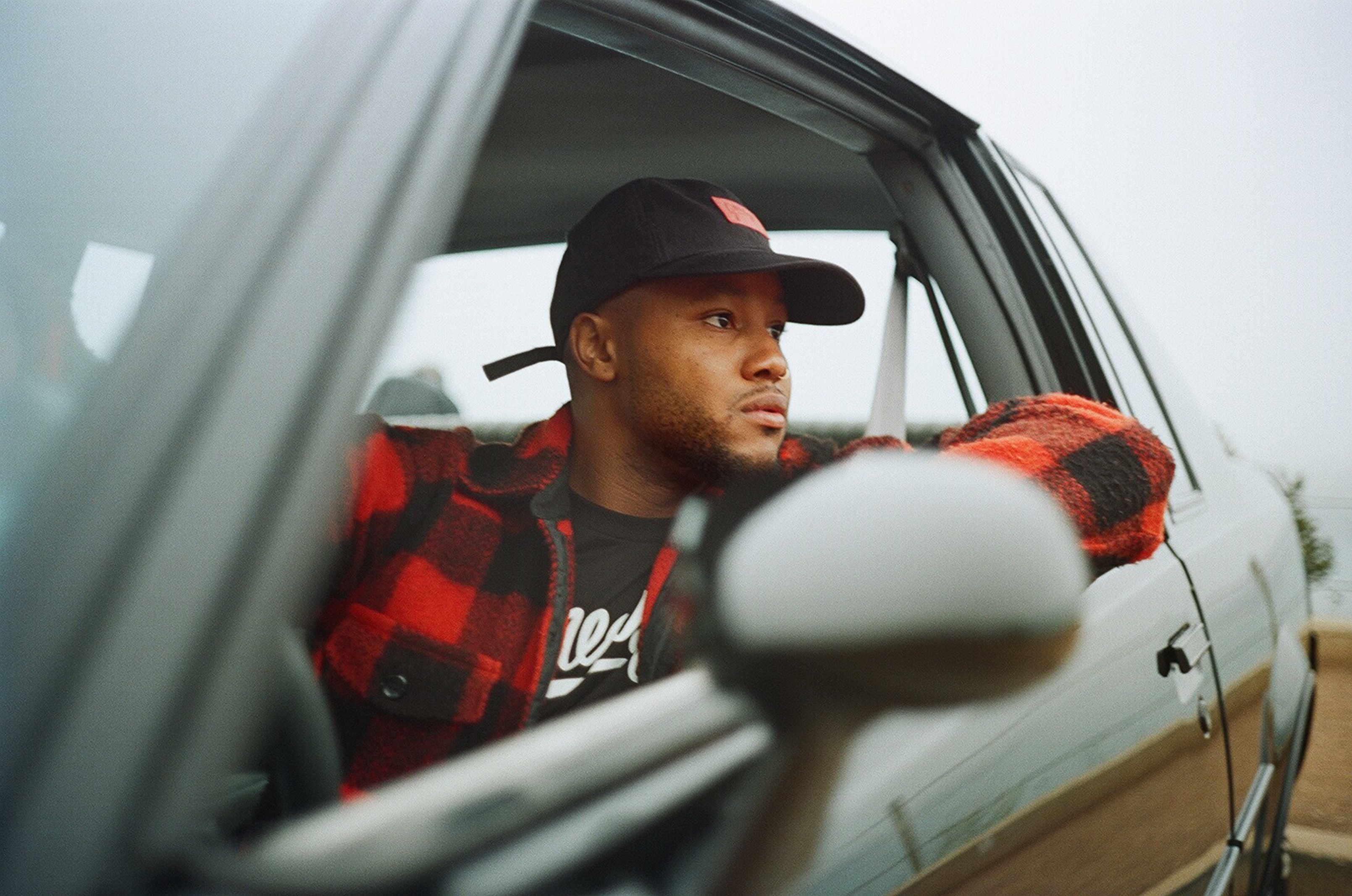 Singer-producer 1-O.A.K. reclines on a couch in his Jack London Square studio and puts on
Scream
for background noise while he waits for his band to show up for rehearsal. He loves cheesy movies, he confesses with a slight smile, hence the name of his new album,
Riding in Cars with Girls
.
"Everything happens in this room," he says as I get settled into the studio, gesturing to the vast record library, from which he culls his samples. For the past seven years, this spot has been home base for his record label, HNRL, which he runs with a handful of collaborators, including Trackademicks, the popular Oakland producer.
1-O.A.K., aka Brandon McFarland, has a syrupy voice and pop star looks. But at 31 years old, he's only now starting to embrace the role of showman. Since his sweet, lovesick R&B jam "Special Request" (from his debut album of the same name) became a regional hit in 2013, he's kept a low profile, only appearing occasionally to play shows like Oakland Music Festival.
But for years, he's dropped hints about a follow-up record on social media, and his fans have been anxiously waiting. "I mean, shit, I was Mr. Pump Fake for a while," he laughs, remembering a misleading tweet about the album's release date from 2015.
1-O.A.K. got his start singing in the choir at Love Center Ministries, an East Oakland church known as the birthplace of contemporary gospel music. His godfather, Grammy-winning gospel composer and singer Walter Hawkins, encouraged him to pursue music early on, and even bought him his first guitar when he was ten years old.
[pullquote-1] Enmeshed in Oakland's hyphy scene in his teens and early twenties, 1-O.A.K. sought out a career as a producer rather than a singer. In the mid-2000s, he was in a group called the Whole Shebang with DJ Fresh, the beat maker behind the popular
Tonite Show
album series.
"I had a grill and a tall tee and was just out here looking crazy," he says of that era. He pulls out his iPhone and shows me a picture of him and DJ Fresh circa 2007. They're wearing technicolor T-shirts and baggy jeans typical of the "punk rock" style that took over the Bay Area rap scene the same year The Pack came out with "Vans."
"I wasn't really trying to sing. It was really Trackademicks and my HNRL brothers who pushed me to do it, and the rest is history."
In the Aughts, 1-O.A.K. also taught music production at Youth Radio, the local digital media nonprofit. His students included IAMSU and P-Lo, two of the Bay Area's biggest rising stars.
That makes 1-O.A.K. the godfather of their collective, HBK Gang, and the younger scene that orbits it, I offer. "I'm the liaison, not really the godfather. I'm the hand behind the hand," he jokes, praising Su's business savvy and P-Lo's prolific output. "They teach me more than I teach them at this point."
His former students are featured on
Riding in Cars with Girls
in guest verses and production credits, but its smooth R&B stylings are all 1-O.A.K. "Lost & Found," its lead single, is already on rotation on 106.1 KMEL. The track, a danceable banger with plenty of bounce, plays with off-kilter vocal arrangements that leave listeners slightly on-edge, diffusing the tension with an expertly crafted pop hook.  [embed-1]

Riding in Cars with Girls
offers a wide range of R&B, stylistically: "Nature," which features Drew Banga's live bass, evokes the likes of Sade and Michael Jackson; meanwhile, tracks like "Lit" call to mind Jeremih and Usher; and "Dead Wrong / Naima" samples space-age synths and funky guitar from '70s prog-rock band Alan Parsons Project, adding a dose of vintage psych funk.
1-O.A.K. explained that he intended for each song to tell a story about a different romantic experience he's had with since getting out of a long-term relationship. "You know when dudes are trying to deal with a breakup, man," he says. "You're just out there. You're experiencing different relationships and you're guarded but you don't want to be."
Since March, 1-O.A.K. has been back-and-forth between Oakland and Los Angeles, networking and writing and producing for other artists including Oakland's own Kamaiyah. And he's in the process of booking shows and shooting music videos for
Riding in Cars with Girls
. After years behind-the-scenes, he's ready to assume center stage.
"Everybody knows me as more of a mentor than an artist. This is me being an artist and it's hella fuckin' fun."