Alameda County offers multiple options for early voting
Sponsored content by Alameda County Registrar of Voters
There's no need to wait until Sept. 14 to cast your vote in the California gubernatorial recall election. The Alameda County Registrar of Voters is making sure eligible voters know about the many ways to securely return your ballot ahead of the final date.
According to the ACROV office, a large group of voters are still unaware of the upcoming election. With so many news events to keep track of, the recall election is not top-of-mind for many. So the ACROV is ensuring that as many voters as possible are informed about their voting options. Voters have already received their vote by mail ballots, and those can be returned immediately. Make sure your ballot is signed and dated.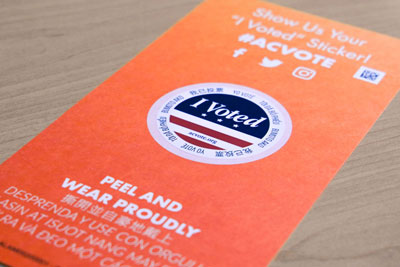 During the last election, the 24-hour drop boxes proved very popular, so popular that the ACROV has expanded their numbers to 66. The drop boxes are open now, and will be open until 8 p.m. on Sept. 14. Ballots are currently being picked up daily, and closer to election day, will be picked up multiple times daily. To find the closest box, visit https://www.acvote.org/info/09142021
Ballot drop stops allow voters to drive in and hand their ballots to ACROV workers. Four locations are currently open from 10 a.m. – 4 p.m. and more will be added before the election. Find the closest one at the site listed above.
Another option is ballot will call. By scheduling an appointment online at the site to pick up your ballot, it will be ready for you at the ACROV office. Information confirming your current voter registration status will be needed to complete the appointment.
Closer to the Sept. 14 date, and on that date, accessible voting locations (AVLs) will be available for voters who need assistance, or for voters who need to replace a damaged or lost vote by mail ballot. Hours include:
Saturday, September 11, 9 a.m. – 5 p.m.
Sunday, September 12, 9 a.m. – 5 p.m.
Monday, September 13, 9 a.m. to 5 p.m.
Tuesday, September 14 (election day), 7 a.m. – 8 p.m.
Information about AVL locations is available on the site.
Voters can track the progress of their submitted ballots through another popular innovation, Ballottrax. Sign up on the site to receive notifications about the progress of your ballot via email, text, or voice calls at www.ACVote.BallotTrax.net
And those eager to follow the quickest election results can get them sent directly to their inboxes starting soon after the polls close at 8 p.m. on Sept. 14 by signing up on the site. Note that due to the complexity of the ballot, final results will likely not be available immediately.
Even with all the additional early voting options, the ACROV office anticipates a large turnout on election day. It is actively seeking poll workers, and is encouraging interested, eligible people—those who are legal residents or green card holders—to apply. High school students who are of voting age, and most especially, bilingual individuals, are needed. The office is striving to ensure that all eligible voters in multilingual Alameda County can be accommodated.
To apply to become a poll worker, visit https://www.acvote.org/community/ew-apply or call the ACROV office at 510-272-6971.