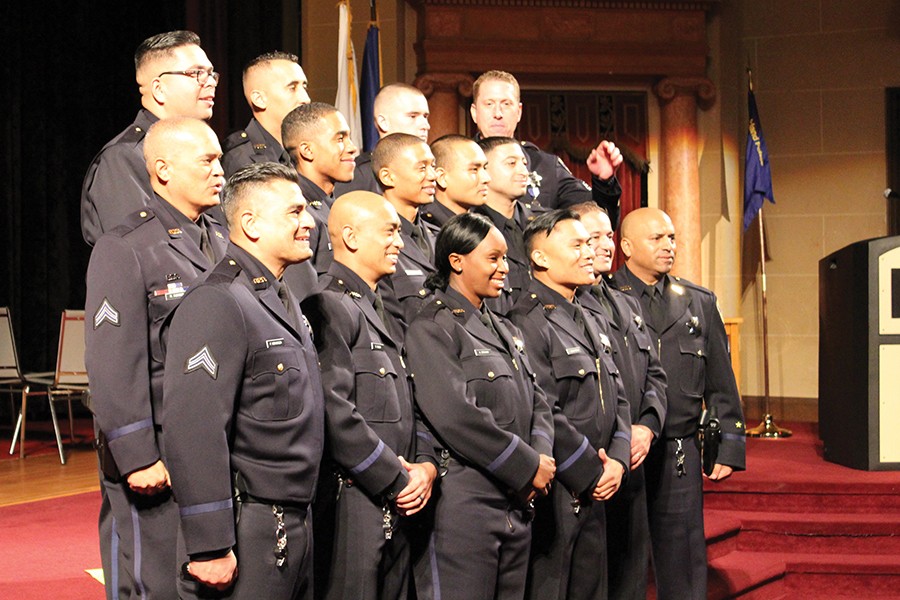 Oakland's 179th police academy is on track to add as many as 21 new cops to the city's streets when it wraps up in July, but there won't be any women in the graduating class. Nor will this latest academy add any Black officers to the department's ranks.
That's because when the 179th class began in January, only one of its 24 trainees was a woman. She has since left the program, according to city records. The academy also only began with a single Black trainee, who also left. It's unclear why these two individuals are no longer in the academy, but when it finishes in July, the majority of rookies joining OPD will be white and Latino men.
The numbers are just the latest in a disappointing series of expensive police academies that have graduated few officers and added little diversity to the department's ranks. Each academy costs about $1.5 million and attrition rates are high for all groups, but women and Black people are admitted at lower levels and are eliminated, or for various reasons choose to leave academies, at higher rates.
Oakland Councilmember Desley Brooks, who also chairs the public safety committee, called the numbers disappointing and said more needs to be done to support OPD's recruitment of women and Black officers.
"When we're able to recruit people who were born, raised, and have lived in Oakland, and get them to come back, it's a different kind of service they provide to the community," said Brooks. She added that while the city council recommended numerous steps to increase police officer diversity several years ago, it's unclear whether the department enacted the suggestions.
The Oakland police didn't respond to a request for comment for this story, but department data shows that the attrition rate for women out of the last three police academies was 62 percent, whereas for men, it was much lower, at 33 percent.
"Departments everywhere struggle with this," said Katherine Spillar, the executive director of the Feminist Majority Foundation. "But it's because they won't rethink the job and what the necessary skills are."
Spillar said women have exactly the kinds of critical thinking, de-escalation, and conflict resolution skills that are key to public safety. Often, they excel over men, but too many police training programs continue to overemphasize physical strength, which actually isn't the best trait for an officer.
For decades, OPD's relationship with the city's residents has been tense. OPD is currently under federal court supervision due to the Riders police misconduct scandal of the early 2000s. The Riders were a squad of male OPD officers who engaged in systematic racial profiling of Black residents, sometimes planting drugs and brutalizing people. Subsequent lawsuits against the department also exposed the use of illegal warrants and strip searches and other troubling practices targeting mostly Black residents. Male officers were responsible for most the misconduct, and victims were mostly Black and Latino.
In recent years, OPD has been able to reduce instances of use of force, handcuffing, and unjustified stops of Black residents. The department's use of stop data to analyze disparities has allowed officers to address racial bias head-on and change tactics. Few departments have undertaken similarly self-critical and effective measures.
But wide disparities remain. Many believe the solution requires adding more Black officers and more Oakland residents who have cultural familiarity with the city's diverse communities.
In some ways, the department — which was once overwhelmingly white — has diversified. Latinos are both a fast-growing population citywide as well as within OPD. Currently, 40 percent of OPD officers are white. Latinos now make up another 25 percent of the department. Asians comprise 17 percent of OPD's officers, roughly the same percentage of the city's population.
But only 17 percent of Oakland cops are Black, even though the city's overall population is estimated to be 24 percent Black. And the proportion of Black officers has actually slipped by two percentage points over the past three years, according to department records.
In 2015, the Oakland City Council formed an "ad hoc working group" to suggest measures to recruit more women, Black people, and Oakland residents.
The ad hoc group, made up of 13 volunteers chosen by the council, recommended strengthening OPD's relationship with local colleges like Merritt College, which runs a justice administration program, and better marketing police jobs to specific audiences that have traditionally been shut out of law enforcement. Other suggestions focused on drawing people who grew up in Oakland back to the city by, for example, figuring out which colleges and universities have large numbers of Oakland residents and participating in their job fairs.
Councilmember Rebecca Kaplan suggested recruiting a more diverse police force by having OPD table at events like the Bay Area Black Expo and Oakland Pride, which are focused on Black residents and LGBTQ communities. "They did end up getting a booth at Oakland Pride, but I had to tell them about it," said Kaplan.
Kaplan also suggested that OPD stop considering past marijuana use, or having a history of financial difficulty, as grounds for rejecting candidates. She said non-whites have been disproportionately affected by the drug war, and economic problems like debt — which affect women at higher rates than men — shouldn't be used to weed out police applicants.
Brooks said it's unclear if OPD has implemented any of the ad hoc working group's suggestions or those that Kaplan offered. The department hasn't formally reported back to the city council on its efforts since 2016, said Brooks.
Women are seen as a key addition to the department in order to change what critics have called a patriarchal and sexist culture. During the department's sex abuse scandal in 2016, in which multiple male officers exploited a teenage girl, Oakland Mayor Libby Schaaf scolded the department by calling it a "frat house" afflicted by a "toxic, macho culture." One result of the scandal was Schaaf's recruitment of Anne Kirkpatrick, the city's first female police chief.
But while OPD is now led by a woman, it remains an overwhelmingly male-dominated workplace — 87 percent of OPD officers are men, and nine out of ten officers still live outside of Oakland, many in distant majority-white suburbs.
Spillar said part of the problem for OPD could be the gender imbalance when the police academies start. Typically, only a handful of women are admitted to each new OPD class. For example, there was an average of five women admitted to each of the last five academies. Men far outnumbered them, making up 25 of each academy's trainees, on average.
As a result, OPD's gender imbalance mirrors the national average. In 1995, the U.S. Department of Justice collected data on the gender of police officers in the U.S. and found that 90 percent of all cops were men. In 2016, the most recent year for which data is available, men accounted for 88 percent of all sworn law enforcement officers nationwide.
Spillar said that some large departments have been able to gain more gender balance, including New York and Los Angeles, but both cities were under court order to do so. Oakland's federal court oversight program hasn't focused on racial and gender disparities in hiring.
Kaplan said OPD's latest recruitment and training numbers with respect to gender and race are cause for concern and that the council should revisit the issue.
"If you want it to not be a frat house, then don't actually make it a frat house," said Kaplan.