A transfer-of-ownership sign posted outside of Oakland's B-Dama (4301 Piedmont Ave.), the popular Japanese izakaya, confirmed what chef-owner Chikara Ono hinted at earlier this month: When the restaurant opens its new location in Swan's Marketplace next month, it will mark a move rather than an expansion.

Ono told What the Fork that he has sold the lease on the Piedmont Avenue spot, which will eventually reopen as a Thai restaurant.

[jump]
Even with the
new location opening in Old Oakland
, in what Ono hopes will be a more heavily foot-trafficked area, the old B-Dama will be missed, especially by regulars who live in the neighborhood. Hopefully, the new restaurant will find that same sweet spot — a blend of value, hospitality, refined cooking, and lack of pretension — that the original managed to hit, probably more consistently than any other Japanese restaurant in Oakland.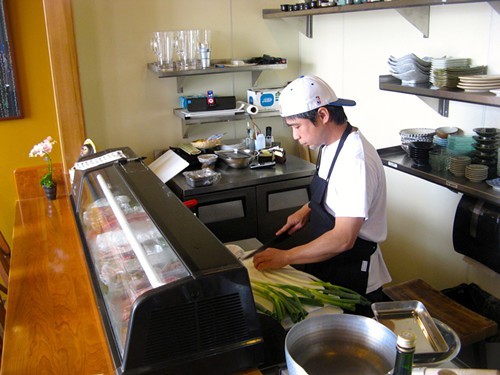 Ono said he doesn't know much about the plans of the new owners, listed on the change-of-ownership application as V R Thai Gourmet LLC, though he said they approached him several times over the past year with offers to take over the lease.
The closing of the Piedmont Avenue location and the opening of the new B-Dama in Swan's Marketplace will both likely take place within the next couple of weeks. However, Ono said it's possible that he might continue to operate in the old space in some limited capacity until the new owners are ready to take over.