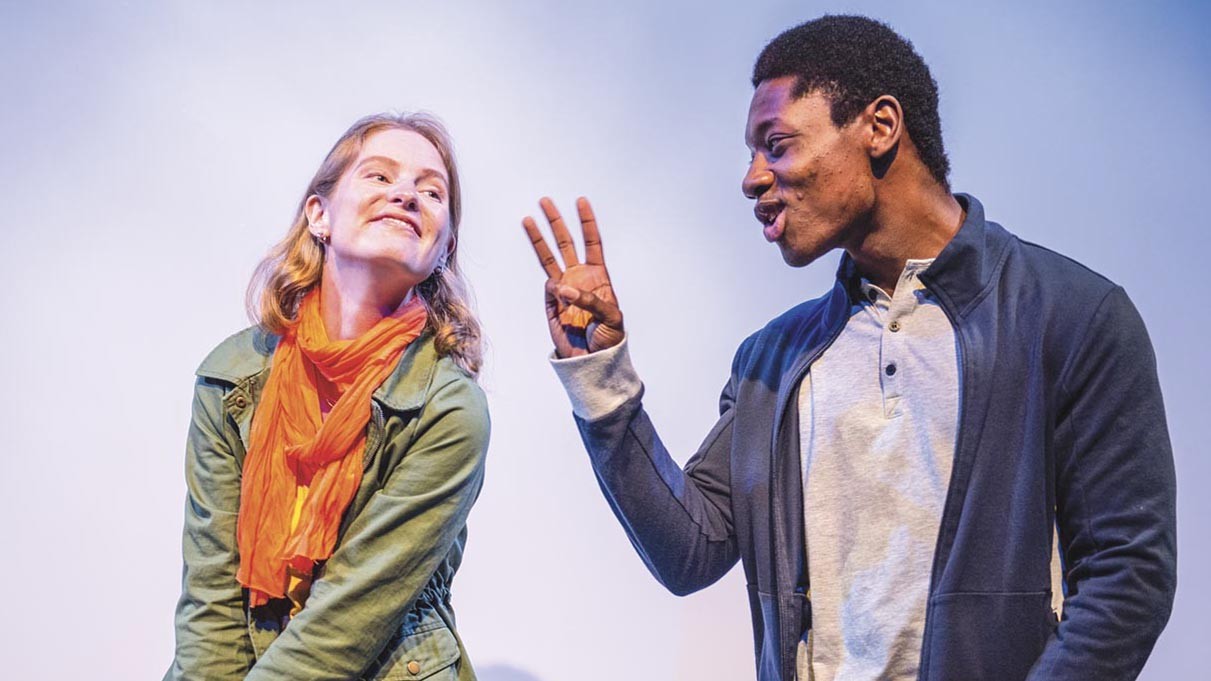 No one sees Anna Ziegler's play, Actually, alone. Presented through May 5 in Aurora Theatre's intimate Harry's Upstage venue, unconscious bias is an ever-present companion.
Self-reflection therefore operates like a subversive third narrator to Ziegler's 85-minute story of "she said a lot/he said a lot in fewer words," which is astutely directed by Tracy Ward. The woeful issues addressed by the actors, who mostly breach the fourth wall to speak directly to the audience instead of one another, include homophobia, body dysmorphia, ethnic mislabeling, racial macro-and micro-aggressions, the Title IX law and academia's responsibility to uphold it and, perhaps most notably, sexual misconduct and alcohol consumption on college and university campuses. Post-show reflection and discussion, or possibly even arguments, dreams, or nightmares, are inevitable.
Ziegler's two-person play circles around Amber Cohen and Tom Anthony, Princeton University freshmen who seek to be made whole by their romantic partner, but find themselves tragically ripped — and ripping each other — to pieces. Set designer Giulio Perrone and lighting designer Jim Cave partner effectively with a streamlined box frame set whose bleached white tones are subtly cast with blue, red, orange, and other hues with evocative, moody results.
The precarious, suspenseful narrative is built in Ziegler's skilled deconstructionist hands like two teetering towers of irregularly shaped rocks. Stacked by actor Ella Dershowitz in Amber's story are the death of a father who singularly "heard her," a mother who counsels Amber to avoid carbohydrates if she ever hopes to marry, a consensual but rough early sexual encounter that left her forever silent during intercourse, and excessive drinking and stripping off her tank top on the dance floor the night of the alleged rape.
In Tom's collapsible frame, Michael A. Curry presents a complex history: a single mother with cancer, the promiscuous pursuit of sex, love of classical music and the piano, and constant exposure to racist comments downplayed by white people as "micro-aggressions" (Amber asks and expects Tom to understand/forgive her suggestion that his race was "a great way" to get into an Ivy League university). Most damning and tangled is Tom's eventual confession of being not entirely "into" Amber — albeit while being largely into getting into her pants.
Although Actually is often described as a play about truth and justice, it's actually less about those matters than about who we are as witnesses, participants, or judge and jury when it comes to reports of sexual misconduct. In a real world in which the Weinstein case and the #MeToo movement have pushed this cyclone well beyond academia — into business, entertainment, technology, government, and elsewhere — the problem is systemic.
Which is why Ziegler's deeply personal inflections are remarkable. Certainly, the play carries broad danger in that Amber is highly annoying early on — excessive drinking, an overdone girly-girl voice, language peppered with the word "like," and a dogged desire for snooty "best friend" Heather's approval. And Tom's story is no less slippery-slope: Will it cast real life doubt when Amber's "Actually, um …" instead of a clear "no" is revealed? Or, as their accounts in front of the university's tribunal obviously veer haphazardly due to faulty memories and alcohol, will it cause people to conclude that all women who drink, wear tank tops, or fail to expressly say "No" or "Stop" during sex deserve or can expect to be misunderstood and possibly raped? On the flip side, will Black men in relationships with white women forever be seen as "swinging from trees," as Tom projects?
We don't know the answers for everyone, nor does the play conveniently tell us what to conclude. But Ziegler demands we think about it for ourselves — and for the sake of young men and women who today and in the future enter the risky adult landscape of love, sex, other-person perception and self-definition.
Through May 5, $35-70, Aurora Theatre: Harry's Upstage, 2081 Addison St., Berkeley, 510-843-4822, AuroraTheatre.org