Welcome to the Mid-Week Menu, our roundup of East Bay food news.

1) In a cheeky interview with Eater SF, Chris Kronner of SF's Kronnerburger revealed more details about his plans for his new Oakland spot. It's to be located off of Piedmont, and it won't be called Kronnerburger. But, there will be a burger on the menu — an "even better one". And I thought that his burger was already the quintessential, all-American, be-all-end-all of juicy, fatty burgers. Let's hope there's onion rings, too.

[jump]
2) A new coffee truck is also on the horizon. According to the SF Weekly, East Bay barista Jessica Caisse, the current manager of Duende's coffee program, has remade an old PG&E truck into a coffee spot on wheels. The new outfit, Eureka Coffee, currently has a Kickstarter campaign set to end this coming Friday. At the time of this writing, Caisse is $700 away from her $20,000 goal and caffeinating people up and down the Bay Area.

3) There's a good profile on Berkeleyside of the new owner of Lama Bean's, formerly known as Jimmy Bean's, and on the minimal changes he made at the West Berkeley institution. Lodo "Lama" Rabten started working for the Beans' then proprietors as a busboy at Fonda, and began working his way up to management of the Gilman café, eventually deciding to purchase it. Not much has changed, except for a new focus on local and organic ingredients. Some of the café's new offerings include gluten-free bread and vegan pasta.

4) Artisanal bagelry Authentic Bagel Company is expanding into the space next to their current spot in Jack London Square. No official details as yet on plans for the expansion, but according to Portland food writer Michael Russell, ABC is adding espresso, juice, soups and salads to their current roster of bagels, sandwiches and pastries. Co-owner Jason Scott says details are soon to come.

5) Good Eggs, the online outlet for farmers and artisanal food producers, announced on Twitter Tuesday that they are expanding service, increasing their pick-up spot frequency to five days a week. This makes it even more convenient to pick up Old Dog Ranch's walnut butter with raw honey and salt and McFarland Springs trout. Current pick up spots are at Kitchener in Oakland, and at Berkeley Ironworks.

6) On the urban ag front, plans to build one of the largest urban farms in the country are coming to fruition. In partnership with Wild & Radish LLC, the Oakland non-profit Planting Justice will be breaking ground on its 10-acre food forest in El Sobrante in the first quarter of this year, according to its emailed newsletter. The farm will offer educational programs and a sliding-scale CSA. Plans for the farm were announced last spring by WTF's Luke Tsai — check out his article for more details.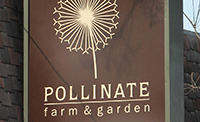 7) Local urban farm store Pollinate in Fruitvale is also growing, after a successful Kiva Zip microloan campaign in earlier December. The campaign, in which co-owners Yolanda Burrell and Birgitt Evans hoped to raise $5,000 over 60 days, met its goal after only 5 days. Burrell stated in an interview that the loan will be used to build a greenhouse for their expanding nursery business, as well as to support their classes and outreach.