Like so many peasant foods, a traditional Cuban ropa vieja (literally, "old clothes") is a dish that showcases a kind of ingenuity born of necessity — leftover flank steak stewed for several hours until it is so tender that it falls apart like a set of worn-out rags. Served over a simple bowl of rice and beans, it is one of the world's great comfort foods.
Casa Cubana, a lounge-y Cuban restaurant that opened two months ago in the old Vo's space in Uptown Oakland, serves an updated version of the dish that the chef, appropriately, has dubbed ropa nueva. The flank steak has been replaced with brisket and supplemented with slices of grilled skirt steak. The traditional side of rice has been replaced with a giant yucca chip stuck upright in a mound of mashed sweet potatoes.
The dish is representative of the restaurant's Latin fusion approach to Cuban cooking, which, depending on your point of view, might be cause for celebration — or perhaps a phone call to complain to your Cuban grandmother.  
The proprietors of the Casa Cubana are best known as the folks behind Izzy's Steaks and Chops: Sam DuVall, a veteran restaurateur who has opened (and closed or sold) dozens of restaurants in the Bay Area during the past four decades, and his longtime executive chef, Joe Kohn. The restaurant is largely a reincarnation of Habana, a fashionable Cuban fusion spot that DuVall operated in San Francisco's Nob Hill neighborhood during the mid-Aughts. With big palm fronds that welcome customers into the high-ceilinged bar area and selections from DuVall's extensive Cuban art collection lining the walls, this is meant to be a place that evokes easy, breezy tropical living — the kind of restaurant where you can sit at the bar counter during happy hour and binge on ham croquettas and discounted mojitos.
In a phone interview, Kohn explained that he never had any desire to create a traditional Cuban restaurant — not back when he was the chef at Habana and not now at his new Uptown Oakland digs. "There are plenty of those," he said. (To which my belated reply — at least with respect to the East Bay — is, "Where?") Neither Kohn nor DuVall nor their Mexican-born chef de cuisine Enemias Jimenez claim any Cuban ancestry, though DuVall — whom Kohn described as "a real Cuba-phile" — has probably visited the island some fifty times over the years.
At Casa Cubana, Kohn has resurrected most of Habana's most popular dishes — the seared duck breast and the guava-glazed pork ribs, for instance. But he has also made a number of tweaks to account for the preferences of today's diner. For instance, the new restaurant has more California-friendly vegetarian options — including, Kohn pointed out with evident pride, a salad featuring dressing made with hemp seeds. The cooking techniques, too, have been updated. Most of the meat dishes, including the duck and the ribs, are now cooked sous vide — i.e., vacuum-packed and cooked slowly in a temperature-controlled water bath.
All of this is part of the restaurant's effort to take traditional Cuban dishes and, in Kohn's words, "bring it up a few notches."
Whether you wind up celebrating these liberties or giving them the side-eye will probably depend in part on how you feel about the mixing of savory and sweet — a theme that dominated my meals at Casa Cubana from beginning to end.
Where that sweetness worked well was in cold dishes that made for a refreshing appetite primer. The Habana Cocktail was a tropical, Technicolor answer to the kind of shrimp cocktail you might find at a stuffy wedding reception: poached shrimp and fat cubes of avocado that we scooped from an old-fashioned sundae glass, chasing each bite with a sip of bracing, vinegary-sweet tomato water. The hearts of palm salad likewise pointed toward the tropics. Here, the sweetness of the toasted hazelnut vinaigrette was balanced by bitter greens and the vegetal, pickle-y juiciness of the nominative corazones.
Both of these were better than the tierra fritta, a kind of mixed vegetable fry that was one of the few starters I ordered that didn't have a sweet component. (Anyone who has eaten at an Outback Steakhouse would recognize this as a clunkier, less skillfully fried stand-in for a "Bloomin' Onion" — with greater vegetable variety, but little crunch, and batter that fell off at the slightest prod.)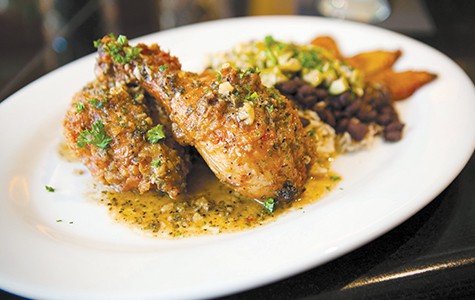 Once you move onto the entrées, however, the pervasiveness of overly sweet elements may threaten to derail the meal. The lechon asado — i.e., slow-roasted pork shoulder — was emblematic of the kitchen's strengths and its weaknesses. On the one hand, the thick slice of pork had been roasted to perfection in its fennel and citrus marinade so that it was savory and tender and just fatty enough. On the other hand, everything that came with the lechon was just bizarre — and bizarrely sweet. Over the past several centuries of culinary history, no one has been able to improve upon a humble, soulfully prepared plate of rice and beans. So it was inexplicable to me why Kohn chose to replace it with forbidden black rice, a slightly nutty varietal that's often used in Asian desserts. Everything else on the plate was similarly dessert-like: chunks of pineapple and what appeared to be candied orange peel. (The one saving grace: Although Cuban food isn't known for its spiciness, Casa Cubana makes a legitimately fiery housemade habanero hot sauce that's available by request. Eating it with the pork almost helped balance out all that sweetness.)
As for the aforementioned ropa nueva, this was another dish that just confused me more than anything. Kohn described it as "meat two ways" — grilled steak with chimichurri sauce on top of what was essentially a tomato-based beef stew. Nothing was terribly wrong with any of the individual elements, but it also wasn't clear how any of it went together. Without the usual rice accompaniment, there was nothing to soak up the ropa's meaty juices, and the purée of boniato (a kind of sweet potato) was spiked with so much cinnamon, it just reminded me of pumpkin pie.
Still, there is real skill in this kitchen, which most often showed itself in the preparation of the meats themselves. My favorite dish was the pollo frito, a fried chicken dish for which the leg and thigh were first cooked sous vide for several hours, then skillet-fried to order and served in a rich, savory pan gravy made from the juices that had collected in the Cryovac bag. That gravy, and the fact that some fried plantains were the only sweet thing on the plate, was best thing about the dish. The second best thing: This was the one entrée I ordered that came with a mound of traditional — and very tasty — rice and beans.
Another highlight was a shrimp dish that came with an aromatic chile-coconut sauce. The dish also came with what might be the best tostones — i.e., fried smashed plantains — I've had in the East Bay. But the $22 entrée only came with two of those tostones — one tiny disc of double-fried bliss each for me and my dining partner. That stinginess was my biggest knock against an otherwise outstanding dish.
Perhaps it's fitting that at a restaurant where so much of the menu skewed a little bit too sweet, the desserts, created by pastry chef Edgar Valenzuela, proved to be its most outstanding offerings. My favorite was a banana bread pudding that was simultaneously delicate — banana slices fanned out oh-so-prettily on top — and hearty. The pudding itself, made from housemade brioche, was so eggy and custardy, it was almost flan-like.
Surely this, too, wasn't a dish indigenous to Cuba proper — a reminder that it's what changes you make to a cuisine that matters, rather than whether you change it at all.