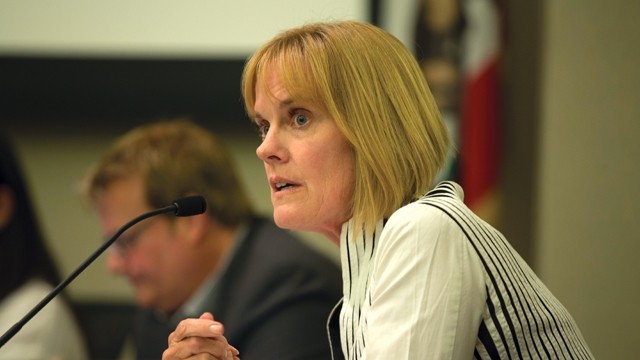 Alameda City Manager Jill Keimach crossed a serious ethical and legal line when she secretly recorded a private meeting last year with Councilmembers Jim Oddie and Malia Vella. Her decision to tape two of her bosses without their consent — which became public last month — effectively ruined her relationship with the council. And her decision to later claim that City Attorney Janet Kern had approved the secret recording has also irreparably damaged her ability to work with Kern. As a result, Keimach has no choice but to resign.
In addition, the city council should embark on an effort to amend the section of the Alameda City Charter that prohibits councilmembers from interfering in the city manager's work. As independent investigator Michael Jenkins noted in his detailed report on Keimach and the council, charter section 7.3 is overly broad and likely impinges on the First Amendment rights of councilmembers to express their opinions about issues of importance in Alameda. Jenkins concluded in his report that Oddie had violated 7.3 when he urged Keimach last year to hire a specific candidate for Alameda's fire chief, but Jenkins also recommended that the council put a measure on the ballot to amend 7.3 or pass an ordinance that clearly delineates what councilmembers are allowed to say and do.
"The line between lawful and unlawful behavior under City Charter 7.3 is blurry," Jenkins wrote.

He's right about that.
He was also right about his conclusion that Keimach "mishandled" the hiring of the fire chief, her interactions with councilmembers during the hiring process, and her decision to make unsubstantiated allegations about Vella — allegations that Jenkins concluded were meritless. Keimach has also lost credibility with the public when she and her attorneys repeatedly changed their story about what had happened.
But we also think that the Alameda firefighters' union, which also was involved heavily in the Keimach-fire-chief mess, has for too long wielded too much influence inside Alameda City Hall. It's past time for councilmembers like Oddie to prioritize what's best for Alameda as a whole.
Keimach first stepped over the line last summer when she decided to secretly tape an Aug. 16 meeting with Oddie and Vella. In his 100-page investigative report, Jenkins concluded that Keimach had convinced herself that the two councilmembers were attempting to coerce her into hiring their favored candidate for fire chief — Domenick Weaver. Two weeks earlier, Oddie had sent Keimach a letter on his official council letterhead urging her to hire Weaver, who was also backed strongly by the firefighters' union. In addition, Police Chief Paul Rolleri had told Keimach that Oddie, in a private conversation, warned him that Keimach's job depended on her hiring Weaver (an allegation that Oddie denies making). Keimach also believed at the time — wrongly, according to Jenkins' investigation — that the council was using her performance review as leverage to force her to hire Weaver. (Jenkins found that council dysfunction was to blame for the holdup of Keimach's review, not the fire chief issue.)
Keimach, in other words, had reason to be concerned about her meeting with Oddie and Vella. But that concern did not give her the right to secretly record them. It's illegal in California to record a private conversation without the consent of all people involved. In fact, Jenkins refused to listen to the recording because it was likely unlawful.
Express contributor Steven Tavares was the first journalist to confirm that Keimach had secretly recorded Oddie and Vella. But when Tavares asked Keimach's attorney, Karl Olson, about it last month, Olson denied that Keimach had done it. The next day, however, Keimach admitted to KCBS Radio that she had made the secret recording. Later, she claimed that City Attorney Kern had approved her decision to surreptitiously record the councilmembers prior to the meeting on the grounds that Keimach believed Oddie and Vella were going to break the law during the encounter. Kern, however, called Keimach's assertion "a bald-faced lie."
The city council made the right decision to place Keimach on administrative leave and forward the secret recording to the Alameda County District Attorney's Office for further investigation. And now the council should follow Jenkins' advice and launch a process to amend or clarify charter section 7.3. As Alameda's elected representatives, councilmembers have the right to express their opinions publicly about how the city manager is doing their job. They also should be able to endorse a candidate for department head position — as long as that endorsement does not cross the line into cronyism or nepotism or create a financial conflict of interest.
But having said that, councilmembers should also not be allowed to pressure department heads into doing what they want. It's the city manager's job to manage the department heads. It's the council's job to manage the city manager.
As such, Keimach has forever damaged the council's ability to do its job. No councilmember will ever be able to meet with Keimach again without fearing that he or she is being secretly recorded. It's an untenable situation. And so Keimach has to go.
If she won't do it willingly, then the council should terminate her.