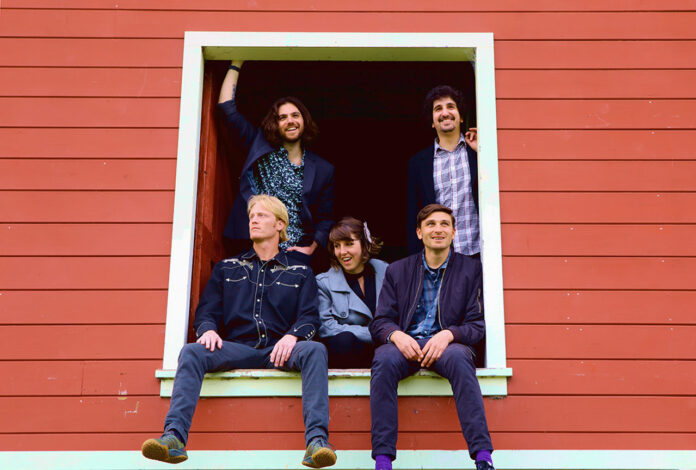 Oakland's animated swing punkers Van Goat tease a darker sound in their new single, "Ain't All That Bad," released Feb. 6.
This is their third single from the forthcoming sophomore album Nobody Cares, scheduled to debut in late 2021.
Reverberated plucks taunt by the second in the intro of this blues-tinged, labor-class ballad, provoking Aidan Ward's sly clarinet and Lindsay Alexis' guttural vocals to steer the five-piece straight into a bombastic, full-band clash that opens the floor to a swanky, devil-may-care sway.
The track details the day-in, day-out dance known as "burnout," where dreams and ambitions asphyxiate in the grips of apathy and late-stage capitalism drone-hood.
It's lines like, "I'm gonna work until the day that I die; and I'm calling in sick—but I'll probably lie" that make this blue-collar salute regrettably relatable to anyone who's waited tables, worked a register or poured a non-fat, grande mocha latte to make ends meet.
Masks, "blinders" and other gateways to disassociation are aftereffects of fighting tooth and nail and still coming up short.
Van Goat's latest release reminds us that "losing control" doesn't always look like sexy, topless Spring Breakers as sold by MTV or vigilante ultraviolence—sometimes it's watching everything you've ever wanted slip through calloused fingers. And all you can do is sigh.
But before folding to the rat race, maybe follow the playful, woodwinded breadcrumbs to drum-driven catharsis. Get a taste of twangy riffs and relaxed, cooler-than-you'll-ever-be bass on the way to a crescendoed free-for-all, capped by a wailing howl of a last hurrah.
Then, stay for a while.
A subdued, minute-long jam session closes out the track. It rock-a-byes the listener in the likes of a lukewarm "chin up" before parting ways, slinging an arm around their shoulder on the way out for drinks with the boys.
All parts loosely carrying on—even after all that's been said and done—tips a hat to Van Goat's discography-at-large: have fun at all costs, even if it's on a sinking ship.
Cheer up, ol' pal—it ain't all that bad, right?
Listen on Spotify or Bandcamp; for more information, visit vangoatband.com