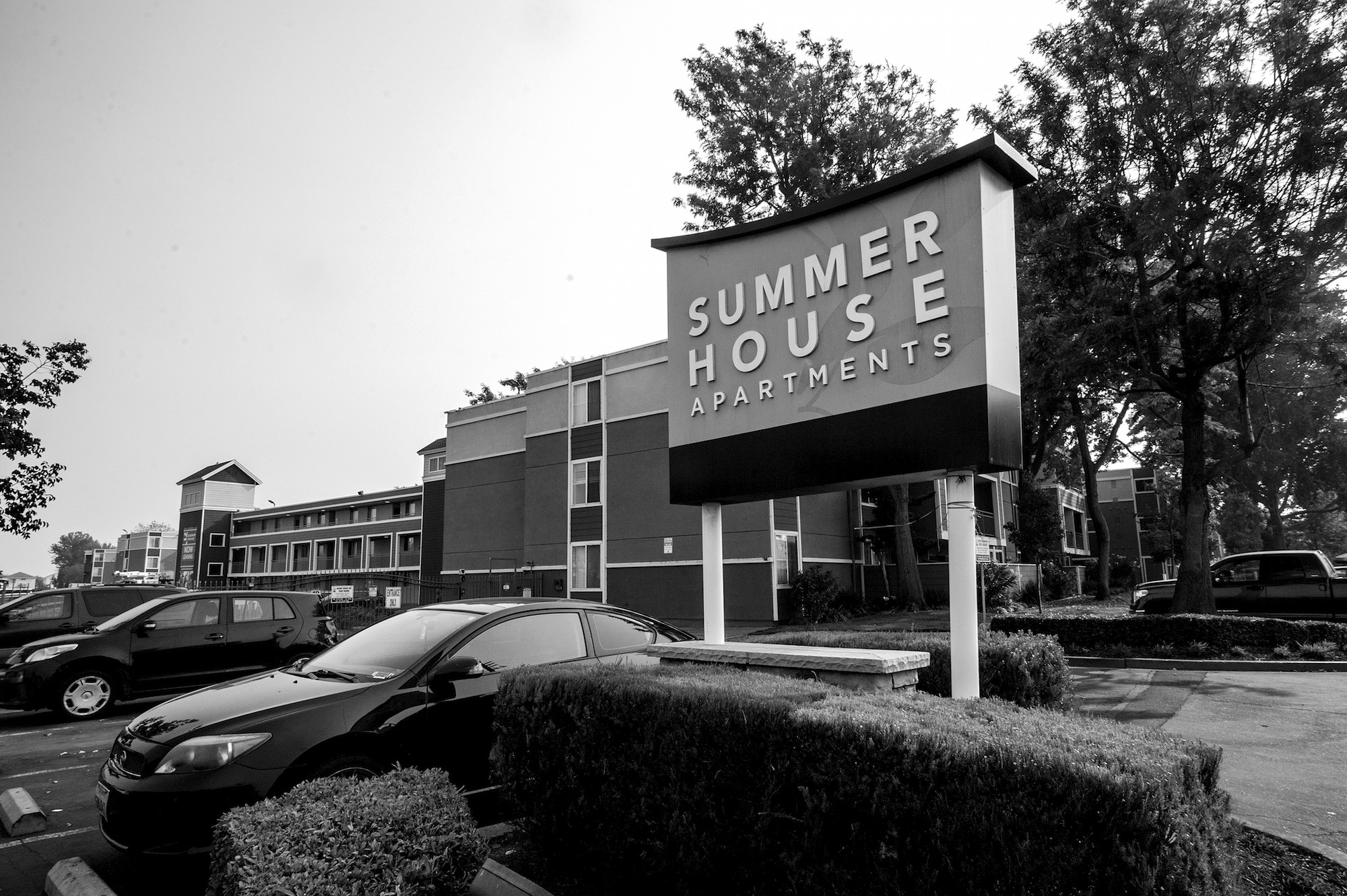 Gene Tsar lived at the Summer House Apartments in Alameda for a year and a half. But one evening in October 2017, Tsar left his apartment to go to work only to find that his car was not in the complex's parking lot. Tsar had a permit to park in the lot, so he thought his vehicle had been stolen. He called Alameda police, but they had no information. He then noticed a sign in the Summer House parking lot from Private Property Impound Inc., or PPI Towing.
Tsar called PPI's number, and a staff member said his car had been towed the night before because he allegedly had a "fake permit." Tsar Uber'd to PPI's East Oakland storage yard to get his car back. But front desk staff told him he would have to pay for two days of storage: 10 minutes for Tuesday night and all day Wednesday.
Tsar told them he had a valid permit to park at Summer House. But because it was after 6 p.m. and Summer House's leasing office was closed, PPI said they could not verify his permit. "This is ridiculous!" Tsar said he told PPI staff. "Tomorrow, I'm going to Summer House and explain how you're robbing us."
Tsar was prepared to pay PPI for the towing fees, but company staffers said that they wouldn't release his vehicle until he gave them his parking permit for Summer House — which Tsar said was in his car at the time. Because PPI wouldn't release his vehicle, he called Oakland police. But when police officers arrived, PPI refused to show them the contract that the company had with Summer House to tow cars, Tsar said. Finally, because Tsar wouldn't give them his keys, PPI towed his car out of the garage. "When they tow it out, there's no permit in the car. They broke into the car!" he said.
According to Tsar, PPI owner Wayne D. Russo told him, "The car was unlocked, I can do whatever I want." Russo also claimed the permit did not belong to Tsar, but to Summer House. When Tsar contacted Summer House representatives, they apologized but said that they did not authorize the tow, so he'd have to deal with PPI on his own, he said.
And Tsar is not alone. In fact, public records show that hundreds of Alamedans, many of them residents of Summer House, the Island's largest apartment complex, have had their cars towed by PPI during the past five years.
Through a California Public Records Act request, the Express obtained five years of calls for service dispatches from the Alameda Police Department. Dispatch records include the date, time of day, address of a tow, and the towing company's name. From 2013 through 2017, Alameda police received 2,799 calls about towed vehicles, an average of more than 559 per year, not including police-initiated tows. (State law requires towing companies to notify local law enforcement each time a vehicle is removed from private property.) An analysis with mapping software reveals that nearly half of all cars towed on the Island during this period originated at Summer House.
And since 2013, one towing company has towed more than 1,400 vehicles from that West End community: PPI. Records also show that the company has towed at least 2,786 vehicles, or 73 percent of all private tows in Alameda, since 2013.
And many residents say PPI towed their cars unlawfully.
---

It's unclear when PPI received the exclusive authorization from Summer House to tow vehicles there. Police records show that from 2013 to September of this year, PPI towed 1,406 vehicles from the complex. In 2013 alone, 54 percent of all private tows on the Island occurred at Summer House, a total of 298 vehicles.
PPI towed 189 vehicles from Summer House in 2014, 287 in 2015, 233 in 2016, 235 in 2017, and 164 through the first week of September 2018, police records show. Meanwhile, PPI has expanded its business throughout Alameda. While PPI towed only 81 vehicles outside of Summer House in 2013, the company towed at least 88 so far this year.
PPI now has contracts with other West End residential communities, including the Ballena Village on Central Avenue and VUE Alameda (formerly the Atlantic Apartments) on Poggi Street, across from Summer House. Still, records suggest PPI's most lucrative business in Alameda is at Summer House.
So why is PPI towing so many vehicles from one apartment complex? Onsite property management staff referred inquiries to Martin Zamora, property manager with Pinnacle Property Management Services. The Walnut Creek-based company is the property manager for Blackstone Real Estate, the property's owner. Zamora did not respond to multiple phone calls and emails seeking comment, and did not show up for a scheduled interview at the Poggi Street leasing center. Pinnacle manages both Summer House and the nearby VUE Alameda property.
PPI's owner, Russo, also did not respond to multiple emails and calls to PPI's Oakland headquarters.
Under state laws that govern and regulate towing, parking lots must have signage with specific dimensions at entrances indicating that vehicles can be towed. A vehicle can only be towed from private property if authorized by a property owner or commercial tenant, an agent of the site, or a tenant of an apartment building with less than 15 units that doesn't have an onsite manager. That person has to be onsite at the time of the tow to verify the violation and sign a written authorization for each vehicle removed, according to state law. There is an exception: when a property owner has signed a "general authorization" with the towing company. However, in that circumstance, a vehicle can only be removed if parked within 15 feet of a fire hydrant, in a fire lane, or in a way that obstructs the entrance or exit.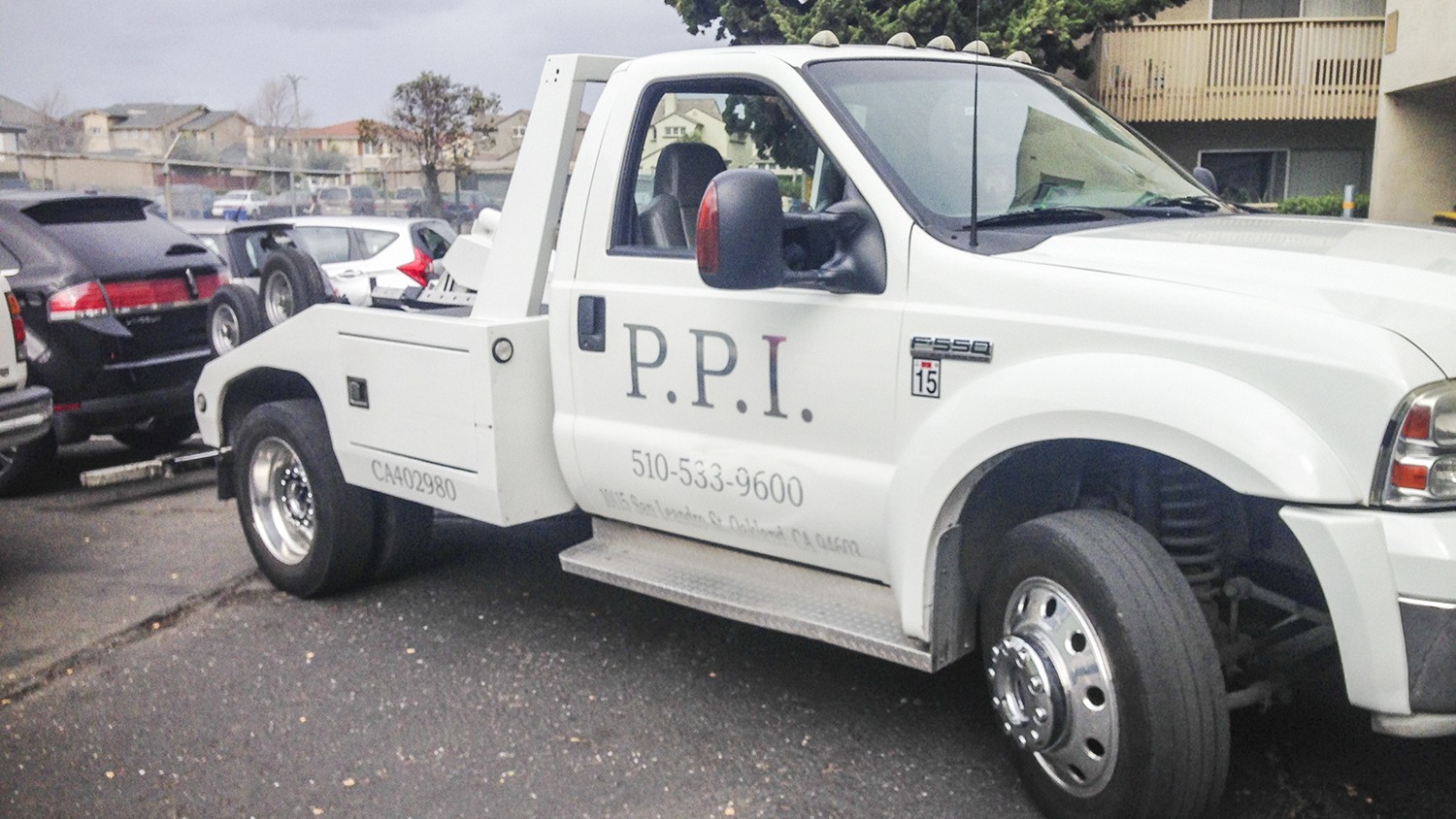 Most cars towed by PPI from Summer House appear to be towed between midnight and 4 a.m., the Express analysis of police records show. In 2013, PPI towed more vehicles from Summer House between the midnight and 4 a.m. than all other tow companies working on the Island did at any time combined.
Residents say they often see PPI's white tow truck roaming through the apartment grounds during twilight, seeking cars to tow. However, it is unclear if any staff, security, or tenants sign off to authorize the tows, or if PPI is just roaming the lots at night.
The Alameda County District Attorney's Office is investigating PPI and its practices.
"The tow trucks should not be cruising," said Ethel Newlin, consumer complaint mediator with the San Francisco County District Attorney's office, speaking generally about towing from apartment complexes. She said tow truck companies need to have a signed tow request. "Whoever authorized the tow needs to be there to sign for it," Newlin said.
---

Towika Smith's car was towed multiple times from Summer House. She recalled leaving a friend's apartment at Summer House to find her car missing. "I thought it was strange that my vehicle was not there because I know that I put the parking pass that the tenant that I was visiting gave me on the rearview mirror of my vehicle to ensure that it would not be towed," Smith said.
She called PPI, who told her she'd need to pay $290 if she retrieved her car before 5 p.m. Smith arrived two hours before closing to pay the fine. A PPI cashier told her the car was towed because the parking permit in her car was "fake," Smith wrote in a complaint to the Better Business Bureau.
An employee then asked Smith for her keys to retrieve the pass. Smith declined. Soon after, the cashier told her the credit card transaction failed. Instead of trying her card again or asking for another form of payment, "PPI Towing refused to release my vehicle, because I refused to give him permission to search my vehicle," she stated in her complaint.
Smith expressed concern that PPI might have tried to remove the permit from her vehicle had she gave them the keys. The ordeal took six hours. Since Smith is self-employed, she said she lost money both from the additional storage fees and the lost revenue from her business. PPI has received over a dozen complaints with the Better Business Bureau, but has not responded to any of the 14 complaints over the past three years.
Summer House's parking permits have changed twice over the past two years. The new property management company, Pinnacle Living, issued new "PPI Enforced" parking permits last winter. Summer House provides one parking space per unit, and according to a Pinnacle property management representative, an additional "open parking" permit can be purchased by residents for $100 per month. According to lease agreements reviewed by the Express, tenants' vehicles can be towed for parking in other residents' assigned spaces or in disabled spaces without appropriate placards, as well as red zones or other non-designated parking spaces.
Summer House resident Darel Jenkins told the Express that he's considering moving because in one month alone, he paid as much in towing fees as his rent.
Jenkins is a merchant mariner and is often away for weeks at a time. Returning in May from weeks at sea, he discovered his car was not where he thought he'd parked. "I first thought that it was stolen, but then I thought that maybe I parked it in a loading zone and it was towed," Jenkins said. He went to the leasing office to ask about his car and discovered it had been towed. He paid $900 to the towing company to get his car back. At the time, Jenkins had a parking permit sticker issued by Summer House but was unaware that new parking permit placards had been issued. Staff didn't tell him about the new permits when he learned his car had been towed.
After another few weeks away, Jenkins returned home on June 27 to find his car was missing again. A security guard then told him that management had changed parking permits two months earlier and all tenants were emailed and had a notice posted on their door. Jenkins said he received neither. The towing fee was $195, but the storage fee totaled $1,260.
Altogether, Jenkins paid over $2,523 total for both tows. By comparison, monthly rents at the complex begin at $2,563. Jenkins emailed Summer House to request financial assistance with the towing fees. Zamora provided him with a printed "no tow" notice. Summer House eventually paid him $1,000 back, but he is not satisfied, he said. "I want 100 percent back!"
An examination of the vehicle release invoice obtained by the Express shows PPI charged Jenkins excessive rates. State law defines a towing or storage charges as "excessive" if the fees exceed the amount that would have been charged if the police requested the tow. The city of Alameda contracts with Ken Betts Towing Services. Betts charges a $150 tow fee, a $50 "gate fee" for after-hours releases, and $65 for storage fees for each 24-hour period and $10 per hour for each hour in excess of 24 hours. PPI charged Jenkins a $195 tow fee. For 13 days and three hours of storage, PPI charged him $1,260, or at least $90 per day. PPI also charged Jenkins a $97.50 gate fee.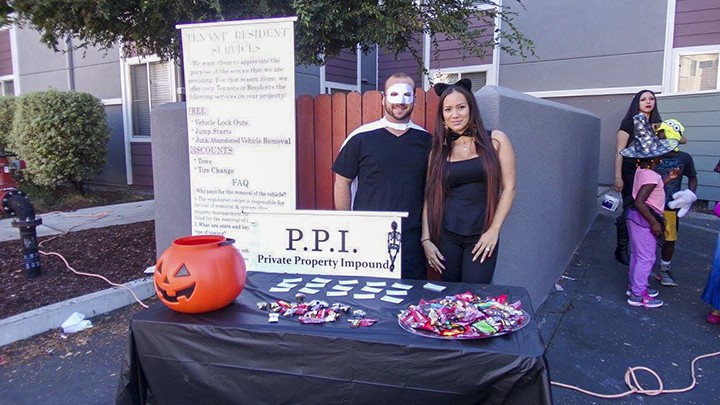 It's difficult to determine if the vehicles towed from Summer House belong to residents or guests, or how many people have had their vehicles improperly removed or were charged excessive fees, but the towing situation has impacted quality of life in the neighborhood. Due to the high costs of rent, residents often double up to afford costs. But with just one parking permit being allocated per unit, some Summer House residents must park blocks away to avoid being towed by PPI.
Residents also report challenges with obtaining guest passes, which requires them to leave their buildings and walk to the outside gates of the property to let their guests in. In a phone interview from out of state, Jenkins said the PPI towing costs are forcing him to move. "The location of Summer House is convenient, but I want to get out of that place," he said.
Others have sought recourse with PPI through the courts. At least a dozen lawsuits have been filed against the company since 2012. The claims against PPI vary. One suit alleged that PPI engaged in "illegal towing practices"; while a soccer dad was awarded over $7,000 — including money for lost work wages and missing kid's soccer practice — when his car was removed from a parking spot.
So far, Helen Menasche, fiancee of Gene Tsar, is the first and only Summer House resident to file a lawsuit against PPI. In court records, Menasche claimed $487.50 for the fees for her and Tsar's car being towed in October 2017. Days before their scheduled small claims hearing, Russo requested a postponement. The couple moved to Southern California shortly after. On Oct. 10, a judge dismissed the suit, when Menasche did not appear in court.
In September, she told the Express that the cost of missing work and traveling back to the Bay Area to confront PPI was not worth the money.