Mario lives in Pinole but usually starts his workday in Emeryville, where he hopes to pick up a commuter headed across the Bay Bridge into San Francisco. Once he gets to the Peninsula, with or without a passenger, he often drives to San Francisco International Airport, where he knows he can eventually find some business. The rest of the day is a toss-up: He might drive someone to San Jose, shuttle between the airport and Millbrae, or end up back in the East Bay, where he often gravitates toward Oakland International in search of passengers. An affable 27-year-old son of Nicaraguan immigrants, Mario started driving for Uber about a year ago after he moved back home to take care of his father, who was diagnosed with colon cancer. "I didn't second-guess it," he said of his decision to return home. "I knew everyone needed to be with each other."
At first, being an Uber driver served Mario well: It provided him with the flexibility to take his dad to chemotherapy and radiation treatments five days a week while his mom was working as a house cleaner and a nanny. Mario also said that after paying for his driving expenses, he uses some of his leftover income from Uber to help pay for groceries for the family and dinners out for his mom.
Mario is one of about 20,000 Bay Area residents who now drive for Uber, and his job is an example of what has been hailed as an innovation of employment. In the so-called "sharing economy," work is flexible and mostly autonomous and allows anyone to use his or her assets for a little extra cash with low barriers to entry. Sharing economy companies advertise their platforms, like the Uber app, as not only being convenient for consumers but also ideal for "users," meaning the people who earn money through them.
Uber promotes its service as a liberating alternative to taxi driving, its traditional economy counterpart. The company claims that 73 percent of its drivers would rather have a job in which you "choose your own schedule and are your own boss" than a 9-to-5, salaried job with benefits. In 2014, the Uber news blog quoted an Uber driver and former taxi driver from Denver who proclaimed, "I feel emancipated."
But over the past year, Mario's job satisfaction has declined, along with his income and the number of customers he has each day. He thinks the Bay Area market has become saturated with Uber drivers. As it gets harder to find passengers at any given time, he spends more time driving or sitting outside an airport with his app turned on, waiting for a "ping."
Mario is also acutely aware that his pay could erode further or disappear completely without notice. Every so often, he receives a curt notice from Uber about the company lowering rates in his area, which directly lowers his income. Mario also has driver friends whose accounts have been abruptly deactivated because of a low customer rating — even if that customer happened to be drunk or having a bad day when grading the driver. Although driving for Uber provides some helpful income right now, Mario said he hopes he can find a new job soon. "There's no security," he explained, "because it's not something you get paid hourly for." (The precarious nature of working for Uber is also why the Express has agreed to requests by Uber drivers that we only use their first names in this report.)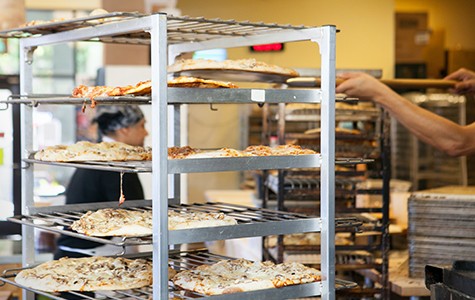 The recent announcement by Uber that it will expand its global headquarters to the old Sears building in Uptown Oakland has been accompanied by a heightened interest in the company and its business practices, as well as those of other companies in the sharing economy. Many local political and business leaders have hailed the arrival of Uber as a sign of the city's long-sought revitalization. But from the perspective of critics and labor activists, the term "sharing economy" is grossly misleading, because companies like Uber are just offering a new form of unstable, unregulated employment — and there isn't much actual sharing going on.
The word "sharing," of course, connotes generosity and fairness — of equal access to something. It appeals to more than just convenience and immediate gratification — to a type of transaction that ideally might be more sociable and less wasteful than the regular economy. The idea of sharing is also attractive because it seems to address real problems in the current economy: unemployment and underemployment, the insufficiency of the minimum wage, consumer waste and environmental impact, and even social alienation.
But critics say that, in reality, Uber does little to address these issues. Moreover, as politicians and business leaders have celebrated the arrival of Uber, they've overlooked the local organizations and cooperatives that have been engaged in actual sharing for years. In fact, Oakland and the East Bay have long been home to innovative businesses that have established equitable structures and share risk, decision-making, ownership, and profit.
These small cooperatives and socially minded businesses, including Arizmendi Bakery and the Missing Link Bicycle Cooperative, have not generally been recognized as part of the new "sharing economy." In fact, in many ways, they're the polar opposite of Uber.
They make up what some advocates call "the true sharing economy."
---
The term "sharing economy" came into common usage among journalists and publicists in the mid 2000s to describe a class of technological platforms that allowed people to consume collaboratively. The idea was popularized among a young, budget-traveling set with CouchSurfing, a website that facilitated a free exchange of hospitality. "Sharing" referred to the use of personal assets in this exchange: a user allowed a stranger to sleep on his or her couch simply because of a shared belonging to CouchSurfing, which is often referred to as a community. This free, communal exchange continues to thrive through platforms like FreeCycle, or even Craigslist, among others.
This type of exchange was then monetized by companies like Zipcar, which rents out a fleet of cars through its website. Zipcar customers share the same cars, so fewer cars need to be owned and their usage is maximized throughout the day. But this monetization also meant that sharing became essentially indistinguishable from renting. In its most prominent current forms, such as Uber, Airbnb, and Task Rabbit, anyone can buy and sell unused resources, like a seat in a car, a room in an apartment, or time in a day. In 2013, The Economist neatly summarized this phenomenon as "people renting things from each other."
Uber stands out as both the most successful and the most controversial player in the sharing economy. Though many sharing economy companies have attempted to "disrupt" major traditional industries (Uber and others in transportation, Airbnb in hotels, and Kickstarter in funding and loans), Uber has become the generic shorthand for any technological platform that facilitates instant and easy buying, selling, or renting of services between people. The past few years have seen the arrival of an "Uber for groceries" (InstaCart), an "Uber for medical marijuana" (Eaze), and an "Uber for women's haircuts" (Glamsquad), among many others. At $51 billion, Uber has by far the highest valuation of any venture capital-backed startup company. (The second highest is Xiaomi, a Chinese tech company, and the third is Airbnb, another sharing economy company, at $25.5 billion.)
Uber and other sharing economy companies have grown rapidly because of real, obvious shortcomings in traditional forms of work. Currently, a full-time worker making the California minimum wage of $9 an hour will make roughly $18,700 annually. That's significantly below the estimated living wage in Alameda and Contra Costa counties: $13.35 an hour, or about $27,800 a year.
Many people, whether fully employed or not, need to supplement their incomes, and sharing economy gigs like driving for Uber can be an attractive option. But a substantial number of workers — including Mario — also use Uber as a sole source of income. It's difficult to gather hard facts on Uber drivers: the largest swath of recent data comes from a report commissioned by Uber in January of this year. And the report drew from surveys of only 601 drivers — out of the 150,000 or so drivers in the country — and provided no assurance of an unbiased, statistically rigorous methodology. Nevertheless, according to the report, at least 19 percent of Uber drivers reported working 35 hours a week or more. The same report found that driving for Uber has rapidly gained popularity: The number of new drivers has "more than doubled every six months for the past two years." This could explain why Mario thinks there are now more drivers than there is work.
Uber has claimed that its drivers receive much higher compensation than taxi drivers: The same survey asserted that Uber drivers make an average hourly income of $19 an hour. But when I told Mario of this average, he shook his head, saying "there's no way" he makes that much. Although he said he grossed $42,000 during the past ten months of driving, which would not be far from $19 an hour with 40-hour weeks, he said he actually makes much less than that. That's because Uber drivers must pay for their own gas, insurance, and vehicle maintenance needs, which can all add up quickly; Mario drove 50,000 miles for Uber in the last ten months. Uber drivers can write off these expenses on their taxes, which slightly eases their financial burden, but their net income still hovers far below $19 an hour.
Dawood, a 67-year-old retired cab driver from Richmond who now drives for Uber, calculated that he earns about $10 an hour after accounting for his costs. And a reporter for Philadelphia City Paper recently drove for Uber and meticulously tracked her net earnings: they came out to $9.34 an hour. She also analyzed the data of two other drivers who were more aggressive about driving during surge hours, or when the fees go up during periods of high demand: Their average was $10.56 an hour.
As rancor over compensation has grown, various drivers have filed lawsuits against Uber. Most of these cases center on complaints that the company has withheld tips from drivers or that it has treated drivers unfairly by classifying them as independent contractors, not employees. In September, US District Judge Edward Chen of San Francisco granted a group of Uber drivers class-action status for future litigation on the question of whether they're employees. If the drivers win, Uber may have to pay unemployment, workers' compensation, minimum wage, and overtime. The drivers would also have the right to unionize.
In short, sharing economy companies like Uber present themselves as distinct alternatives to traditional low-paying work, when, in truth, their wages appear to be pretty similar — and they may yet have to provide benefits and job security just like any other business.
---
Eight years ago, before the dawn of the Uber age, Janelle Orsi started a law practice in Oakland and began calling herself a "sharing lawyer." She said that when she told friends about it, "People thought it was a joke, or they raised a lot of eyebrows and thought, 'People aren't going to want to share.'" But Orsi forged ahead and later co-founded the Oakland-based Sustainable Economies Law Center, or SELC, and published two books on sharing law, dedicating her career to advocating for and advising businesses and organizations that share. Today, Orsi observes of economic sharing: "Now, it is a big thing. And it's a big thing in part because people are using the 'sharing economy' phrase to refer to other activities that are more commercial in nature, but also because, truly, there are many more worker coops started, or at least in formation, than there were eight years ago."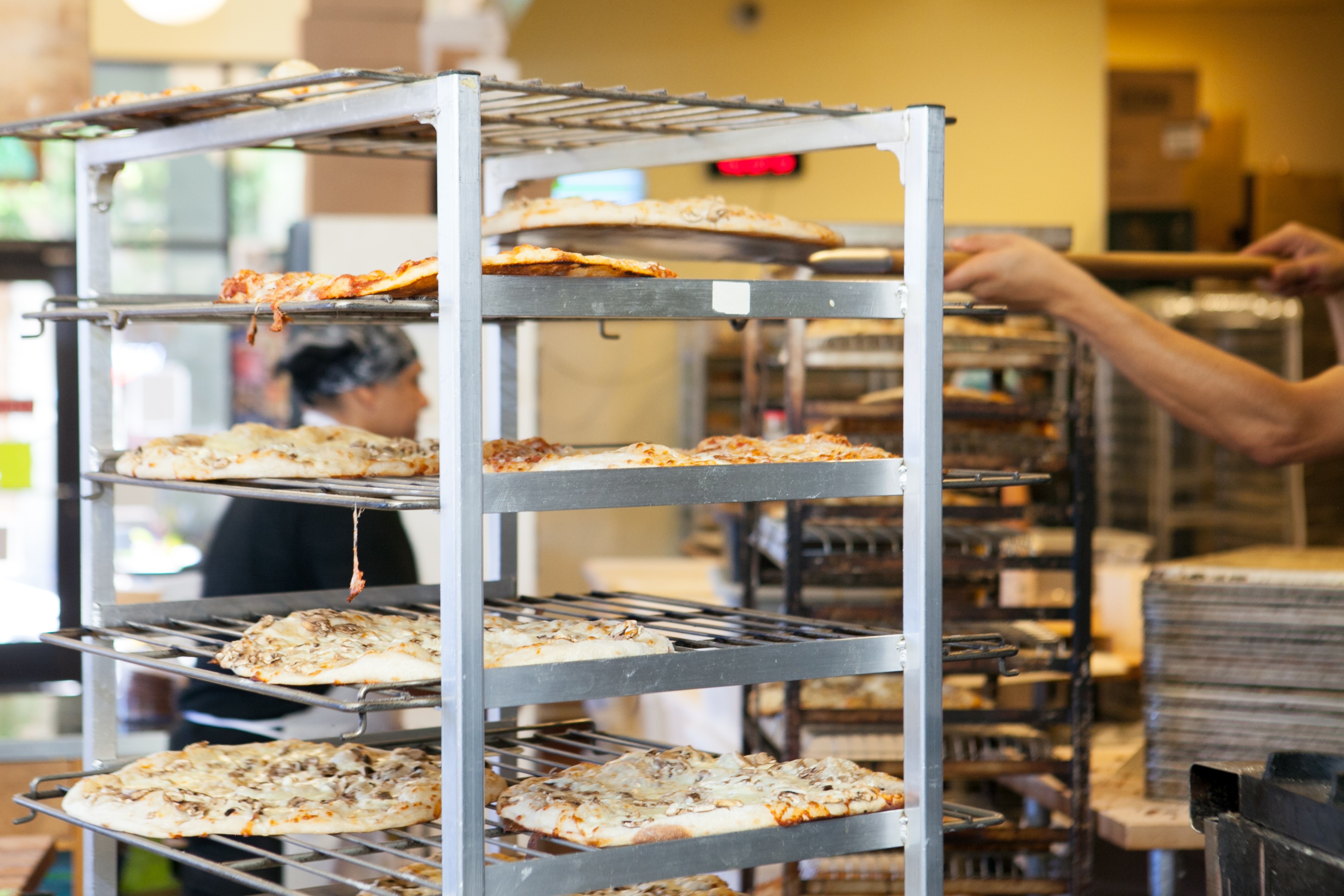 Orsi defines a "true" sharing economy in terms of "the commons," a concept that originally referred to a shared piece of land in a community from which any member could benefit by grazing cows, hunting, or harvesting. Now, Orsi notes that "a commons can be created anytime we take a resource — and that resource could be a workplace, it could be water, land, cultural information, anything — and manage it collectively with the goal of stewarding it in the long-term and with the goal of creating equitable access." She has supported projects in co-housing, community agriculture, car-sharing, and other shared resource management.
This philosophy of the commons is present in some aspects of the popular sharing economy — CouchSurfing, for example, treated the resource of space in a house as a commons within the CouchSurfing community, allowing anyone access to it without having to pay. But it's harder to make the connection between Uber and the commons, because the property of a car and the labor of a driver are rented temporarily for a fee. While Orsi acknowledged that some of the dominant sharing economy companies are "helping people use their resources in new and efficient ways," she focuses on much more equitable arrangements. The sharing economy structures that SELC supports are usually cooperatives, or coops. They've been around for centuries in various forms, but they have gained particular popularity in recent years, especially in the Bay Area.
"People turn to coops when they need them," said John Curl, a longtime Berkeley resident and historian, woodworker, poet, and cooperator. "And now, they might need them for good."
Curl co-founded the Heartwood Cooperative Workshop in 1974, a shared work space for skilled woodworkers, and he also serves on the board of NoBAWC (pronounced, importantly, "no boss"), or the Network of Bay Area Worker Cooperatives. Curl has researched and chronicled cooperatives over the decades, and he argues that the popularity of coops correlates inversely to the boom and bust periods of the traditional labor market. He said he thinks we have reached a turning point, in which "the larger economic structures are no longer providing for people, and people are inventing their own structures." This has been the context both for a resurgence in cooperatives and the new platforms of the sharing economy; people have turned to both when the traditional economy fails to meet their needs.
De'Quan Guion works at one such worker-owned cooperative, and he loves his job. The 27-year-old has no boss, his hours are flexible, and he makes a comfortable living in the service sector. But his favorite part of his job is spending most of his time with people and building real, lasting relationships — even a sense of family, he said — through his work. He mused, with a grin, "It doesn't even feel like I'm at work, honestly."
Guion earns a living wage with benefits as a baker and co-owner at Arizmendi, an Oakland-based, worker-owned cooperative. While reporters and critics have been tussling over the labels for "the sharing economy," and while municipalities have been fumbling to regulate these new business structures, workers at Arizmendi have been quietly sharing for more than a decade. With no hierarchy whatsoever, their business is thriving.
Guion stumbled into this job by accident. A few years ago, he was working as a morning production baker at Specialty's Cafe and Bakery in downtown Oakland. He didn't mind the early hours; he has always enjoyed baking. But when a coworker at Specialty's showed up for a baking shift and found her belongings in boxes, Guion figured that he was about to lose his job, too. The company was eliminating all in-house baking, although it hadn't informed the bakers ahead of time. When Guion started to look around for other opportunities, the name Arizmendi kept coming up — at a party, from a friend, on Google Maps — so he decided to give them a call. Arizmendi Emeryville happened to be hiring, and he has been there ever since. Guion now has four flexible shifts a week, and during a shift, he might find himself prepping cookie dough, attending to customers at the cash register, or responding to job applicants as part of his position on the hiring committee.
The Arizmendi Cooperative Association is an umbrella structure that comprises six bakeries throughout the Bay Area. Each bakery operates as an independent cooperative, so each worker owns an equal share in that bakery and in its decision-making. The association also includes the Development and Support Co-op, or DSC, which provides bookkeeping and legal advice to the bakeries from a small office in downtown Oakland. Decisions that would affect the entire association are made by a policy council, which is made up of representatives from the DSC and the bakeries. When a bakery needs to fill a position, its hiring committee selects candidates for a six-month probationary period. During the probationary period, new employees earn the same wage as worker-owners, participate in meetings, and train in as many skills as possible. Afterward, the entire cooperative votes on whether the new employee should become a worker-owner. Every level of the organization is flat, which means that a person who just became a worker-owner has the same compensation and voting power as someone who has been there for ten years. The cooperative shorthand for this arrangement is, "One worker, one vote."
At Arizmendi, workers own and share their means of production, from their own labor to the Hobart stand mixer that allows them to knead 25 pounds of sourdough for each batch of their popular Suburban bread. By converting raw products into more complex baked goods, they create value through their labor and skill.
While shaping dough into small seed-blanketed footballs for baguette rolls, worker-owner Dee Ouellette rattled off details about the organization's finances: The bakers all make $17 an hour, and all employees have medical and dental insurance. The money left over after the organization pays its business expenses is considered "surplus." The worker-owners reinvest some of the surplus into the bakery — to buy a new oven or espresso machine, for instance — and then distribute the remainder among themselves in proportion with how many hours each person worked during the year. So with tips and profit sharing, bakers usually end up earning between $20 and $25 an hour.
Of course, this profit model contrasts starkly with that of most traditional businesses, including sharing economy ones like Uber. Although Uber drivers own their assets (their cars) and create value through their labor, they only take in 70 to 80 percent of the value of their labor — and that's before they shell out for gas, insurance, and maintenance. Uber pockets the other 20 to 30 percent of proceeds from each ride sold through the company. Since Uber is not responsible for providing benefits, overtime, or workers' compensation, the workers never see this wealth again.
Once a month, the Emeryville Arizmendi holds general meetings that are essential to how the cooperative functions. All worker-owners are expected to attend the meetings and vote on important decisions. At the October meeting, the bakers arranged chairs and benches in a circle next to a Dia de los Muertos altar that held pictures of their dead loved ones. The meeting started with check-ins, during which bakers gave brief personal updates. Aja Green, the facilitator of the meeting, announced that she had put Echinacea in the first aid kit in case people wanted to boost their immune systems during the cold season.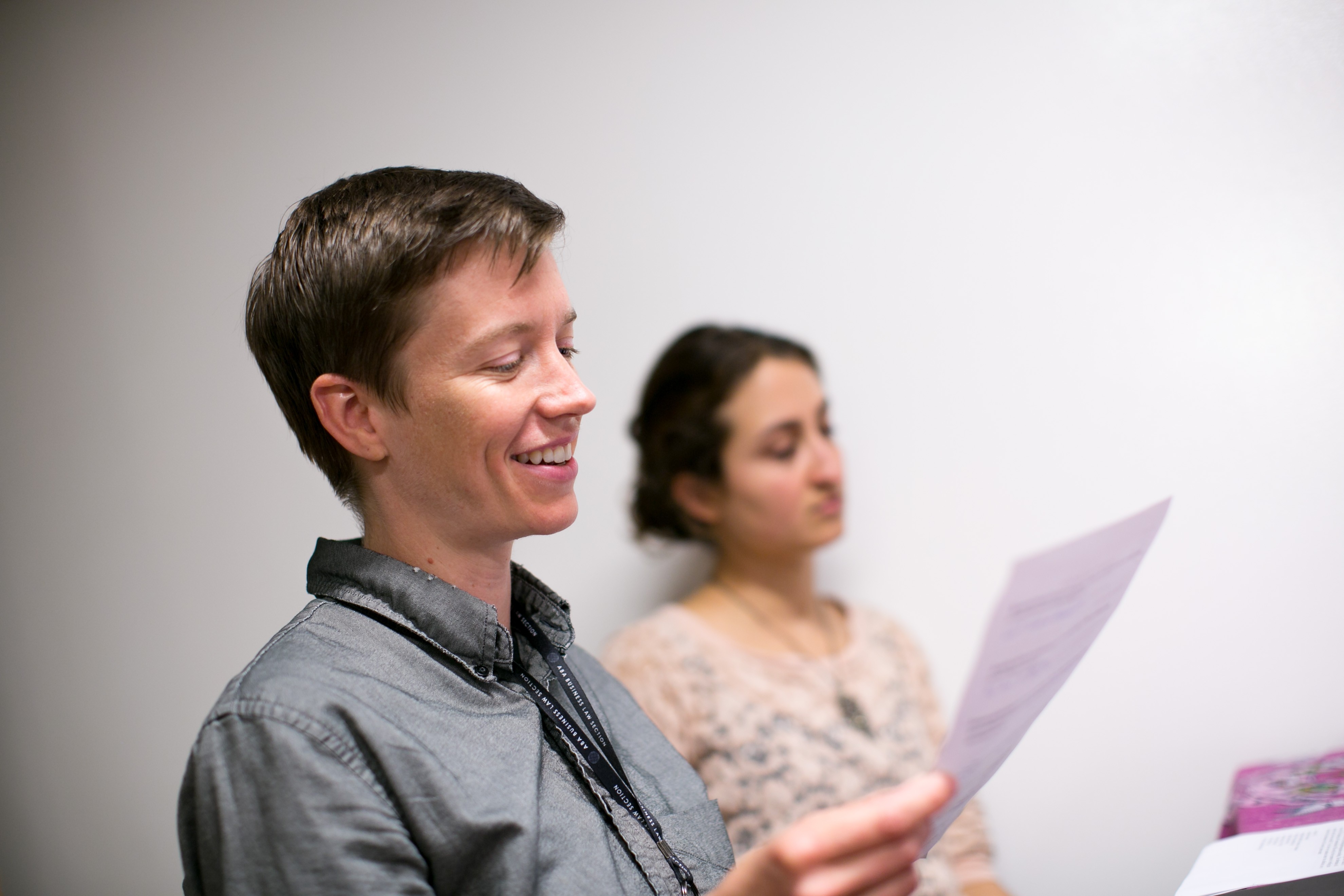 The meeting moved through an agenda that the bakers prepared beforehand, and items ranged from light-hearted announcements to consequential deliberations. Topics are allotted a time limit for discussion, and members talk in the order of a stack, or a list that the facilitator manages. Green updated the bakers on plans for Halloween ("De'Quan is making pumpkin whoopee pies with cream cheese filling") and another baker announced the status of the new library-on-wheels project in the customer space. A new candidate for worker-owner, who was also head of the Pizza Task Force, handed out a survey entitled "The Ideal Arizmendi Pizza," which was just one stage of his elaborate analysis of pizza types and sales.
The serious topic of this meeting was the question of medical benefits renewal, which Ouellette brought up on behalf of the benefits committee. The bakers' health insurance is scheduled to expire at the end of November, and Ouellette had prepared a spreadsheet comparing the options for new plans so that everyone could vote on them. "Historically," she explained to her fellow bakers, "we have focused on options with the lowest out-of-pocket maximum, or how much you have to pay before the health insurance kicks in and covers the rest." Though the insurance company had offered the bakery a plan with a low premium and a high out-of-pocket maximum, Ouellette instead proposed a plan with a steep premium and a much smaller out-of-pocket maximum. "While we can afford it," she said, "we should afford it, to protect the bakers." Indeed, after a short discussion of the options, the worker-owners unanimously voted to collectively pay a higher premium to protect themselves in the long-run.
Arizmendi serves as one functioning and profitable manifestation of the sharing economy that the Sustainable Economies Law Center works to support. SELC offers advocacy and free legal advice to coops, new and old. Along with the nonprofit organizations Project Equity and the East Bay Community Law Center, SELC helped design and run a training program — the Workers' Cooperative Academy — that is now in its second year. Arizmendi is one of the more visible and stable examples of what SELC would deem the "true sharing economy" in the Bay Area, but a number of other worker coops have also sprung up during the last few decades.
In Berkeley, DIG Co-operative offers greywater installation to homeowners, BioFuel Oasis sells urban gardening supplies, and the Missing Link Bicycle Cooperative sells and repairs bikes. The Berkeley Free Clinic offers free basic medical care, Maybeck High School, also in Berkeley, is a cooperatively governed educational institution, and Mandela Foods sells whole foods and produce in West Oakland. Some cooperatives have been around for many decades, but Curl noted that "there is a coop boom going on." Orsi echoed this observation, estimating that every year, "the Sustainable Economies Law Center advises more than forty new worker coops." Although not all of the coops get off the ground, Orsi said the number of them is "growing quickly."
Still, we rarely think of coops when debating the term "sharing economy." Maddy Van Engel and Steve Rice, bookkeepers at the Arizmendi DSC, acknowledged that they had never used those words to describe their work. "We usually use 'solidarity economy,'" Rice explained. "When I think of 'sharing economy,' my reactionary response is thinking of Uber and companies that have used that term in a way that seems disingenuous." Rice said he believes in cooperatives because he believes "wealth should be gained by the people who create that wealth." He said that traditional hierarchical businesses, including most sharing economy businesses like Uber, fundamentally extract wealth from their workers.
---
Orsi and the Sustainable Economies Law Center see the momentum of the sharing economy as a huge opportunity for more equitable work structures to gain popularity. But while cooperatives like Arizmendi embody an equitable and successful version of the sharing economy, they are probably not the solution for all employment, mostly because they require a substantial commitment from their worker-owners. In recent years, Orsi and SELC have begun to realize that what's needed is a system that marries the values of cooperatives with the tech functionality of the sharing economy. It was with just this idea that prompted Josh Danielson, a San Francisco entrepreneur, to contact SELC. "Janelle was literally waiting for someone to walk through her door to do it," Danielson recalled.
Danielson has a small office in the Mission district where he is gearing up to launch his prototype for a new sharing economy business: Loconomics. It will be a tech platform, a little like Uber, that functions as a cooperative, a little like Arizmendi. Loconomics will be a marketing platform for local service professionals to sell their services and manage clients. Housecleaners, masseuses, babysitters, or other professionals will find clients through the website, and consumers can shop for the services they need. That part sounds somewhat familiar — it has similarities to hands-for-hire company Task Rabbit — but a few aspects of Loconomics make it very different. First, the company was not initially funded with venture capital, so it will not be under pressure to make big profits that match inflated valuations (like Uber's $50 billion valuation). Loconomics will also, crucially, be owned by the people who use it — the housecleaners, masseuses, and babysitters.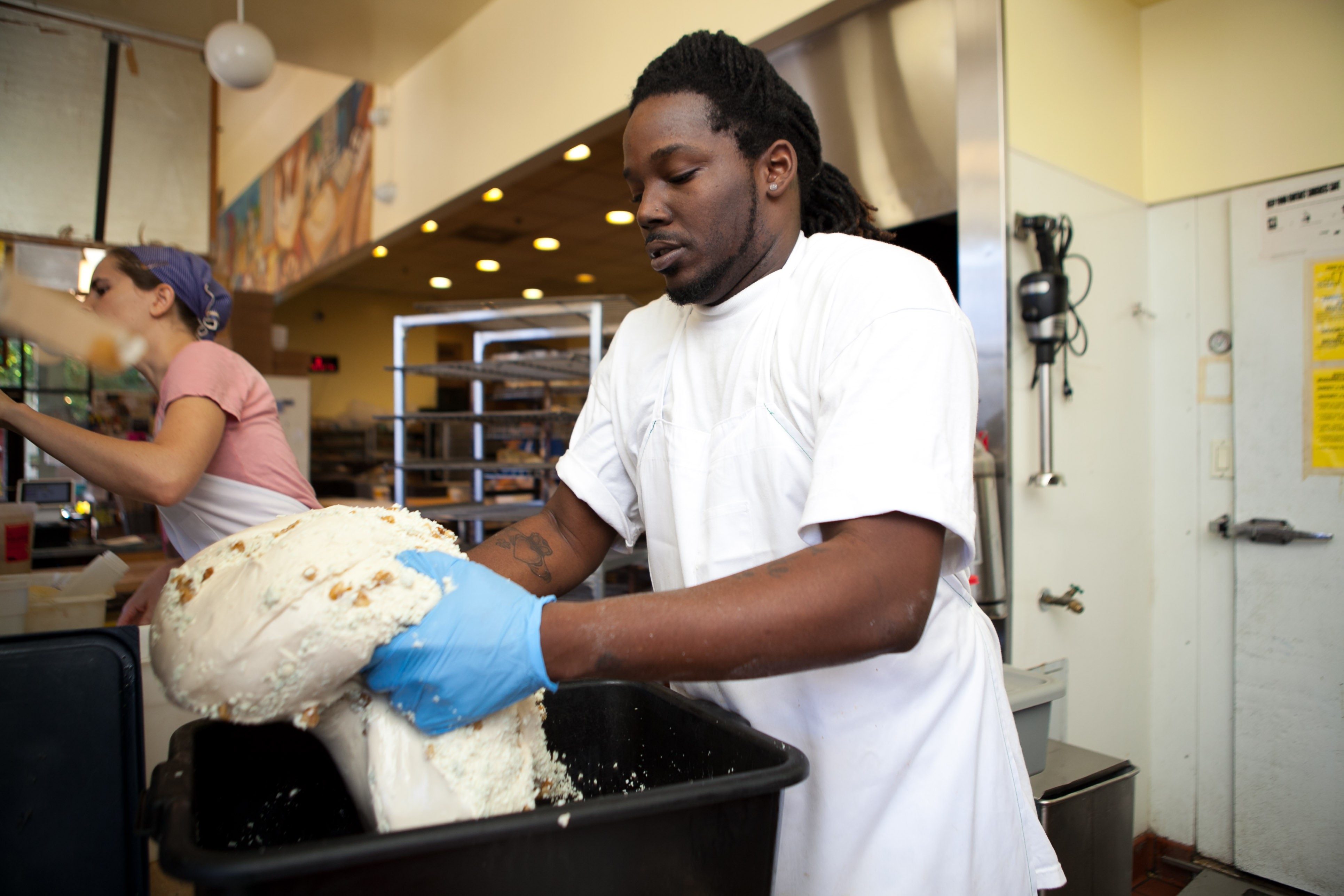 Danielson tends to downplay any political motivations for these choices, emphasizing that the idea is pragmatic and should be profitable: "I'm not a total Communist — I wanted to start a business," he said.
He began to hatch his business plan while using the platform-based sharing economy himself. While earning his MBA in Barcelona ("If you're going to go into debt, do it in style!"), he started renting out the extra bedroom in his apartment through Airbnb. It occurred to him that technology should do this for other things. He started to conceive of the idea that would eventually become Loconomics. At that point, collective ownership was not a part of the plan. The main distinction between his platform and other platforms was that Loconomics would not collect a commission on each service, so there would be no mark-up. This is vastly different from the dominant platform companies: Uber collects 20­ to 30 percent of each fare, depending on how many rides a driver gives and in which city he or she operates, while Task Rabbit pockets 30 percent of the fee for service. Bring that down to zero, Danielson thought, and services could be sold and rented at competitive rates while the providers could profit from the full value of their work. For clients, Loconomics is intended to be just as convenient as any sharing economy platform, but without the "middle man" of a company that demands high profits and the added cost that requires.
Two years after he started working on the project, Danielson spotted an article about cooperative models in a newsletter promoting SELC, and suddenly the structure of his company became clear to him. He met with Orsi, and she agreed to write his company's bylaws, incorporating her cooperative knowledge about how to distribute dividends and make democratic decisions. Danielson also gathered a founding board made up of local service providers as well as cooperative veterans like Orsi. One board member, YaVette Holts, has her own massage therapy practice, One Presence Massage, in Berkeley. She is also the founder of Cowrie Village, an organization that experiments with alternative economies, and BAOBOB (Bay Area Organization of Black Owned Businesses). Loconomics will allow entrepreneurs like Holts to manage clients and participate in a larger community of users to grow their businesses. Like Arizmendi, any surplus dividends will be doled out based on the number of hours a worker has worked through the Loconomics platform (because the platform is at an early stage of growth, Danielson anticipates that it will be five years or so until such surplus can accumulate). And like Arizmendi, every worker's time will be valued equally. Loconomics plans to pay for a small support team by charging a user fee for service providers and a first-time booking fee for clients. "No one's becoming rich here," Danielson promised.
Service providers on Loconomics will be independent contractors, as Uber drivers are now, and Danielson believes that this is essential for its success. "People don't want to be employees. But at the same time," he said, "they don't want to be taken advantage of just because they're not." In order to ensure this, the company will be governed by a board of directors — either service providers themselves or other professionals — who will be elected by the users. The board will make decisions after receiving feedback from both service providers and customers.
The kind of business that Loconomics is pioneering in the Bay Area actually has a small band of proponents across the country who have named it "platform cooperativism." Earlier this year, Orsi wrote in an article for The Nation, "We have a choice: Keep using platforms that widen the wealth gap, or build tech platforms as commons." Loconomics will attempt to do the latter, and perhaps there will be others — the first national conference for platform cooperativism is scheduled for November 13 and 14 at the New School in New York City. That conference, billed as "a coming out party for the cooperative Internet," will entertain ideas and theories for more companies like Loconomics. Despite its mouthful of a name, platform cooperativism could be as simple as an Uber owned by Uber drivers, or a Task Rabbit owned by "Rabbits."
Although sharing economy companies raise possibilities of equitable, democratic ways of operating, their business models have effectively reconstructed the same hierarchies that capitalists have profited from for years, but without any of the protections that legal employment has traditionally offered workers. Mario and Dawood do have flexible schedules and some autonomy, but they also constantly worry that their source of income will abruptly disappear.
So perhaps the hybrid of "platform cooperativism" will hold one solution for the future of work: flexible, autonomous, and social, but without the precariousness of the current sharing economy. Loconomics might be just the beginning.
---
The last time I saw Mario, in early October, we met in his workplace — his white Chevy Malibu. He showed me an amateurish-looking flier that he had been handed in the SFO parking lot. It called for a nationwide Uber driver strike in mid October with four "non negotiable demands": "Raise Uber X fares by 60% across the board, add a tip option onto the app, raise the minimum fare to $7 [from $5], raise the cancellation fee to $7 [from $5]." It exhorted the drivers, "Do not turn your app on for this whole weekend! Stand together as one voice!" It then explicitly indicted the alternative: "If you choose to drive during the strike, you are saying that you prefer to drive for less money and no tip."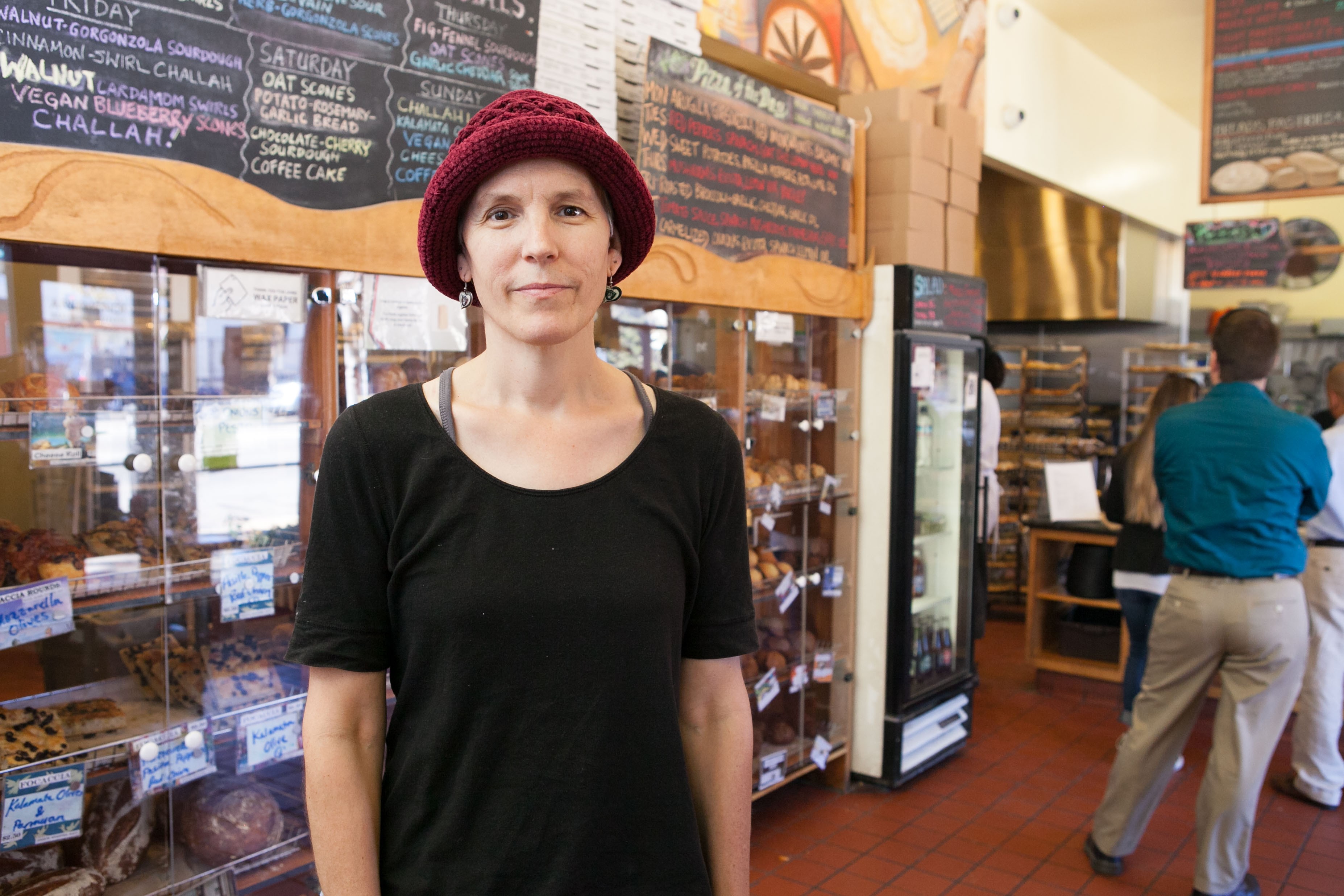 Mario looked at it thoughtfully, telling me, "I probably wouldn't drive on the weekend anyway." But it seemed like just holding the flier made him more forthcoming with his frustrations. "We have no say-so!" He exclaimed. "It's scary not knowing what they can do. It's scary knowing today we might make a dollar-thirty a mile, tomorrow we might make ninety cents a mile. It's scary." At worst, he said, "I'm driving around wasting my own gas looking for rides." Mario said that he has to put in 40 to 45 hours a week to get 25 to 30 hours of paid driving time.
Early this summer, Uber cut fares by 15 percent in the East Bay, which the company told drivers was an incentive to boost ridership while students were away for the summer. When fall came around, Mario and other drivers noted, Uber did not raise rates back to pre-summer levels.
On the weekend of the strike, the protest was reportedly small — the San Francisco Examiner reported that "over 20" Uber drivers had gathered outside of Uber headquarters, and Mario told me he had similarly heard that not many drivers had turned out for the protest.
But that doesn't mean Uber drivers are content. A new survey released last week by SherpaShare indicated that Uber and Lyft suffer from high turnover rates, according to a report in the San Francisco Chronicle.
Still, Mario and other workers like him in the sharing economy probably wouldn't want a job at a cooperative like Arizmendi. While some workers with unstable jobs might choose to be part of a cooperative, others want and need flexibility, like Mario did when he was taking care of his dad. Mario enjoys what he does, and he said that he'd "like to keep driving for a living." But he said he would be happier if he could be properly compensated for doing it, and if the company he drove for didn't act like a "bully."