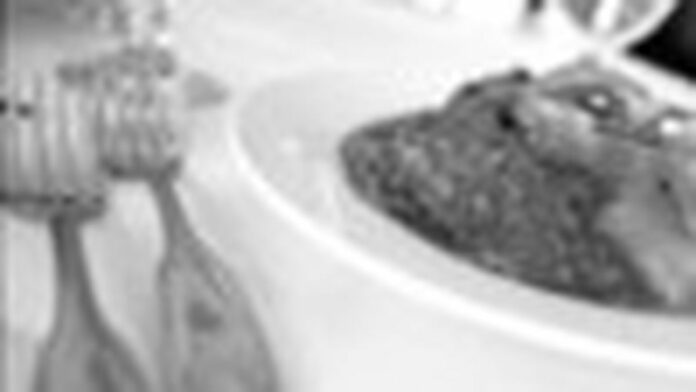 The Web makes my job so easy. I haven't had to call a restaurant for directions since I started using Mapquest. Now I browse newsgroups for tips, check for addresses and phone numbers online, and even double-check entrée wordings and prices when restaurants post their menus. So I decided to offer the Internet a challenge: finding Afghan restaurants in the East Bay.
Of course, it took five minutes tops. I quickly stumbled — Web searches always feel like "stumbling," don't they? — upon Zabihah.com, a directory of halal (the Islamic counterpart to kosher) restaurants across the United States. It listed about ten names of places in the Bay Area, most in the South Bay. When I stopped by Pamir Afghan Cuisine in the Emery Bay food court, having been tipped off by the directory, I found only familiar North Indian dishes on the menu. So I gathered my wits and two companions and drove down to Fremont to check out our other option: De Afghanan Kabob House.
I had called De Afghanan earlier that day just to see if the restaurant was open. Neither the woman who answered the phone nor I could understand a word the other said, and we eventually hung up on each other. I had high hopes.
We found the restaurant a couple miles off 880, near downtown Fremont. Straddling the entrance to a theater-turned-Evangelical-church, beneath the marquee, were two tiny, dingy restaurants: De Afghanan was permanently shuttered, but from the neighboring Kabob House came the smells of spices and carbonized meat.
My friends and I squeezed in around one of the three tables, earning a small nod from two women standing over the small stove and the grill set up to hold rows of kabobs. On the walls and from the ceiling hung colorful handwoven rugs, giving the room a tentlike ambience, with magazine-sized photographs of Afghanistan here and there.
Every person who walked into the restaurant that night was Afghani. And as the other two tables filled, more people came in and stood between the tables while waiting for takeout and chatting with the cooks in Dari. The cooks leaned over the counter to hand us our food, dodging diners' shoulders.
---
Afghan cuisine is a perfect reflection of the country's geographic location between the Middle East and the Indian subcontinent. In it you can taste the flavors of the Moghul empire that dominated Afghanistan and North India for centuries: spit-roasted meats, tandoor-baked flatbreads, nuts such as almonds and pistachios, biryani-style rice, and meat dishes. Our dinner that night was a simplified amalgam that eschewed the elaborate spicing and difficult techniques of Pakistani and North Indian haute cuisine.
The Kabob House's menu listed only six dishes: four kinds of kabobs — chabli beef, beef, chicken, and lamb chop — and two bulanee, one filled with leeks and the other with mashed potatoes. Since the lamb chop was out, we tried the chabli kabobs and a combo beef and chicken plate, as well as the potato bulanee.
The bulanee came first: squares and squares of griddle-fried wheat flatbread stuffed with a thin layer of creamy cooked potatoes, onions, and green onions. We drizzled a thick, tart yogurt on top of the crisp, salty exterior and burned our hands on the molten filling, which oozed out the sides.
Our kabobs were handed to us on overflowing compartmentalized plastic plates. Each came with basmati rice and two salads: the chopped tomato salad with red onion, cilantro, and parsley resembled a simple Indian chutney or Mexican salsa fresca. The other, diced cooked potatoes and chickpeas dressed in a tart vinaigrette green with mint and cilantro, was so bitingly good it sent my eyebrows shooting straight up.
We found the same flavor combination in the herbal condiment on our table — which in turn did wonders for the mild chicken-breast kabob, rubbed with an unassuming spice mixture that must have included turmeric, cumin, and coriander. For the beef kabob, the cooks added chiles to the mix, and the result sparkled with flavor. Even more chiles and garlic had been mixed into the chabli, flat patties of spiced ground meat that were pan-fried, not grilled. Our only complaint of the night was that the kabobs were cooked all the way through and then some.
---
I could not say the same of the chicken and lamb kabobs at Roya Afghan Cuisine, my second stop on the Great Afghan expedition. They turned out to be the best part of our meal there: the meat pulled apart with a fork and tasted as if the yogurt-and-spice marinade had soaked into it long before the kabobs were thrown on the grill.
Roya is a different type of restaurant altogether — a white-tablecloth bistro with wine glasses, linen napkins, and attentive servers. Eighteen months ago, chef Abdul Yawary struck out from the peninsula, where he had been cooking for ten years, to bring Afghan cuisine to Walnut Creek. He opened up Roya in the middle of the town's busy North Main stretch amid upscale restaurants and bars. Apart from the Afghan tapestries and the spangled and embroidered children's outfits that hang from the walls, we might have thought we were sitting in a little Cal-French eatery sipping Cabernet.
And Roya's food menu dwarfs its Fremont counterpart's, with eight appetizers and seemingly countless entrées, including five vegetarian ones. After our house salads, drizzled in a peppered mayonnaise, my companions and I started with a leek bulanee that in no way resembled the Kabob House's but rather a huge, triangular, fried wonton. Inside the delicate skin was a bright green tangle of leeks and chopped scallions, their onion flavor sharp but beginning to sweeten with the help of a little mint. Our waiter, who was all smiles that night, handed us a bowl of thick yogurt flecked with pepper and dill to drizzle on top. Mantoo, a small heap of dumplings, resembled large ravioli whose edges were folded over the center. They were filled with ground meat and onions, and were slathered in two sauces, the same yogurt sauce and a peppery vegetable medley cooked in a tomato-based curry. All our entrées came with rice and slabs of a flat Afghan yeast bread mottled with indentations from their maker's fingers and sprinkled with black sesame seeds. And had all the ingredients of the quabili pallaw been cooked together instead of assembled to order, this pilaf would have hit the mark. Instead, none of the flavors mingled: A small mound of braised lamb, though tender, wasn't enough to moisten the cinnamon-flavored rice, cooked julienned carrots, and plumped raisins that covered it.
We chose the vegetarian combo to accompany our kabobs (all three vegetables could also be ordered as single-item entrées or sides). While we tasted the freezer in the challaw sabzi — chopped spinach sautéed with onion and garlic — the evanescently tender and mild challaw kadu, simple braised pumpkin, picked up zing from our old friend the yogurt sauce. So did the more flavorful challaw badenjan, eggplant stewed with tomatoes, onions, chiles, and spices until it melted into a soft puree. I finished my meal at Roya with a glass of aromatic cardamom tea and a bowl of firnee, a thick milk pudding scented with cardamom and studded with small slivered almonds. The Kabob House, on the other hand, didn't serve dessert, so that night my friends and I hit Krispy Kreme on our way back north. I had downloaded a map to the place from the Internet … just in case.