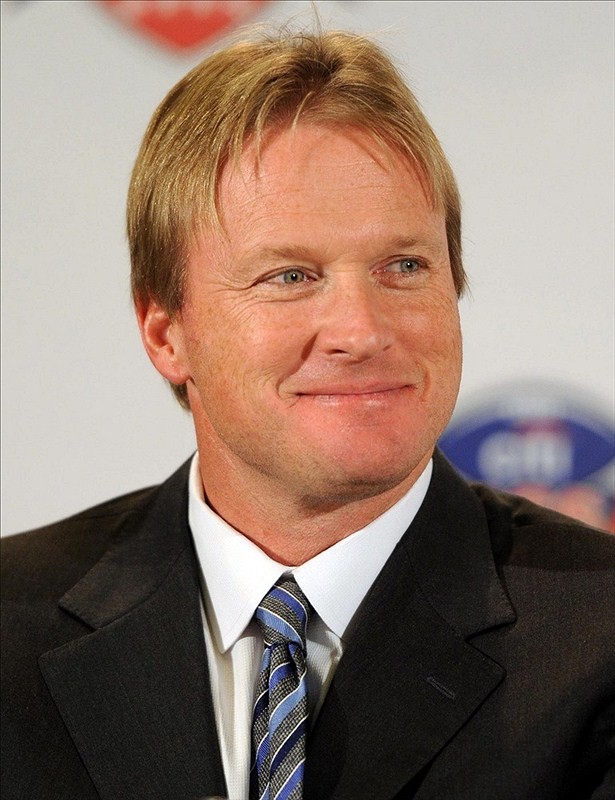 Jon Gruden has worn many hats in his football career: Assistant coach. Head coach. Broadcaster. This weekend he tried out a new role: NFL villain.
The Raiders head coach should get used to his new reputation as football's newest bad guy, as he just had one of the worst weekends in NFL history — one that revealed a more ruthless face than Gruden has ever before shown in public.
On Saturday, Gruden shocked the sports world — and his own Raiders players — by trading All-Pro pass rusher Kahlil Mack. The deal was universally and immediately reviled. On Sunday evening, things somehow got worse. Gruden met sportswriters for a somewhat caustic, defensive news conference in which he contradicted team general manager Reggie McKenzie and then threw him under the bus. Gruden noted the team's salary cap issues, poor recent drafts, and overall lack of talent, which were unsubtle jabs at McKenzie while giving answers that seemed more like excuses than credible explanations for the trade.
Both the Mack deal and Gruden's press conference sent these messages to Raiders players:
1. Don't get your hopes up for this season because we don't have the talent to contend for a ring.
2. Even if you do excel individually on the field, we will not fairly reward you.
3. When the going gets rough, Gruden will find a scapegoat to help him shirk responsibility.
Each of which are the last things you want your players believing if you're an NFL head coach charging into your first weekend of the regular season.
Ever since Gruden was hired with a 10-year $100 million contract — making him the highest-paid coach in NFL history — it's clear that he would have the final say on team personnel decisions, making McKenzie something of a figurehead. So, this is all on Gruden, whether he likes it or not.
The bottom line is that this controversial trade reflects the kind of self-destructive arrogance that has plagued the Silver and Black for 30 years. Cutting off your nose to spite your face used to be the specialty of Al Davis, the late Raiders owner. I'm shocked that Gruden, once known for successfully cleaning up Davis' messes, has instead repeated one of the former boss' biggest mistakes.
After all, Gruden's first Raiders tenure once ended just as surprisingly as Mack's.
Seventeen years ago, Gruden was Kahlil Mack — a disgruntled Raiders star who merely wanted management to give basic respect and a fair salary after helping to revive the flagging franchise. And like Mack, Gruden became the reluctant centerpiece of a high-profile trade that sent him to another team and infuriated Oakland football fans.
When Gruden first joined the Raiders as head coach in 1998, he immediately made them competitive, tough, and entertaining. But instead of rewarding Gruden, Davis reportedly clashed with him over salary and player-personnel control. When they couldn't reach an agreement on Gruden's new contract in early 2002, Davis traded him to the Tampa Bay Buccaneers for a bevy of draft picks and $8 million. The following season, Gruden's Bucs destroyed the Raiders in a Super Bowl blowout. Strangely, both franchises were never the same. The Raiders have had only one winning season in the past 15 years, while Gruden's Tampa record was a lackluster 45-51 over his final six seasons.
So, Gruden knows all too well how an unnecessary and divisive blockbuster deal can divide a locker room and wreck a franchise for years to come.
Yet, he and the Raiders traded Mack anyway — for two first-round picks from the Chicago Bears. (In addition, the Raiders added second-round and fifth-round selections in exchange for the Bears' third-round and sixth-round choices next year.)
Everything about the Mack deal stinks, including the way Gruden and McKenzie contradicted each other over the weekend. While the general manager said Saturday that the Raiders would pay top dollar to keep their best players in the future, Gruden said the opposite on Sunday, indicating that it was too pricey to do so because of quarterback Derek Carr's big contract.
Gruden also threw his general manager under the bus by indicating the trade was inevitable because the roster assembled by McKenzie is subpar and lacking in talent.
"We have a lot of holes, and we have to do what we can to fill them," Gruden said Sunday night.
Sorry, that's weak. And dishonest.
The reality is that everyone knew the Raiders' roster lacked talent back when Gruden was hired in January. Addressing those glaring needs is what the NFL's long offseason is for. Gruden and McKenzie had nearly eight months to fix the team's problems. They didn't. And Gruden should either own that or be quiet.
Gruden's pity party about his team's talent also contradicted his recent "Win now!" statements and actions.
At the January news conference that announced his hiring, Gruden said he wanted to win a Super Bowl for the Raiders' loyal East Bay fans before they leave for Las Vegas in 2020. It was an odd goal, akin to an unfaithful husband promising to make life great for his spouse today while declaring he's moving with his mistress to Vegas in two years.
In spite of that incongruity, Gruden's "Win now!" message to fans and media seemed sincere. And the offseason signings of several aging veterans further indicated that Gruden and McKenzie indeed were trying to win in 2018.
Unfortunately for the Raiders, trading Mack sends the opposite message, suggesting instead that the franchise is rebuilding yet again. Gruden's Sunday comments cemented that viewpoint, saying the team has no choice but to start over because so few quality players remain from McKenzie's recent poor drafts.
Sorry, coach, you can't claim you're rebuilding when you fill roster spots with aging free agent signees: Derrick Johnson, 35; Frostee Rucker, 34; Jordy Nelson, 33; Leon Hall, 33; Dominique Rodgers-Cromartie, 32. There also are graying holdovers like Donald Penn, 35; Reggie Nelson, 34; and Marshawn Lynch, 32, just to name a few.
With those vets on the roster, you can't say you're rebuilding. And yet, you can't claim you're trying to win now if you trade a megastar like Mack.
The plan? It appears that Gruden and McKenzie have no plan.
Gruden built his strong reputation during his four-year stint in Oakland, when he was seen as a miracle worker who beat opponents on Sundays and, more impressively, worked fairly well with the notoriously demanding Al Davis. But Gruden's coaching image took a beating in his final years in Tampa, when Bucs players quit on him. Some players openly questioned Gruden's honesty and leadership, including pass rusher Simeon Rice, who called Gruden a "scumbag." Quarterback Jeff Garcia criticized the coach for failing to commit to talented players because then he'd be required to deliver big results. "Jon Gruden likes to date players, not marry them," Garcia said a decade ago, a quote that resonated with Raiders fans over the holiday weekend.
On Sunday, when asked whether he and McKenzie are on the same page, Gruden's smile vanished. "They're trying to divide us, people are trying to divide us," he said.
That's not only inaccurate, it revealed an almost Nixon-esque level of paranoia. And that doesn't bode well for the future of the Gruden-Raiders marriage.
Maybe Gruden will find a way to escape the Mack controversy and turn this franchise around. Maybe by the sheer will of his creativity and natural charisma, he will still inspire his team to a winning season. But at this point, nobody would be shocked if the Raiders came out flat and lifeless against the Rams on Monday night, too distracted and divided to focus on a season that seems destined for more Raiders futility.
When Gruden was hired in January, I wrote that his return was a bittersweet reminder that, for all the lofty talk of past Raiders glory, too much of the team's history is a frustrating game of "what if." As in, what if Al Davis had never moved the team to Los Angeles in 1982? What if Davis hadn't traded Gruden to Tampa in 2002?
Now, it's Gruden turn to ask, "What if I never traded Kahlil Mack?"
The answer is already painfully obvious. It's the question that will forever haunt Gruden.
Chris De Benedetti writes a regular sports column for the
Express.