Poppy Jasper International Film Festival Virtual Edition- Stream to your TV!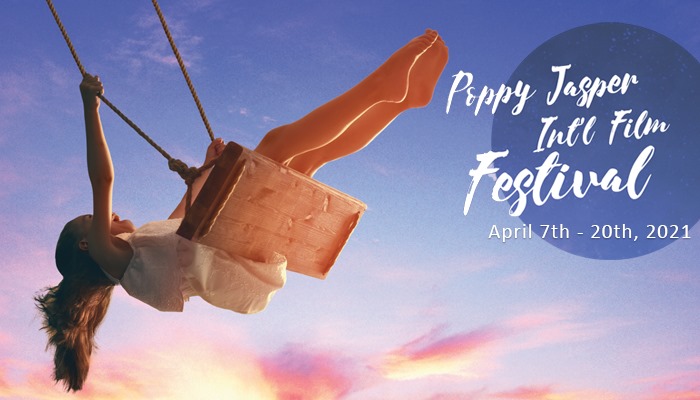 Come together to see great films by talented filmmakers from all over the world at one awesome film festival!

The Poppy Jasper International Film Festival for 2021 is going to be one awesome festival!  We will be going virtual April 7th through April 20th, 2021 with over 170 films from 38 countries focusing on inclusion, diversity and women empowerment and more.
The virtual film festival will include  Industry Professionals and Visual Effects panel discussions along with Filmmaker, Community and Audience Awards that include local businesses, wineries and event spaces (all socially distanced.)
So join us this year for a great assortment of family films, comedies and fantastic stories from our filmmakers from around the world and other fun surprises!
PJIFF Under the Stars has just been announced! It's a drive-in movie night to help raise money for PJIFF and our many programs. The drive-in movie night is for the entire family featuring the movie "Biggest Little Farm" on Wednesday, April 7th, 2021 at the Morgan Hill Outdoor Sports Complex! Tickets on sale now! Find out more and get your tickets HERE.
This year, ticketing for the films will be offered online through Eventive! Please join our mailing list for updated ticket and program information today!
PJIFF WELCOMES DREW MASSEY
Actor, Puppeteer, cartoonist and Director Keynotes at the Festival Opening Gala Drew Massey is an actor, puppeteer, cartoonist and director whose film acting resume includes: MIB: International, The Happytime Murders, Forgetting Sarah Marshall, Men In Black I and II, The Hangover, Doctor Dolittle, Muppets Wizard of Oz, Darjeeling Limited, and Team America. His TV work includes: Earth to Ned, The Curious Creations of Christine McConnell, Community, Crank Yankers, Greg the Bunny, Angel, Malcolm in the Middle, Sid the Science Kid, and Muppets Tonight. He is the co-creator of the Nickelodeon pilot Brendar the Barbarian and has directed shows at Dreamworks TV and the Jim Henson Company. He is a recovering candy addict and enjoys reading poetry to animals because it annoys them.
Get your tickets today! 2021 Poppy Jasper International Film Festival | 2021 Poppy Jasper International Film Festival (eventive.org)
Related Events