GearBox Gallery: Shapes and Spaces Sheila Ghidini and Irene Nelson
May 15 @ 12:00 pm

-

5:00 pm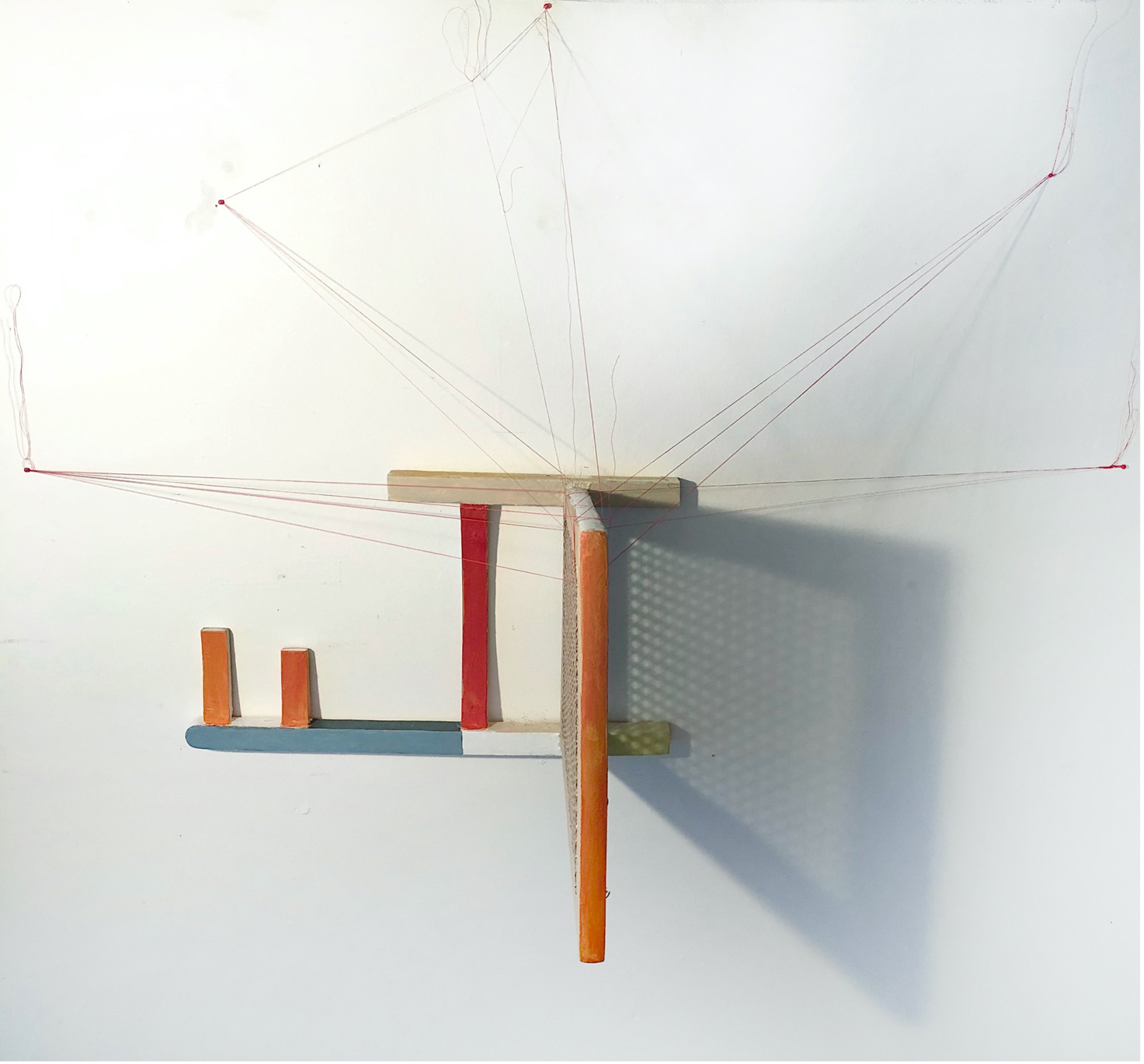 GearBox Gallery:
Shapes and Spaces
Sheila Ghidini and Irene Nelson
April 30 – June 5, 2021
770 West Grand Ave. Oakland, CA 94612
Contact: info@gearboxgallery.com
www.gearboxgallery.com
(510) 271-0822
Gallery Hours: Fridays & Saturdays, 12 – 5 pm
Sheila Ghidini's sculptures and Irene Nelson's paintings converge in the shapes and spaces they have created in this series of paintings and sculptures. Working from different points of reference and utilizing different materials, both of these artists speak to the perceptions of forms in space, positive and negative, pushing and pulling.
Ghidini's deconstructed chairs dominate the spaces they bend and form around themselves. Augmented by graphic geometry, they describe architectural spaces well beyond their physical presences.
Nelson's paintings have a gestural fluidity of the paint that is both intuitional yet directed.  The profound sense of space in her two-dimensional works is manifested by the shapes and movement of line as well as the contrast of warm and cool color.  The soft curves of Nelson's imagery evidence a well-choreographed dance of paint over surface that contrast with the hard-edged, rectilinear shapes of Ghidini's sculptures, creating a wonderful tension between the two.
This exhibit exemplifies two artists' skillful use of many of the basic visual elements of art: line, shape, form, color, value, and space.  Nelson's strong interrelated shapes convey her omnipresence in the world of her self-discovery.  The negative spaces in her compositions hold all the more tangible elements together while the vibrant colors keep the eye engaged.
Ghidini deconstructs original forms, then reassembles them to create conundrums of both tangible and negative spaces.  They are like three-dimensional crossword puzzles. Her sculptures are not simply beautiful objects, they require prolonged observation and contemplation.  As the origin of each form is a utilitarian chair, one is compelled to think of where it came from, by whom it may have been used and what space it occupied, only then to ponder the same questions as amplified by its deconstructed and reimagined entity.  Ghidini's chairs are a contemplation of the space they occupy in time; past, present and future.
Related Events