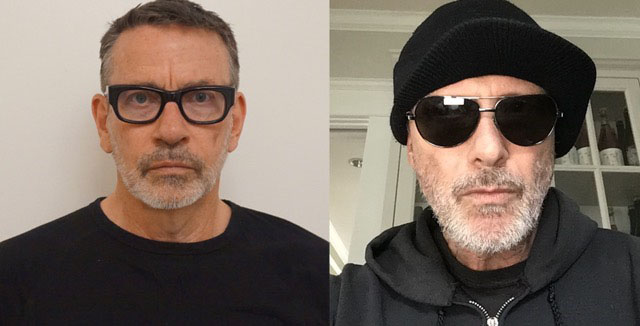 Consolidated is back and the music they're making is still confrontational and defiant. Their new album, We're Already There, features the same heavy dance beats: a blend of industrial rhythms, hip-hop, reggae and metal, and the politically charged lyrics that made them stand out from the pack 30 years ago. In a music industry that prided itself on being apolitical, their radical left, pro-Black, pro-gay, feminist, vegetarian-friendly attitude generated a loyal fan base, as well as static from the powers that be. In their initial run, from 1980 to 1999, the trio — Adam Sherburne, singer, guitarist and lyricist; Mark Pistel, synthesizers; and drummer Philip Steir — toured nationally and internationally. They released 17 recordings and, despite the subversive nature of their lyrics, had several hits including "This Is Fascism", a number one song on Billboard's Dance Charts. 
"That [Fascism] single was the beginning of a great shutting down in the debate about free speech," Sherburne said, recalling the band's heyday. "In Europe, when you release a song with the word 'fascist' in it, it adds a whole other dimension to what is allowed in speech. We had two different reactive criteria for speech that we were dealing with. It was a nightmare. We had to put stickers on the European release that said, 'This is not a fascist product.' The capitalist music system was already building the foundation for the mass psychosis we're in now."
The San Francisco based trio called it quits at the end of the 90s, although they all stayed in touch. Pistel started a successful career as a producer and runs Room 5 Studio in San Francisco. Steir became a producer and television music supervisor and Sherburne moved to Portland, OR and stopped playing music for money. 
"After years of frustration with the music system, I wanted to try something corrective, so I started Free Music! in Portland," Sherburne said. "It began as a way to use all the opposite impulses to capitalistic music. We do play songs, but there's no money, no songwriting credits, no royalties and no performance as such. It's the end of trying to possess three chords as private property. We take instruments downtown and invite everybody to join in. We're practicing and creating at the same time. We're relearning how to be humans with each other while playing, without the mediation of the music industry on any level. It's 15 years on and we've been around the world handing out free instruments to people on the street. It's all the things that being a 'recording artist' isn't. 
"A few years back, a bunch of bands made an album to benefit the ACLU and homeless charities, A Message To The People: A Tribute To Consolidated. They did covers of our songs and it made us decide to do something again. Philip sat this one out, so Mark and I started working the way we always have. He sent me tracks with beats and keyboard parts. I sent him tracks with guitar and vocals. I listened to his, then played guitar into an iPad and yelled the lyrics. Maybe I'd add some beats and send the demo back. He'd add to that and mix it down."
The songs on We're Already There are still politically charged, but the production is smoother, with several tracks that sound like they could be hits. "Capitalism AF" opens with a blast of static, a collage of radio news reports and Sherburne chanting "capitalism" to a funky drumbeat and his own electric guitar counter-rhythms. He raps/chants a list of grievances and possible solutions, ending with a reminder that the foundation of American capitalism is slavery. 
The album was released earlier this year on the Cargo label, but Sherburne said the marketing of the CDs still presents a problem, given the current state of the music business. "We have the music up on Mark's Bandcamp page," Sherburne said.
"We have an international distribution deal with Cargo, but the physical LPs and CDs we had made to be shipped out are being sold out of Mark's apartment and the apartment of our manager Matski in Germany. It's comedically ironic that signing a label deal, with great distribution, results in far greater poverty. The current archaic system cannot keep up with the flow of free information. The cost of sending physical product to the U.S. and to Europe zeroed any profit we would have made. The punchline is that all of us musicians have to admit we ain't getting paid any money for recording music, so you better do it because you love it.'
*********************************
Listen to We're Already There on the Consolidated Bandcamp page: https://consolidated.bandcamp.com/album/were-already-there