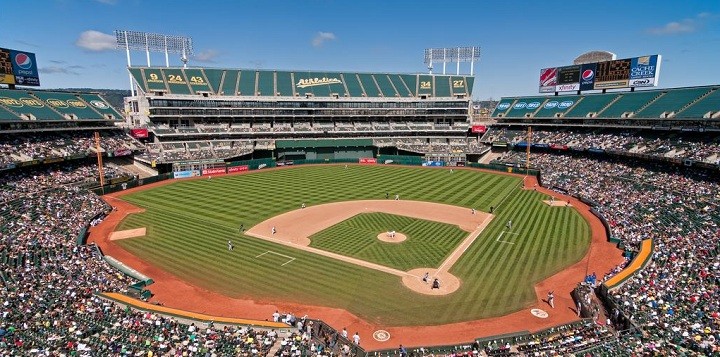 The A's are 30 games above .500 for the first time in five years, riding high with a dramatic style of play by a fun, young team with more cool subplots than a Tarantino flick.
I should just shut up and enjoy the wild ride. And yet …
There's one thing the A's are doing that drives me crazy, mainly because it's a polarizing tactic that might threaten the team's success.
It's called "bullpenning" — when team managers pull starting pitchers early or have them enter the game in the 2nd or 3rd inning, and then rely on a stable of relievers to finish the game. It might win some key games in the short-term, but it can also divide a clubhouse. The tactic also can diminish the value of starters and rob them of the chance for an official win in their personal record.
To be fair, the A's aren't the only team doing it.
The relatively new trend was popularized recently by the Dodgers' front office, whose advanced statistics — it always comes back to Moneyball at some point — found that pitchers were much less effective when facing hitters for the third time in the same game. So, they began pulling starters early, even if they were seemingly cruising through the lineup.
This philosophy has led some low-spending teams, like the Tampa Bay Rays, to increasingly value relievers while devaluing some of their starters. Relief pitchers usually make far less money than starters, so bullpenning invites low-spending teams like the Rays (and the A's) to inexpensively buy relievers "in bulk" — like getting a year's worth of cereal at Costco — allowing them to stockpile more arms and stuff them in baseball's version of a kitchen pantry: the bullpen.
If you're short on quality starters — and almost every team is, even the Yankees — bullpenning is a decent plan. If you lack pitching and also don't like to spend much money, it's a great plan.
Earlier this year, Tampa Bay raised eyebrows when they asked relief pitcher Sergio Romo to start on consecutive days. After an inning or so, he was quickly followed by the day's real starting pitcher. The Rays won the first game 5-3, and lost the second one 5-2. No big deal.
Enter Billy Beane and the Oakland A's.
The team's five-man rotation this year has been decimated by injuries, forcing the A's to stitch together a group of pitchers made up mostly of castoffs and comeback stories. The patchwork staff somehow found a groove in August with Edwin Jackson, Sean Manaea, Trevor Cahill, Brett Anderson, and newly acquired Mike Fiers all offering quality starts.
Then bad luck struck.
Manaea went down in late August with a season-ending shoulder injury, and then the team lost Anderson for weeks because of nerve irritation in his arm.
Undermanned once more, the A's had no choice but to call up replacements from the minor leagues, Chris Bassitt and Daniel Mengden. A's manager Bob Melvin then delivered the good-news/bad-news announcement to his pitchers.
The good news? Welcome to the big leagues, boys! The bad news? You're going to be pawns in this funky innovation called bullpenning.
Likely on order from Beane and A's general manager David Forst, Melvin on three occasions has started middling right-hander Liam Hendriks for an inning or two, with Mengden and Bassitt replacing him for a few innings. And then they're followed by the army of relievers the A's have hoarded in trades over the past two months.
It's been Oakland's first foray into bullpenning. And results from the three games have been mixed.
The first contest, against Seattle on Sept. 1, was a disaster. Hendriks gave up a pair of runs in less than two innings. Mengden wasn't much better, as the Mariners scored four runs on him in two frames, on the way to an 8-7 win over the A's.
The next two attempts have gone progressively better. Hendriks and Mengden were stellar in a Sept. 4 loss to the Yankees, in which the A's' usually strong bullpen imploded. Three days later, Hendriks and Bassitt got the team off to a decent start, on the way to an 8-4 A's win over Texas.
But that good news was tempered somewhat by Julian McWilliams' scoop in The Athletic, in which he reported that several A's players view bullpenning as an unwanted gimmick that's been sprung on them too late in the season. Baseball players like set roles and dislike surprises, and the experiment was leaving them "not knowing what's going on and when," McWilliams wrote.
A's players aren't the only ones who dislike it. Starters like Pittsburgh's Chris Archer has said the strategy "created the expectation to be mediocre." Angels third baseman Zack Cozart called it "bad for baseball."
There's a labor argument against it, too. According to MLB rules, starters must go at least five innings to earn a win. So, this new approach might artificially lower player salaries because it offers less chances for unproven starting pitchers to earn wins and pile up gaudy stats that agents use to get big-money contracts for their free agent clients.
In that context, it's not surprising that many players oppose it.
Few players share Romo's sunny view of bullpenning. "It's cool for the game of baseball," he said earlier this year. "It's unheard of, and it's a lot of fun to be part of the 'unheard of.'"
Baseball is infamous for being resistant to — even violently suspicious of — change. Ask former A's owner Charlie Finley, whose most-criticized innovations are now commonplace; or former A's manager Tony La Russa, who was mocked in the 1980s for something as basic as using a computer [gasp!] to aid some of his managerial decisions.
As Archer's and Cozart's quotes show, the list of baseball's least open-minded people includes some players. That's what concerns me most, as the A's deploy bullpenning in the final weeks of a tense pennant race. If the players don't like it and are even unnerved by it, maybe it's not worth the trouble.
Either way, there's good news on the horizon for Oakland. Brett Anderson is scheduled to return to the rotation on Thursday, giving the team its fourth reliable starter. That alone will cut by half the number of bullpenning starts, with less than 20 games left on the schedule.
The A's have become one of baseball's best teams and are inching toward another playoff berth. That's astounding, given that injuries have forced them to start more than a dozen different pitchers this year.
So, despite my concerns, maybe I should relax about the A's and bullpenning. Maybe I should just heed the words of a wise baseball man: "It's unheard of, and it's a lot of fun to be part of the 'unheard of.'"
After all, the "unheard of" seems to be the destiny of this year's Cinderella Oakland A's.
Chris De Benedetti, a co-founding member of Baseball Oakland, writes a regular sports column for the
Express.